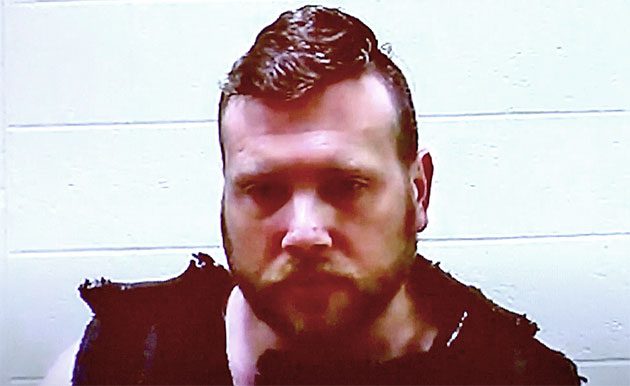 CHRISTOPHER Cox, above, pastor at Long Lake Church in Traverse City, faces charges of drugging and sexually assaulting a 19-year-old man at Cox's business office in Garfield Township.
According to investigators, the alleged assault took place on March 14. The victim claimed Cox had contacted him on Facebook and lured him to his office with a promise of crystal meth.
Investigators said the victim was provided meth by Cox, but the pastor also gave him GHB, a common "date rape" drug.
According to the victim, he was incapacitated by the drugs when he was sexually assaulted.
The man was taken to Munson Medical Center for an examination where evidence supporting his statements was found, according to police.
A couple days later, troopers searched Cox's home and business office, which is not affiliated with a church.
Troopers said they seized several mobile devices, suspected crystal meth, GHB, digital scales and packaging materials during the search.
A search done by the Michigan State Police Computer Crimes Unit (CCU) uncovered additional evidence. The CCU is continuing to examine all seized devices.
Second alleged victim
According to Michigan State Police, investigators were able to identify a second victim.
MSP said the 26-year-old man reported almost identical allegations as the first victim, but added that he was threatened by Cox not to report the event at the time it occurred.
Cox was located and arrested in the City of Muskegon last Friday.
During his arrest, Cox was found to be in possession of a packaged white crystalline substance suspected to be crystal meth, said police. Investigators said additional charges from Muskegon are possible.
On Monday Cox was arraigned on two counts of criminal sexual conduct first degree and one count of possession with intent to deliver methamphetamine. Cox's attorney says his client has entered a not guilty plea on all charges and is maintaining his innocence.
The pastoris being held on a $100,000 cash surety bond.
According to police, there is no current evidence that his work at the church was involved in these incidents, but investigators believe his influence as a pastor may have played a role.
Due to the nature of this case and the fact that two victims have come forward, investigators believe that additional victims and witnesses may exist.