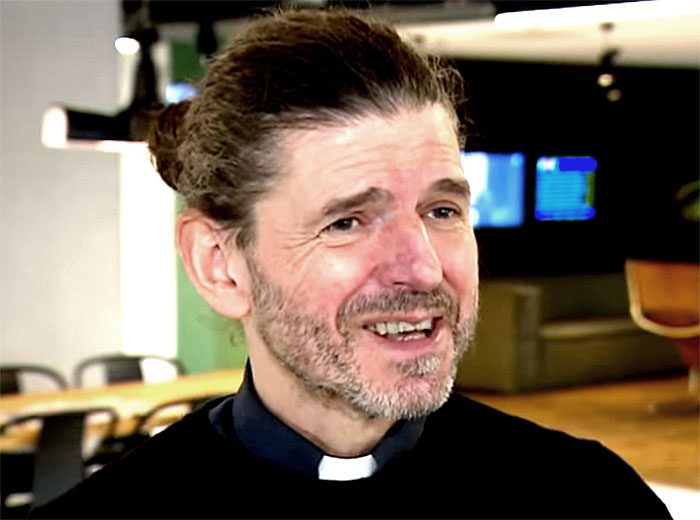 AT the beginning of April Catholic priest Father Pierre Valkering, above, celebrated the 25th anniversary of his ordination by coming out as gay – and went so far as to use the occasion to publicise his new book, an autobiography which details his sexual exploits.
These revelations "came as a shocking surprise to the diocese", said Catholic blogger Mark de Vries, who wrote:
The sexual excesses of Pierre Valkering, and the way in which he made them public, are an example which is contrary to the faith in all respects: he not only repeatedly broke his oath, but he also ignores his priestly mission and so leads others away from the faith.

The way in which he thinks to express his sexuality are at odds with a healthy sexuality as the Church understands it. This is something one can disagree with, obviously. Discussion is always possible, but Valkering did not choose that option. Instead, he chooses a prideful form of deceit. He is a Catholic priest, but does not feel bound to the tasks and responsibilities of a priest. Instead of living for God, he chooses living for himself. He choose (sic) to lie to his bishop, to all the faithful for whom he was responsible as parish priest, and ultimately also to God.

With his autobiography, Valkering inflicts damage to the Church, to the people around him, and most of all to himself. Let us hope and pray that he may learn to see that and is offered and can accept the help he needs. The damage done in the past can't be taken away, but perhaps its impact can be softened.
According to Crux
, the Bishop of Haarlem-Amsterdam in the Netherlands – Jos Punt – has asked Valkering:
To lay down his priestly duties for the time being, and enter into a period of reflection.
In a statement (in Dutch) the diocese said:
Father could also have chosen to discuss his struggle with his sexuality and celibacy openly and honestly with his bishop. That honesty would certainly not have been punished. On the contrary, together with Fr Valkering ways could have been found to reflect upon it and receive help. That has in the past also been done for several other priests.

But Fr Valkering has chosen a sudden and public act … He has also not given any indication about whether he is willing or able to maintain his celibacy in the future.
Valkering, in his book, describes not only his homosexuality, but also his addiction to pornography and his past visits to dark rooms and other homosexual meeting areas.
The statement added:
The Church understands human weakness and everyone's personal struggle to grow in holiness, but Father Valkering now declares that he doesn't even want to try and live an ordered celibate life.

The bishop appreciates the fact that in his book he honestly talks about his opinions and his way of life, but he cannot help but ask him at this moment to lay down his priestly duties for the time being, and enter into a period of reflection. The details of this will be discussed with him.
The Amsterdam-based Dutch priest has been fighting for years for greater tolerance towards homosexuality within the Church. In 2016 he wanted to join in on one of the boats on the Canal Parade float during Amsterdam Gay Pride. The diocese, however, did not give him permission to do so.
Blogger de Vries said:
The indignation about such behaviour by a Catholic priest is justified. Had Valkering written about heterosexual contacts, that indignation and the consequences for him would have been no different.