THAT'S the view of at least one white supremacist who was among many rejoicing over Alabama's decision pass a shocking law last Tuesday that aims to outlaw all abortions, including those for unwanted pregnancies that are the result of rape and incest.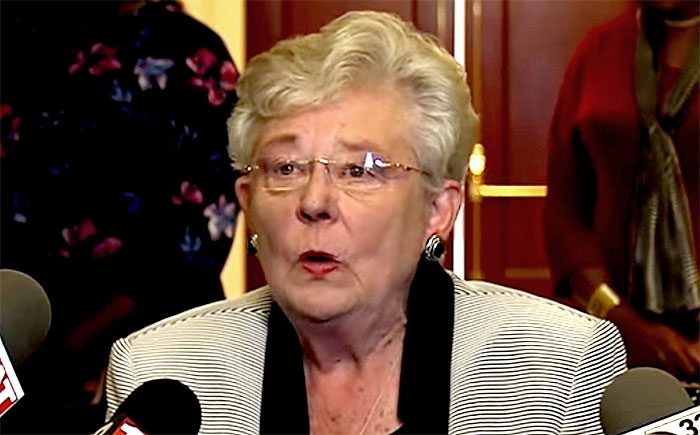 According to this Huffpost report by Andy Campbell, the anti-abortion statute signed by the Governor of Alabama, Kay Ivey, above, has delighted white supremacists and neo-Nazis, who see it as a way of preventing "white extinction".
Campbell wrote:
Many white supremacists subscribe to the bogus conspiracy theory that white people are going extinct due to immigration and falling birthrates among white women.
To them, the strict abortion bill that passed the Alabama Senate on Tuesday ― which aims to challenge a woman's constitutional right to choose to end a pregnancy ― represents a huge victory in their effort to propagate the 'white race'.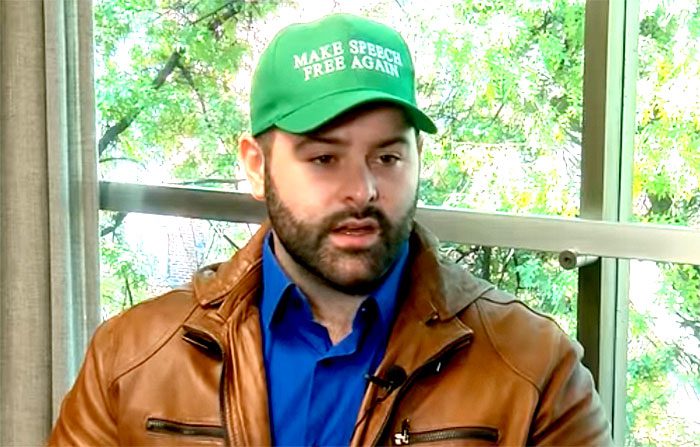 Andrew Torba, above, founder of Gab – a social network site for white supremacists and neo-Nazis "that champions free speech, individual liberty and the free flow of information online" – gleefully said just minutes after the bill passed:
Praise God.
One Gab user responded:
Great news for the future children of America I would say.
Another said.
It's only fair that we make it illegal for whites only.
Campbell pointed out that "the paranoid fear" that white people are being replaced was encapsulated perfectly by Rep. Steve King (R-Iowa) ― one of America's most prominent white supremacists ― when he tweeted in 2017:
Culture and demographics are our destiny. We can't restore our civilization with somebody else's babies.
Campbell said:
King was echoing a view shared by white supremacists all over the world: The conspiracy theory of the 'Great Replacement' holds that immigration by people of color into traditionally white-majority countries and falling birthrates among white women are pushing white people, specifically in the West, toward extinction.

White extinction isn't actually a thing, but it gives white supremacists like King a chance to play victim and claim oppression. To them, abortion and contraception are egregious, each a missed opportunity to turn the tide in their fantastical population war … By contrast, any measure that would drive white women to churn out more babies is considered a win among white supremacists.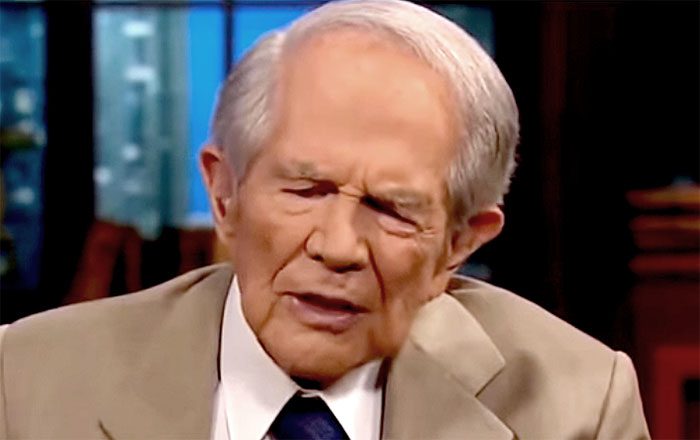 Alabama's new law is so extreme that even conservative Christian nutters like televangelist Pat Robertson, above, a long-time opponent of abortion and LGBT rights, has voiced his concerns on his "700 Club".
I think Alabama has gone too far. It's an extreme law. They want to challenge Roe v. Wade, but my humble view is that this is not the case that we want to bring to the Supreme Court, because I think this will lose.
Robertson cited the law's lack of exemptions for rape or incest and its punishment up to 99 years in prison for performing an abortion in the state.
The law, sponsored by Republican state Rep. Terri Collins, makes performing an abortion in the state a felony punishable by 10 to 99 years or life in prison. Attempting an abortion would be a felony, with a prison sentence of one to 10 years.
The only exceptions to the ban would be a threat to the life of the mother; a mental illness where a birth might lead to a woman's death or the death of her child; or in the case of fetal anomalies where a child might be stillborn or die after birth.
Anti-abortionist Donald Trump is none to pleased either. Yesterday he tweeted that he favours making an exception of cases of rape and incest.
As most people know, and for those who would like to know, I am strongly pro-life, with the three exceptions – rape, incest and protecting the life of the mother – the same position taken by Ronald Reagan.
The president said judicial appointments have helped in moving the US to further restrictions on abortion.
We have come very far in the last two years with 105 wonderful new federal judges (many more to come), two great new supreme court justices … and a whole new and positive attitude about the right to life.