The counter-extremist think-tank Quilliam has reacted with anger to reports that the Saatchi Gallery had covered two paintings after complaints from Muslim visitors that the works were 'blasphemous'.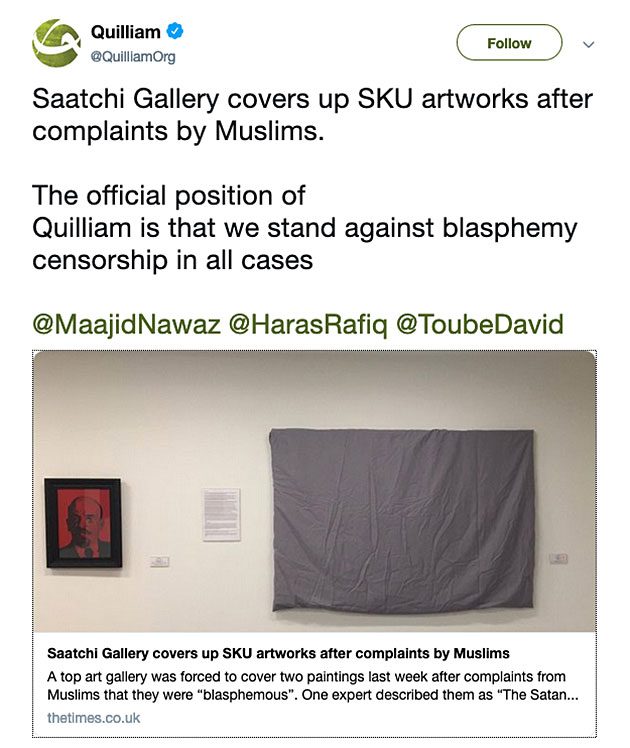 Usama Hasan, head of Islamic studies at Quilliam, said the artworks were:
Hasan referenced the 1988 fictional book by Salman Rushdie, which caused major controversy among Muslims who accused it of mocking their faith.
So, what's the story?
The Independent revealed that two paintings – part of a new exhibition by the artist SKU –were covered up in response to complaints.
The two "offensive" artworks show classical-style nudes overlaid with Arabic script, in a way that appears to imitate the American flag. They are intended to represent the conflict between the US and Islamic extremists.
However, the inclusion of the shahada, an Islamic creed and one of the Five Pillars of Islam, prompted a backlash, with Muslim visitors asking for them to be removed from the London gallery.
The gallery rejected demands to remove the paintings entirely, arguing that visitors should be able to see the works and draw their own conclusions. The artist, SKU, instead requested they be covered, saying:
It seemed a respectful solution that enables a debate about freedom of expression versus the perceived right not to be offended.
While the gallery said it "fully supported" freedom of expression as a fundamental right, it added:
The gallery also recognises the sincerity of the complaints made against these works and supported the artist's decision to cover them until the end of the exhibition.
Ahead of the openings of Rainbow Scenes, an exhibition of SKU works that has now ended, ArtDaily.org said:
The overriding theme of the exhibition is how we, as individuals, are subjected to wider cultural, economic, moral and political forces in society. Once section of the exhibition deals with the impact of these forces on us individually as we absorb such influences into our minds and our bodies …

SKU is based in London. The artist does not have any social media accounts or website. The work of the artist is currently being exclusively presented by the Saatchi Gallery.

The name SKU derives from the economic term Stock Keeping Unit. SKUs usually take the form of product numbers or barcode identifiers. For the artist it appears that each of us is increasingly a SKU – a bundle of assets to be monetised and a consumer of services.
Hat tip: BarrieJohn