AN e-commerce company that allowed a vendor to sell nine 'sacred' hosts on its site has sounded alarm bells among Catholics.
According to LifeSiteNews Etsy.com is known for sales of "cute"crafts but it recently carried an ad for "real Catholic hosts, ordained by an authorized Catholic priest' intended to be abused during black magic rituals crafts.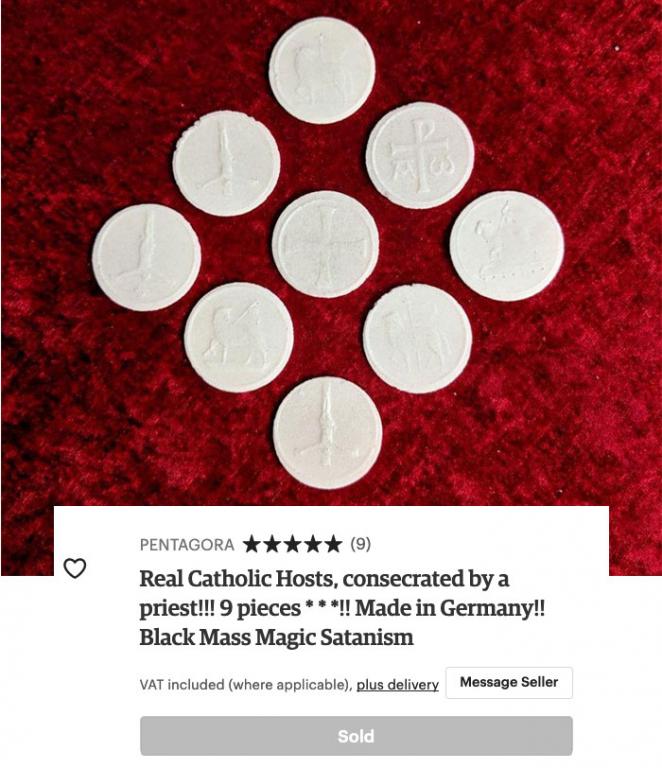 The vendor, calling himself "AL" and his business "Pentagora", stated that the purpose of the nine hosts was:
To abuse for classic black fairs or black magic purposes.
The hosts, he said, were made and consecrated in Germany, and the listing indicated that they would be shipped from Germany.
LifeSiteNews contacted the vendor for evidence that the hosts were indeed consecrated. He responded:
Maybe you don't know, but to celebrate an authentic black mass, you have to be an ordained Catholic priest.

There are a handful of priests in Germany who work in the satanic underground. Unfortunately, I am not allowed to tell you more.

Germany has always been a country of the occult. You don't have to believe me. The right people recognize me, that's all that matters.
Beverly Stevens, the editor of Regina Magazine, said the sale of the Blessed Sacrament in Germany didn't surprise her.
Stevens, who lived in Germany for seven years, said that in Germany:
Catholic artifacts and sacred objects are routinely treated with the utmost disdain by the hierarchy and the elites they cater to ― so pretty predictable that this would spread to regular people.
She said she had seen "sacred relics" for sale in a Wiesbaden flea market.
The seller thought it amusing that we Americans were horrified. So the sale of consecrated hosts online for satanic worship purposes is completely predictable. I doubt whether Cardinal (Reinhard) Marx would bat an eye.
LifeSiteNews pointed out that the item was listed as "handmade" and therefore did not meet the marketplace criteria of Etsy, which states that this category cannot be used by someone "not involved in designing or making that item."
Etsy also has a anti-discrimination policy that forbids posts that "support or glorify hate groups and their members", and "derogatory or demeaning remarks against protected groups", including religious groups.