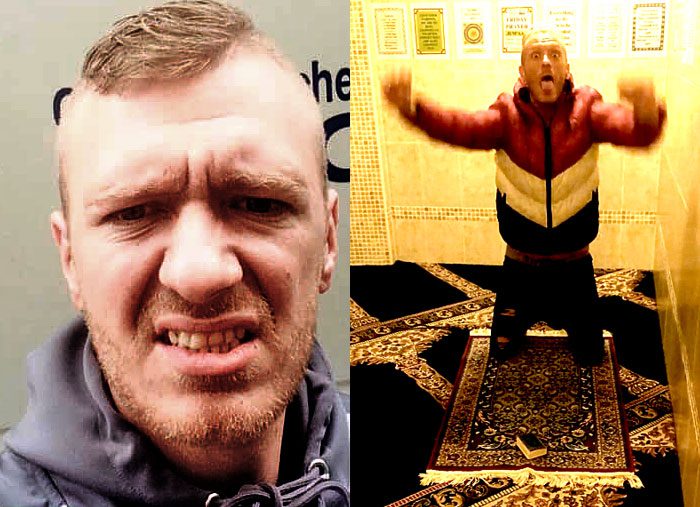 ALTHOUGH police have not named him, a man arrested this week for making fun of Islamic prayer is believed to be Terence Howarth, above.
The arrest was made after two videos appeared on Howarth's Facebook page showing a man going though the motions of prayer along with the words:
May Jesus be with you now leave me alone as I fly on my magic carpet.
On Wednesday, police were made aware of the videos, and a day later a 30-year-old man was arrested on suspicion of inciting racial hatred. He remains in police custody awaiting interview.
Inspector Stuart Maley-Jones, of Greater Manchester Police's Bolton District, said:
I would like to thank those who have reported this incident and reassure them, as well as the wider public, that while we have made an arrest our investigation does not simply stop here. Hiding behind a computer screen does not equate to being above the law and I would like to take this opportunity to stress that we are committed to bringing those who spread hatred in this way to justice.
The alleged crime is believed to have been committed in the prayer room of Royal Bolton Hospital.
A woman from Halliwell who was visiting the hospital said she recognised the room immediately when she was shown the video. She pointed out the man in the video was wearing shoes and touching holy texts, which are both frowned upon by the faith.
Imteyaz Ali from the Bolton Council of Mosques said:
It's a place of worship kindly provided by the hospital for all faiths, which should be respected. Now it's clearly a police matter and they should deal with it robustly.
Trish Armstrong-Child, director of nursing at Royal Bolton Hospital said:
We are saddened to learn that our facilities which form part of the religious and spiritual care we provide to our patients, visitors and staff have been misused in such a disrespectful manner.

Our faith rooms are open to all 24 hours a day, seven days a week, and we would hope that they would be treated with respect by everyone who visits the hospital.

Our multi-faith chaplaincy team and our security staff are aware of the incident and we will be working together to try and ensure our premises are used responsibly and respectfully by all.
Yesterday a post on Howarth's Facebook page referred to mental health problems, and offered an apology to the Muslim community. It also said that the stunt was not performed in a mosque.
Hat tip: BarrieJohn