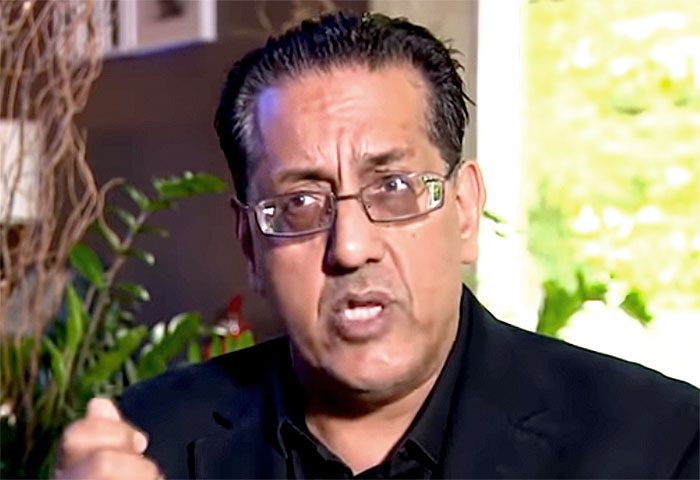 The former Chief Prosecutor for Northwest England, Nazir Afzal , above, has accused mainly Muslim protesters targeting a Birmingham school of spreading lies about the teaching of gay sex.
Afzal was brought in by Birmingham City Council six weeks ago to mediate between parents and staff who are locked in a battle over relationship lessons at Anderton Park Primary school – and this week he broke his silence to warn that unless something was done by the Government to quells the protests similar conflicts could erupt outside schools up and down the country.
An angry Afzal told Sky News that he was speaking out for the first time because mediation had stalled:
I have seen dozens and dozens of men, invariably, outside that school, coming from the mosque, for example, or whatever place of worship, who have no place to be there. What the HELL are they doing outside screaming at five-year-olds? What are they doing? They are inflaming the situation.
In this report Afzal said:
I've looked at the curriculum, there is nothing in the curriculum that is LGBT specific. There is nothing about gay sex.

I've seen people walking around outside of that school with stuff that they have downloaded from the internet suggesting this is on the curriculum. This is what's being taught to their children. It's a lie. And this is what I'm dealing with.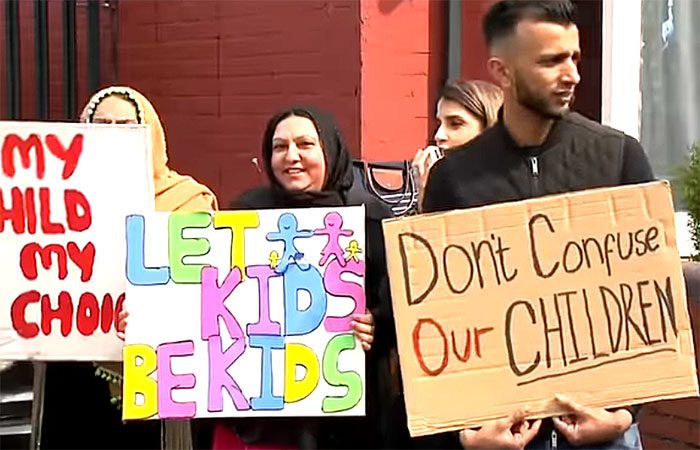 It's not only Muslims who are the problem.
Antonia Tully is co-ordinator of the Christian Safe at School campaign, run by The Society for the Protection of Unborn Children (SPUC) which is committed to defending the rights of parents to be the primary educators of their children in matters relating to personal relationships, marriage, family life and the dignity of human life. She said of the protests:
It's a very sad state of affairs. Of course it's impacting negatively on the community but we need to look at the root of this issue which is that fundamentally the school is not listening to the wishes of the parents involved.

The whole situation has escalated to these protests – I don't suppose any of the parents at the outset wanted this result. But they have been so systematically side-lined and their concerns haven't been addressed.

Luke Dowding, Executive of One People One Faith which that supports gay Christians, said:
I think it's really important that we need to be very clear on what the new relationships and sex education guidance actually involves. The language that is used is very deliberate with relationships as the bedrock in primary education and with sex education following later in secondary school.

This isn't about sexualising young children, but rather equipping them to recognise and live alongside different relationships in Britain's multicultural landscape.
The Department for Education has responded to questions about the introduction of compulsory relationships education and RSE from September 2020.
According to a departmental statement, the religious background of pupils must be taken into account when planning teaching, so that topics are appropriately handled.
It also insists that the subjects "don't promote" LGBT relationships, rather, they educate.
The statement goes on to state:
Pupils should be taught about the society in which they are growing up. These subjects are designed to foster respect for others and for difference, and educate pupils about healthy relationships.
The statement also supports Afzal's comments that schools will not be forced to teach children as young as five about LGBT relationships.
The statement also explain:
Pupils should receive teaching on LGBT relationships during their school years – we expect secondary schools to include LGBT content. Primary schools are enabled and encouraged to cover LGBT content if they consider it age appropriate to do so, but there is no specific requirement for this.
UPDATE:
THE LGBT Humanist charity the Pink Triangle Trust (PTT) has just issued a press release saying it is "appalled" by the anti-LGBT demonstrations against the inclusion of homosexuality in Relationship and Sex Education (RSE) lessons.
The PTT maintains that there are parallels in this with the Salman Rushdie affair of 1989.
Once again Muslims are protesting about something which many of them haven't even read. Then it was a novel; now it is the No Outsiders programme or the government's position on RSE.

Again mob rule is winning. Then the author was forced into hiding and those who translated his book physically attacked. Now schools are being forced to change what they teach.

Politicians are pandering to those behind the trouble. Witness Birmingham MP Roger Godsiff, publicly doubting whether the lessons there were "age appropriate", despite Ofsted's judgement that they are.

Witness another Birmingham MP Shabana Mahmood, defending the protesters who forced Parkfield School to suspend its lessons earlier this year.

RSE programmes which protect LGBT rights and women's rights are under threat. Muslim intolerance and intransigence is playing out publicly adding more fuel to the culture war between Islamists and anti-Muslim bigots. This episode is undermining the idea that we should live in a cohesive society where human rights are universal.

The government must resist this growing attempt to undermine RSE education. The government says it defends teachers' ability to do their jobs in the face of unreasonable pressure. But the attempt to undermine teaching which acknowledges LGBT people's existence is a well-coordinated and deeply intimidating campaign which requires a national response. Leaving individual schools to face the wrath of vocal, intolerant, reactionary religious groups is not good enough.