LAST Saturday America's God-besotted Vice President Mike Pence delivered a commencement address at Liberty University in Lynchburg, Virginia, and he used the occasion to warn that Christians no longer command the respect they deserve.
Addressing students at one of the world's largest Christian schools, Pence who has been under fire for his own cock-eyed religious views, warned graduates that they have to stay strong against the challenges they'll get from Hollywood, the media and the secular left.
Some of the loudest voices for tolerance today have little tolerance for traditional Christian beliefs. Be ready.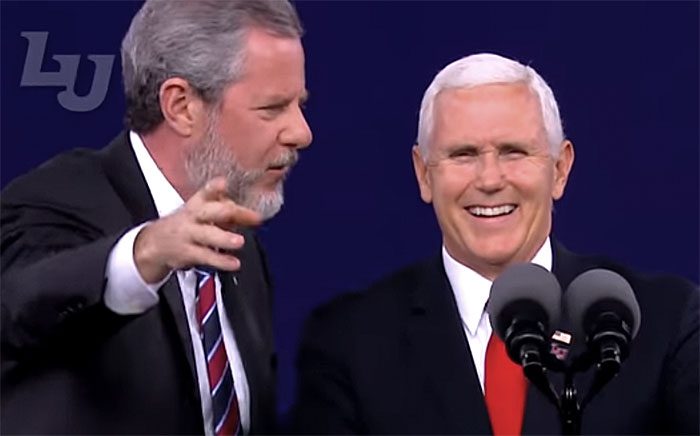 With his wife, Karen, sitting on stage as he spoke, Pence recounted the "harsh attacks"  they endured when she returned this year to teaching art at a Christian elementary school where she'd worked when he'd served in Congress. Unlike her previous stint, this time Karen Pence faced scrutiny after news reports pointed out that the school bans gay students and teachers.
Said Pence:
Throughout most of American history, it's been pretty easy to call yourself Christian. It didn't even occur to people that you might be shunned or ridiculed for defending the teachings of the Bible. But things are different now.
Pence said the graduates will be asked not just to tolerate things that violate their faith, but to endorse them.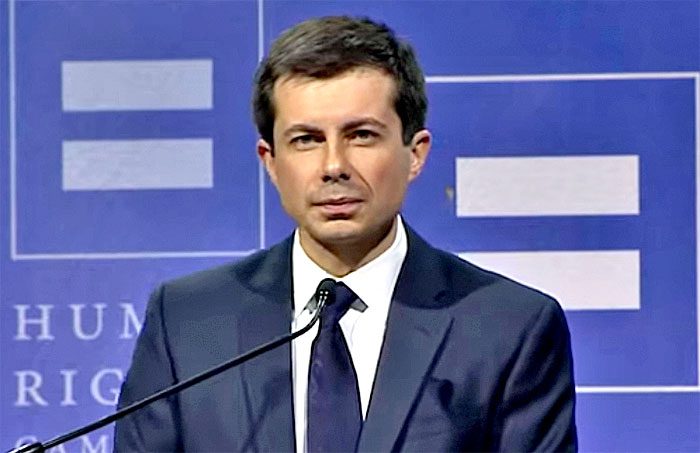 Pence didn't specifically mention this, but he's been a targeted on the presidential campaign trail by gay Democratic candidate Pete Buttigieg, above, who demanded to know how Pence can square his faith with both his support for Trump and his opposition to gay marriage.
Last month Buttigieg said at a gay event:
If me being gay was a choice, it was a choice that was made far, far above my pay grade. And that's the thing I wish the Mike Pences of the world would understand: that if you've got a problem with who I am, your problem is not with me. Your quarrel, sir, is with my creator.
Although he was warmly received at Liberty, Taylor University in Indiana is not too keen on having Pence give a commencement address next week. An online petition started by a Taylor alum complains that the address will make the school:
Complicit in the Trump-Pence Administration's policies, which we believe are not consistent with the Christian ethic of love we hold dear.