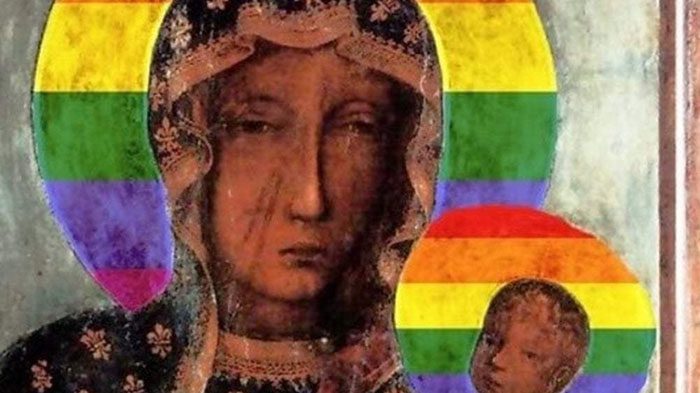 A WOMAN identified by Amnesty International as Polish activist Elżbieta Podlesna has been arrested on suspicion of 'offending religious beliefs' for possessing copies of a poster showing the Virgin Mary and baby Jesus with rainbow halos.
Responding to news that the Polish authorities detained Podlesna for several hours, Amnesty International's Regional Europe Researcher, Barbora Cernusakova, said:
We are extremely concerned to hear that Elżbieta Podlesna, a Polish human rights activist, was arrested and detained for several hours on spurious charges yesterday [May 6] upon her return to Poland from a trip to Belgium and the Netherlands with Amnesty International.
Podlesna was nabbed by police after they claimed to have found copies of a posters depicting the Virgin Mary with a halo around her head and shoulders in the colors of the LGBTQ flag in her house when they raided it. The posters had been posted around the town of Płock at the end of April.
Amnesty International said:
Given the lack of evidence of a crime here, we can only see that Elżbieta has been detained for her peaceful activism. Amnesty International calls on the Polish authorities to stop harassing peaceful protesters and activists in Poland, including by arbitrarily arresting people who stand up for their rights. Restricting activists from freely expressing their views in the country is unlawful and must stop immediately.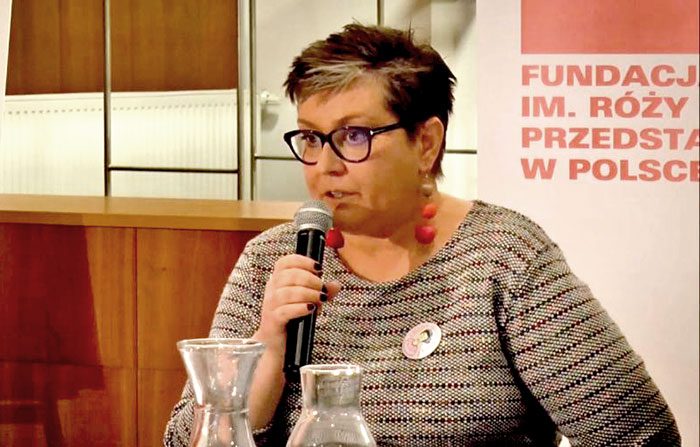 Podlesna, above, had just returned to Poland after completing an advocacy tour with Amnesty International in Belgium and the Netherlands raising concerns about the rule of law in Poland.
Amnesty International established that at 6am on May 6, during a house-search, the police confiscated Elżbieta Podleśna's laptop, mobile phone and memory cards. She was also aware of police surveillance and learned the police requested a CCTV camera from the building where she resides.
According to this report, the posters depicted the Black Madonna of Częstochowa, one of the most highly revered icons in Poland. It is housed in the monastery of Jasna Góra – about 70 kilometers north of Katowice – and one of the holiest Catholic shrines in Poland.
Local police authorities confirmed that a 51-year-old woman had been arrested on on suspicion of "profaning" the holy icon. Her identity wasn't immediately revealed by law-enforcement authorities.
Joachim Brudziński, Poland's Interior Minister, also confirmed on Twitter that police had arrested someone:
For carrying out a profanation of the Virgin Mary of Częstochowa.
Poland's Catholic Church said this desecration of a holy image filled Polish people – who rank among the least tolerant towards homosexuality and LGBT rights according to recent studies – with "pain and anxiety".
The Polish Interior Minister labelled the posters as "cultural barbarism", adding that the values of freedom and tolerance:
Doesn't give anyone the right to offend the feelings of believers.
Podlesna could face up to two years in jail if found guilty and convicted.
In recent months, the ruling Law and Justice (PiS) party has targeted the LGBT community in an aggressive campaign to mobilise its conservative electorate ahead of two key elections this year. PiS chairman Jaroslaw Kaczynski recently described LGBT rights as a foreign import that threatens the traditional values that lie at the heart of Poland's identity.
Hat tip: BarrieJohn