FOOTAGE has emerged of ultra-Orthodox Jewish men abandoning a Eurovision protest in Jerusalem and fleeing when a small group of women peeled off their tops.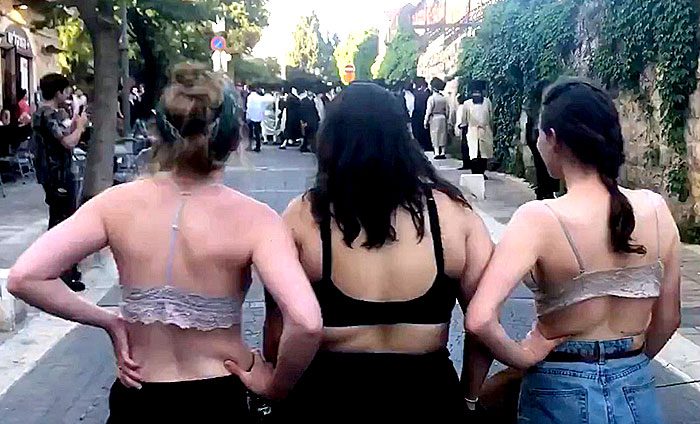 The women's action, according to this report, accomplished what the police failed to do.
Up until the women stripped scores of police, backed up by officers on horseback, had been struggling to break up a demonstration sparked by sabbath preparations for the Eurovision Song Contest final broadcast last Saturday in Tel Aviv.
Although the broadcast of the Eurovision finale started after the Sabbath, rehearsals and production preparations took place earlier in the day.
The issuing of work permits for the event led an ultra-Orthodox political party to temporarily suspend coalition negotiations and sparked the protest which saw hundreds of ultra-Orthodox men and boys clashing with police, blocking traffic and attacking officers.
As protesters blocked roads beside an ultra-Orthodox area in the center of the city, at least four women stripped down to their bras, forcing the protesters to leave the area due to the prohibition against looking at women in dress deemed immodest.
The Haredis protest in smaller numbers every Saturday in that part of Jerusalem, where a few cafes and restaurants are open on Shabbat, and the women who confronted them work in those establishments.
Ahead of the Eurovision final, one of Israel's chief rabbis called for those who keep Shabbat to extend their observance of the holy day by 20 minutes in response to the "great desecration."
Meanwhile one of this year's four Eurovision presenters, Assi Azar, above, has announced that the £23,000 he was paid for his role is to go to a gay charity – Israel Gay Youth (IGY).
Azar, 35, who was included among the 100 most influential LGBTQ+ people in the world by the magazine OUT in 2009, decided to make the donation ahead of the contest. He said:
To host the Eurovision for money is definitely something that I won't do. It's for my soul and to represent the country with respect. If you can do something good with the salary that they pay, why not?
A very popular personality in his country and beyond, he has taken part and hosted numerous TV shows. He came out as gay in 2005. Five years later, he released his experiential documentary film Mom and Dad: I have something to tell you. In 2009, his name was included among the 100 most influential LGBTQ+ people in the world, by the magazine OUT.
Hat tip: BarrieJohn (protest report)