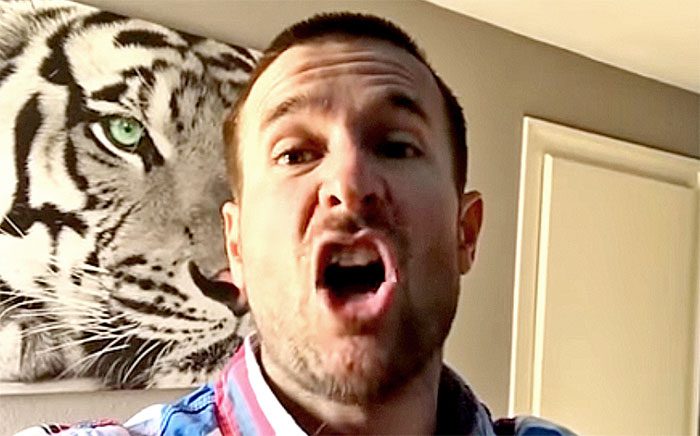 IRELAND has joined several other countries who have imposed exclusion orders on Steven L Anderson, above, a Baptist pastor from Arizona.
According to a petition calling on Irish authorities to ban Anderson, notorious for his inflammatory anti-gay and and anti-Semitic rhetoric, the hate preacher was due to address Christians in Dublin on May 26. More than 14,000 people signed it.
Ireland's Minister for Justice Charlie Flanagan signed the exclusion order yesterday (Sunday) under the Immigration Act of 1999. It's the first time the country has used to law to ban an individual.
Anderson, of the Faithful Word Baptist Church, came to public prominence in 2009 after he told his congregation that he had prayed for the death of then President Barack Obama. He also praised the gunman who killed 49 people in an attack on a gay club in Orlando, Florida, in 2016.
In the wake of the horrific 2016 massacre in Orlando that targeted the nightclub, Anderson celebrated the deaths saying that there are now "50 less pedophiles" in the world.
Obviously, it's not right for somebody to just, you know, shoot up the place, because that's not going through the proper channels. But these people all should have been killed, anyway, but they should have been killed through the proper channels, as in they should have been executed by a righteous government that would have tried them, convicted them, and saw them executed.

Because, in Leviticus 20:13, God's perfect law, he put the death penalty on murder, and he also put the death penalty on homosexuality. That's what the Bible says, plain and simple.
He also blamed the victims of the massacre at the Bataclan concert hall in Paris, France, back in 2015. The massacre took place during a show put on by the Eagles of Death Metal.
When you go to a concert of death metal, somebody might get killed!"
Section 4 of the Act allows the Minister to sign an exclusion order if he:
Considers it necessary in the interest of national security or public policy.
Flanagan. said:
I have signed the exclusion order under my executive powers in the interests of public policy.
His department later confirmed it was the first time an exclusion order had been effected in the 20 years since it was enacted.
The Irish Times first reported the intended visit by Anderson last month. He had reportedly been invited to Ireland by Northern Irish Baptist preacher Stuart Houston.
Anderson, whose church has a literal belief of the King James version of the Bible, has already been banned from most EU countries, most recently the Netherlands, and from South Africa. He has also been the subject of an exclusion order in the UK. In 2016 he was deported from Botswana.