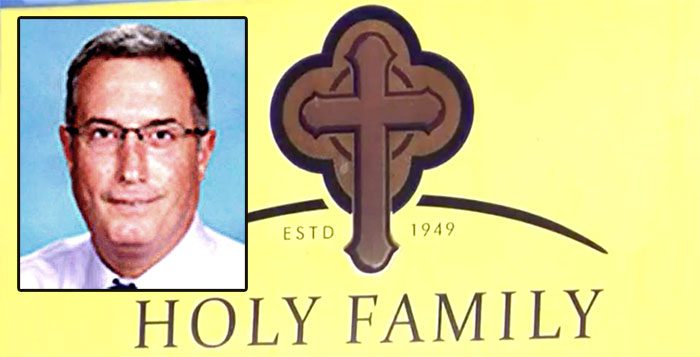 MICHAEL Comeau, inset, principal at the Holy Family Catholic school in Port Allen in Louisiana, was out on a field trip with a group of students when he was arrested last Friday in Washington DC.
According to the arrest report, officers were dispatched at about 2:20 am Friday to Archibald's Gentlemen's Club to investigate "an intoxicated man refusing to pay his bill". Comeau, 47, who is also a reserve police officer, was found standing in a roadway "refusing to move." He was asked to move "multiple times" but "refused".
Comeau was arrested on counts of public intoxication and possession of an open container of alcohol.
Dan Borne, spokesman for the Diocese of Baton Rouge, said in a statement that the incident occurred while Comeau was with students on a school-sponsored trip to the capital, though students were in their hotel rooms under the supervision of other chaperones when Comeau was arrested.
Comeau submitted his resignation as principal, Borne said. An interim principal will be appointed.
Comeau also resigned from his role as a reserve officer at the Brusly Police Department, according to Chief Jonathan Lefeaux.
Lefeaux said Comeau had served for the past six months on the force.
Prior to his career in the Catholic school system, Comeau taught at Waller Elementary School in Bossier City for six years. Seen as a rising star locally and nationally, Comeau was named one of 20 outstanding teachers honored by USA Today and received the prestigious Milken education award, which comes with a $25,000 stipend.
The Milken award references his gift for transforming "low-achieving students" into "high-achieving learners." With a track record showing his commitment to struggling students, he was eventually hired in 2003 as an assistant principal to turn around the failing Prescott Middle School in Baton Rouge.
Soon after he moved on to Greenbrier Elementary, but resigned in 2006 after he was accused of not reporting concession sales and mishandling $120,000 in Hurricane Katrina recovery donations intended for instructional purposes but that an audit said mostly went for other uses.
Comeau had served as principal of Holy Family School for five years, Borne said. It is unclear whether the Diocese knew of Comeau's history at Greenbrier when he was hired.