NOT normal as in unhinged? Definitely! But when a pastor described Devin Roberts, head football coach at Washington County High School in Chatom, Alabama, as 'not normal' he meant is as a compliment.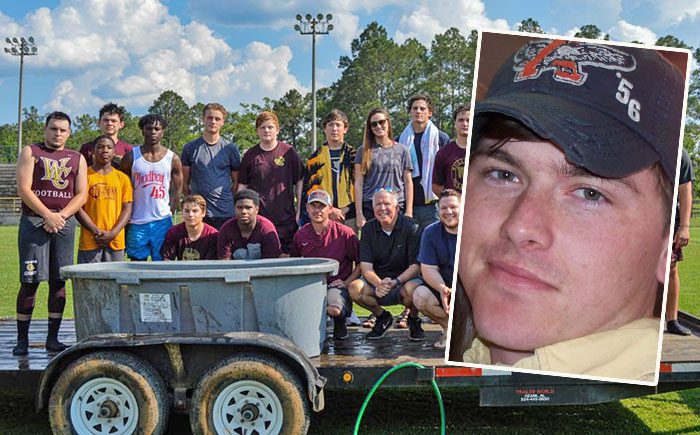 Roberts, inset above, had arranged for the pastor to dunk 18 team members in grubby grey tub on wheels so they could commit their lives to Jesus. In a video of this stupid and illegal caper which took place last month, the unnamed pastor said:
None of this would be going on without head coach Devin Roberts. Now, Devin Roberts is not normal— this is not going on all over the United States. I've see it in a few places and it's pretty neat but Coach Devon Roberts is not only the kind of guy that loves his players for how well they do in the weight room and on the field… but he's also concerned about their hearts.
The video shows the student-athletes lining up to step into the tub. After each student agrees to "accept Jesus", the pastor immerses them in the water as the crowd claps and cheers.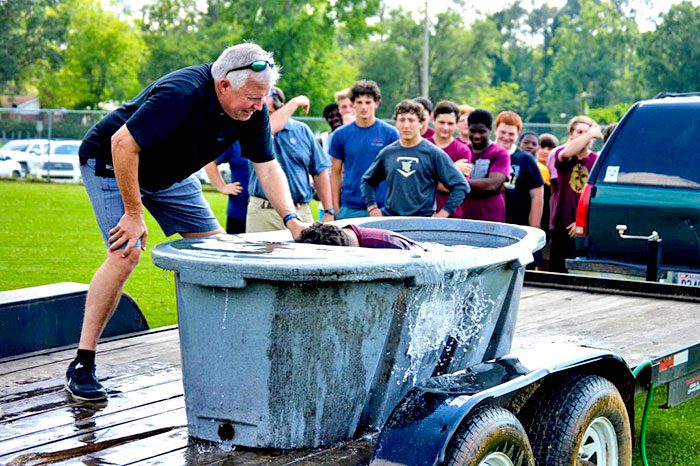 Roberts later posted this message on his Facebook page:
So proud of all the kids and grateful to the people who made this happen! Most importantly, I'm humbled and in awe at witnessing the power of Christ move through myself and these young people. Please continue to pray for these kids as this public declaration of their faith will bring judgement to them from some, and praise God as their salvation delivers the grace to save them from the only judgement that matters!
While many praised the coach for arranging the baptism, at least one Washington County community member was unhappy with this silly stunt and made a complaint to the Freedom from Religion Foundation.
FRFF's Christopher Line responded by saying:
It's hard to imagine a more blatant violation of the Establishment Clause than public school students being baptized on school property as part of a school-sponsored event organized by school personnel.
Line sent a letter addressed to Washington County Schools Superintendent John Dickey on May 29 explaining why the football team's baptism is illegal and how it is in violation of the First Amendment.
Courts have consistently held that it is illegal for a public school to organize, sponsor, or lead religious activity at public high school athletic events, such as football practice. When baptisms take place directly before or after a team football practice, on school property, with coaches' participation or leadership, any reasonable student would perceive these activities to be unequivocally endorsed by their school.
Line also added that the football player's baptism was:
Especially problematic in the context of athletics, given the pressure players feel to conform to coaches' expectations, so as not to disappoint coaches or hurt their standing on the team.
While the FRFF is unsure whether or not it will take legal action at this time, Line says that any Washington County High School student and his or her family has grounds to pursue litigation.
Any student and their family could potentially take legal action over the District's violation of their constitutional rights.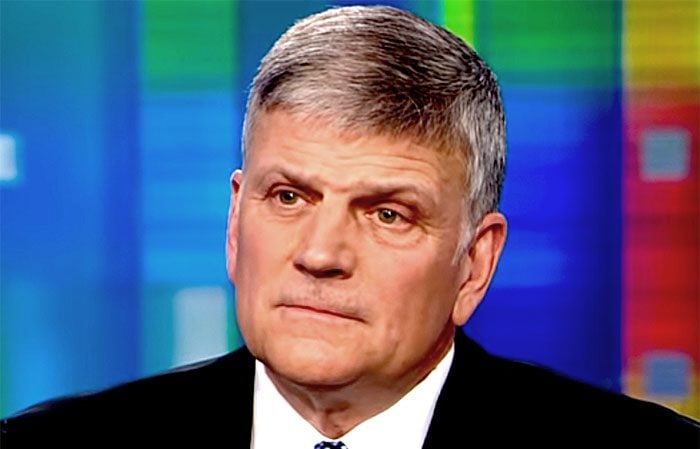 Today I learned that evangelist Franklin Graham, above, has stuck his beak into the affair by congratulating those who participated in the baptism – and slamming the FFRF.
Congratulations to these 18 football players and their coaches from Washington County High School in Chatom, Alabama! These students who had put their faith in Jesus Christ were baptized in a feeding trough while everyone celebrated – well, almost everyone.
He noted:
One person in their small town complained to the atheist Freedom From Religion Foundation and now they're demanding an investigation about these 'religious activities.' I thank God for coaches and teachers across our country who are boldly living out their faith in Christ and care deeply about the lives of their students. God bless them!
Jeremy Dys, Deputy General Counsel for First Liberty Institute described the FFRF's intervention as "pathetic" and said the "shaming" of high school kids needs to stop.
The Constitution never requires people of faith to hide themselves from public view. In fact, the ability of students and members of the Fellowship of Christian Athletes to freely exercise their faith in public is the very essence of the First Amendment.