BACK in 2015, a crowdfunding campaign was launched to finance research into the regeneration of foreskins for circumcised men – and more than $40,000 dollars were raised.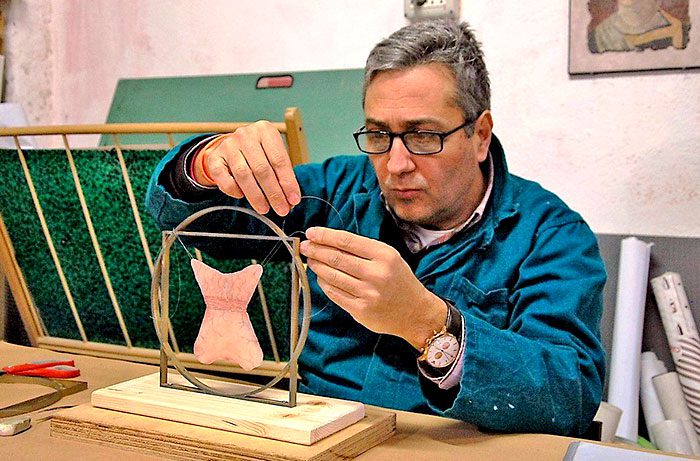 Cash raised was also used to create a series of artworks by Vincenzo Aiello, above, titled "HuFo, The Missing Piece: Revealing the True Cost of Male Circumcision".
Aiello, an opponent of infant male circumcision, is the founder of Foregen, a non-profit dedicated to biomedical research into foreskin regeneration. The Kickstarter campaign said:
HuFo [human foreskin] isn't just about art, education and perspective, it's about funding real world biomedical solutions for circumcised men.
And Foregen's website says:
We understand the functional and sensory losses to the penis from circumcision, and the potential psychological damage to those on whom this surgery was performed.

Fortunately, scientific advances in tissue engineering and regenerative medicine now offer the possibility to regrow the specialized erogenous tissues of the foreskin.

Foregen's goal is to heal the trauma from circumcision by applying these regenerative therapies.
Aiello and his admirable project came to my attention today when I read that his art exhibit is making its Philadelphia debut at Open Space Studio this week. Its aim is to raise awareness about a procedure that many take for granted, but that others find hugely concerning.
Aiello said:
Newborn circumcision is a trauma, and it's ingrained in our psychology. There are obvious concerns and dangers to the infant. And remember, anything that is a danger to an infant is a danger to society.
Aiello's nine artworks comprise silicone replicas of human foreskin draw inspiration from Leonardo da Vinci's Vitruvian Man.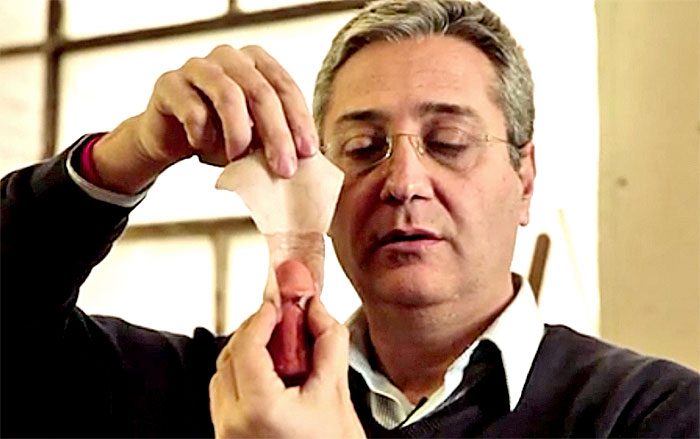 Gregory E Dean, chief of pediatric urology at St Christopher's Hospital for Children, said:
It is a very heated topic. Very heated.
George Denniston, the Philadelphia-born, Penn medical school-educated founder of Doctors Opposing Circumcision (DOC), a national group against foreskin removal done for non-medical reasons, added:
I consider circumcision an epidemic of great harm that will stop when doctors stop performing this atrocity.
Mainstream pediatric urologists point out that circumcision is more common in the United States than other places, including the United Kingdom, Scandinavia, and Australia, as well as South America and parts of Asia. Yet even in the US, there is evidence that support of routine circumcision not based on religious or cultural practice — such as by Jews and Muslims — has declined.
The most recent study by the US Centers for Disease Control and Prevention found that while rates have fluctuated with changes in medical advice, male newborn circumcision declined overall from 1979 to 2010 from about 65 percent to 58 percent. Regional rates vary, with the highest rates in the Midwest, followed by the Northeast, the South, and the West.
The American Academy of Pediatrics' position, last updated in 2012, is that scientific literature shows potential health benefits to circumcision but that the decision should be left up to parents and doctors.
Among the benefits cited were lower risks of acquiring HIV, genital herpes, the human papilloma virus (HPV), and syphilis. The group also said research indicated that circumcision can lessen the risk of urinary tract infection in the first year of life and penile cancer over a male's lifetime. It can also reduce the risk of cervical cancer for sexual partners.
Still, many parents decide against circumcision for their sons. One of them is Jennifer Holland, 40, of Williamstown, Gloucester County. As a Christian, Holland said:
The whole idea that God made us broken and we need to fix it – that didn't sound right to me.
Holland, an engineer, said she looked into some of the research and didn't find it compelling enough to perform a procedure on her infant, which she worried might cause him pain. Her son, now 7, has never had a urinary infection and hasn't been teased by other boys for having a penis that looks different from theirs.
Just for reference, I think people make an assumption that the people who choose not to [circumcise] are granola-eating hippies. My child is fully vaccinated …
Two of the Philadelphia region's leading pediatric urologists agree that while research does show potential health benefits to circumcision, most of those risks can be reduced or even eliminated through steps like practicing safe sex, good hygiene, and vaccinations against HPV.
Said T Ernesto Figueroa, pediatric urology division chief for Nemours/Alfred I. duPont Hospital for Children:
Neonatal circumcision does not need to be done to be healthy. Men can live perfectly healthy lives if they're not circumcised as long as the foreskin is managed and they follow precautions.
Figueroa said he tries to give parents balanced information and respect their beliefs and preferences.
Meanwhile, at Open Space Studio opposition to non-consensual circumcision will be on display through the works of Aiello until June 14.
Aiello, 55, who considers neonatal circumcision a human-rights violation, said he was circumcised as an adult to deal with a health need.
Through my experience, I have realised this is a surgery that can only be done to adults who consent and only for medical reasons.