HARDLY a day goes by without Christian news outlets reporting on 'miracles' of crosses or Bibles surviving earthquakes or fires, or someone getting 'miraculously' saved from death by a Higher Power.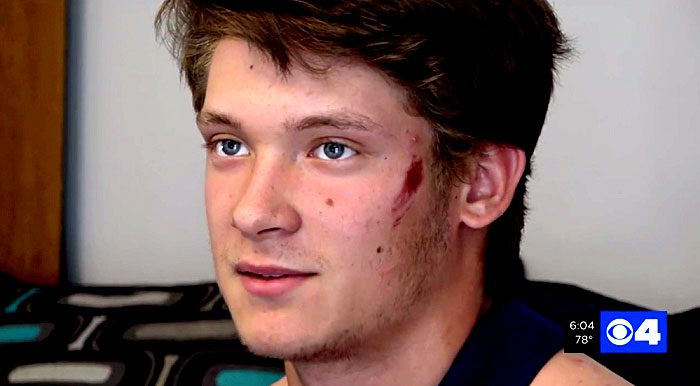 The latest report of a 'miracle' comes from Missouri, where 17-year-old Ben Foster, above, slipped off a cliff on Sunday and and was rescued by paramedics and fire crews.
But Foster credits God for saving him from what might have been a fatal fall from a cliff in Cuivre River State Park, located in Saint Louis.
Foster and friends were exploring Frenchman's Bluff Trail near the 120-foot rounded cliff. While there, his foot slipped on a rock which sent him off of the bluff 50 feet down until a branch broke his fall.
All I could think about was what's going to happen next? Will I be able to get out of this? I just flung my left arm out and grabbed onto it [the branch] somehow, and just held on.
While holding onto his cross chain, Foster said:
I felt God grab on to me and pull on me tight. God grabbed onto me and brought me to safety.
Foster was rescued and placed on a rescue boat which took him to a nearby hospital. His mother, a nurse, Maria Branon said she worried her son would never be able to walk again.
My heart stopped, I didn't know what to think and plus being a nurse, I froze, I didn't know if he's alive. How bad is he injured?
Foster survived the near-fatal fall with just a broken clavicle and minor cuts and bruises. He went on to thank the first responders and his faith for saving his life.