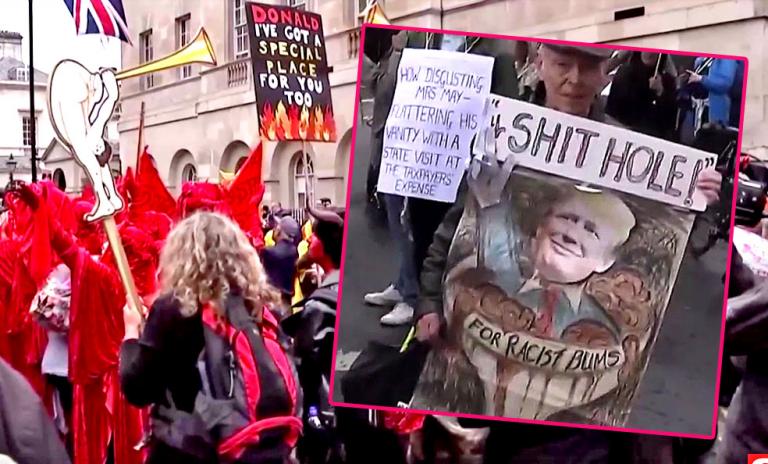 AMONG the thousands thronging the rainy streets of London today to voice their displeasure over the US President's state visit to the UK is  Simon Barrow from Christian think tank Ekklesia.
Explaining why he protesting, Barrow said Trump's language was "unacceptable". He was referring to Trump who described London Mayor Sadiq  Khan, who also opposed the visit, as a "stone cold loser" on Twitter.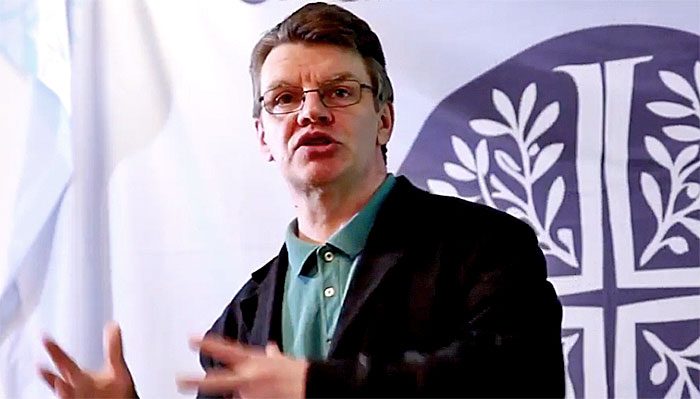 Said Barrow, above:
It doesn't seem very presidential behaviour and I'm tempted to ask, 'who would Jesus call a loser?'. That wasn't the language of Jesus.

Jesus blessed the poor, he welcomed the stranger, he called on his followers to put away the sword, he honoured God's creation and he blessed those who cursed him.
He added:
I will be joining protestors and I'll be doing that as an act of Christian witness against many of the things that President Trump stands for, which I think are anti-gospel and being promoted in the name of Christianity.
Khan responded that he was "not offended in the slightest" by the tweet, but added that that US President was expected to behave more like a role model.
This is the sort of behavior I would expect from an 11-year-old. But it's for him to decide how he behaves. It's not for me to respond in a like manner. I think it's beneath me to do childish tweets and name-calling."
Trump and the First Lady Melania were yesterday welcomed by the Queen on the first day of their three-day visit to the UK –
and he went all religious at a state banquet last night
, saying:
This evening, we thank God for the brave sons of the United Kingdom and the United States who defeated the Nazis and the Nazi regime and liberated millions from tyranny. The bond between our nations was forever sealed in that great crusade.

As we honour our shared victory and heritage, we affirm the common values that will unite us long into future – freedom, sovereignty, self-determination, the rule of law and reverence for the rights given to us by almighty God.
Meanwhile a  20-foot 'Trump baby' balloon was raised in Parliament Square, Westminster, this morning.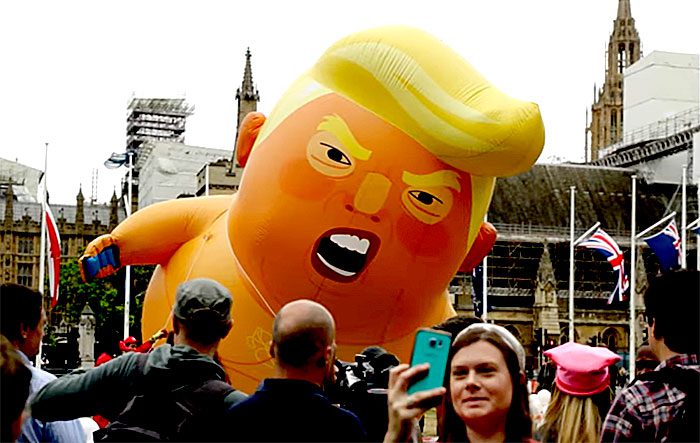 Update: Trump has described reports and footage of the protests as "fake news".
During a joint press conference with the UK's zombie Prime Minister Theresa May, Trump insisted that he'd only seen "thousands of people" cheering during his visit thus far, as well as a "small protest" earlier today.
So a lot of it is fake news, I hate to say.
"It was tremendous spirit and love," he said of the crowds.
There was great love. It was an alliance. And I didn't see the protesters until just a little while ago, and it was a very small group of people put in for political reasons. So it was fake news.
Trump is deeply unpopular in the United Kingdom, with a favourability rating of 21 percent, according to a YouGov UK survey.