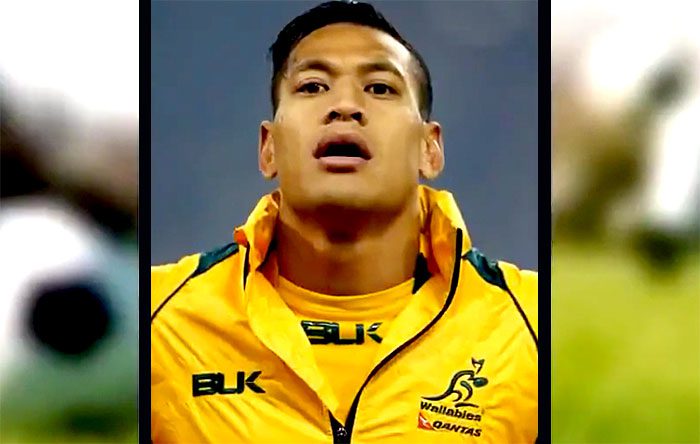 SACKED Australian rugby player Israel Folau is seeking up to $10 million in damages, claiming that he had been punished by Rugby Australia for his religious beliefs.
Folau has engaged eminent lawyer Stuart Wood QC, an industrial relations expert and the head of employment law at Macpherson Kelley, George Haros, who has represented Australian basketballer Liz Cambage in employment matters.
Excerpts of court documents say that Folau will seek a declaration that his employment was unlawfully terminated because of his religion and that he will make a compensation/damages claim.
It's alleged that the termination has cost  Folau the best years of his rugby career, participation at the Rugby World Cup, the chance to become the greatest Wallaby try-scorer (a decades-old record he was likely to break), and the associated exposure and opportunities.
As well as around $5 million in lost salary, Folau will claim a sum in respect of the loss of these opportunities (renewal of contract, sponsorships, etc). The damages will be particularised in due course, but will be substantial. In addition, Folau will seek civil penalties.
A statement released by Folau's team said he would challenge his sacking under section 772 of the Fair Work Act, which prohibits an individual's employment being terminated on the basis of religion. If the parties cannot reach a resolution in the Commission, his claim may go to the Federal Court.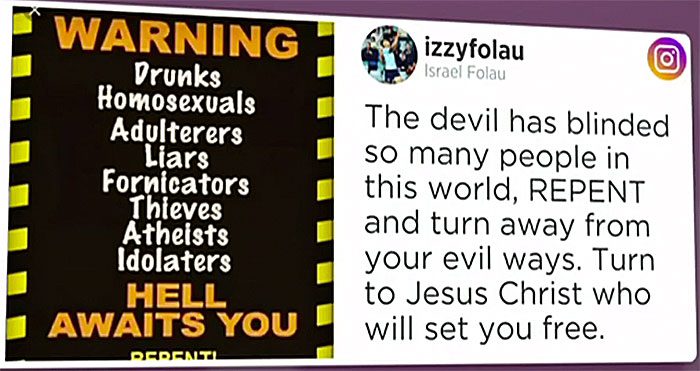 The 73-Test Wallaby's four-year contract was torn up on May 20 after a three-person independent panel found his April 10 Instagram post – proclaiming homosexuals, among other groups, would go to hell – amounted to a high-level breach of the code of conduct.
RA said in a statement the issue was about an employee refusing to honour the contract he signed.
He was bound by a code of conduct for all professional players in Australia that spells out clear guidelines and obligations regarding player behaviour, including respectful use of social media.

An independent panel, having sat for 22 hours and heard testimony from several witnesses and reviewed over 1000 pages of evidence, determined that Israel's conduct constituted a high-level breach of the code of conduct and ordered termination of his playing contract.

It is important to make clear that Rugby Australia and NSW Rugby did not choose to be in a position where they are forced to divert significant resources to defend the ongoing legal action taken by Israel, but his action leaves the game with no choice.
The issue is set to suck up the attention and budget of Rugby Australia for at least 12 months, potentially overshadowing a World Cup campaign. It is reportedly a battle without precedent in Australian sport.
In an earlier statement, Folau said he felt his treatment by RA and the Waratahs had left him no choice but to stand up for his beliefs.
I will forever be grateful and proud to have played the sport I love for our nation. Ours is an amazing country built on important principles, including freedom of religion. A nation made up of so many different faiths and cultural backgrounds will never be truly rich unless this freedom applies to all of us.

The messages of support we have received over these difficult few weeks have made me realise there are many Australians who feel their fundamental rights are being steadily eroded. No Australian of any faith should be fired for practising their religion.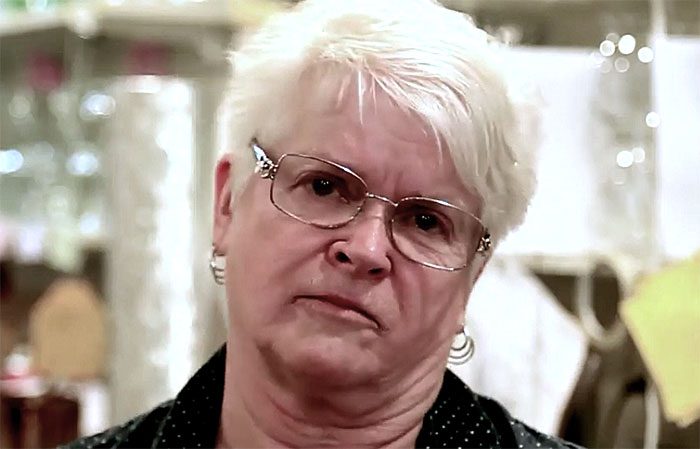 Meanwhile, in another "religious freedom" case, a florist who refused to provide flowers for a gay couple's wedding in 2013 has lost her appeal against a court ruling that said she violated Washington's anti-discrimination laws.
The Washington State Supreme Court yesterday unanimously upheld its previous ruling that Baronelle Stutzman, above, was in violation the state's laws regarding discrimination.
Attorney General Bob Ferguson said:
Washington state law protects same-sex couples from discrimination based on their sexual orientation, the same way it protects Washingtonians from discrimination based on their religion, veteran or military status, disability, race and other protected classes. I will continue to uphold these laws and fight to protect Washingtonians from discrimination.
The case was appealed to the US Supreme Court, but following a ruling in a similar case of a Colorado baker, Jack Phillips, the High Court tossed the decision out and told the Washington Court to review it and make sure they did not rule with any religious bias.
Alliance Defending Freedom attorneys representing Stutzman, of Arlene's Flowers in Richland, will ask the US Supreme Court to take her case after the Washington Supreme Court ruled against her Thursday.