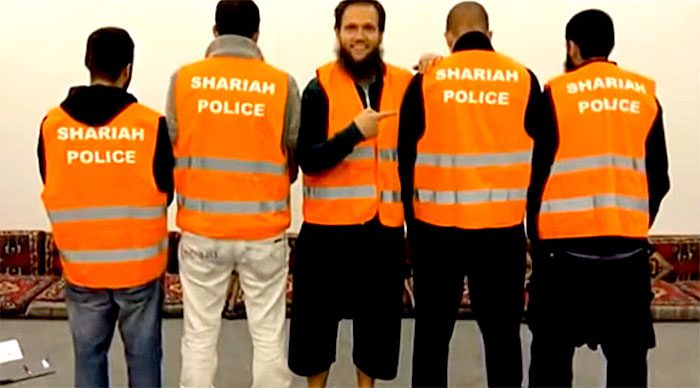 A POSSE of hardline Islamists were fined at the end of May for violating Geman rules regarding the wearing of unofficial uniforms.
The men, aged between 27 and 37, were handed fines ranging from €300.00 (£265.00) to €1,800 euros (£1,595.00).
The group took to the streets of the western city of Wuppertal in 2014, dressed in orange vests bearing the words "sharia police" and handing out leaflets declaring the area a "sharia-controlled zone" where alcohol, music and pornography were banned under Islam's sharia law.
The court said the group and their helpers were aware of the militant effect they were trying to achieve.
They were acquitted in 2016 when judges found that the vests couldn't be classified as a uniform and weren't intimidating. A federal court ordered a retrial.
According to this report, the fanatics are followers of Salafism, a puritanical form of Islam – and one of the world's fastest-growing Islamic movements.
They had been seen in the city's nightlife area, urging people to refrain from alcohol, drugs, gambling, pornography and other activities. They also reportedly distributed leaflets with the same guidelines.
Police reportedly stopped 11 men aged between 19 and 33. An investigation was subsequently launched. The government said it regarded the patrols as "provocative" and said it would not tolerate any "parallel law".
The country's Interior Minister Thomas de Maiziere reportedly said at the time:
No sharia laws will be tolerated on German soil. No one has the right to tarnish the good image of the German police.
Wuppertal Police Chief Birgitta Rademacher added:
Intimidation or provocation won't be tolerated.
German media also cited Wuppertal's mayor, Peter Jung, expressing his support for the hard line taken by police on the group's actions.
These people's intention is to provoke and intimidate and force their ideology [upon others].
Wuppertal residents also expressed concerns over the "sharia police". A hotlinewas set up by officials, allowing locals to report any information regarding activities of the self-proclaimed patrol, and a real police presence has been increased in the city.
Officials in North Rhein-Westphalia say that approximately 1,800 people were part of the Salafist scene in the area, with ten percent of the members considered to be violent extremists.
In 2012, the movement drew worldwide attention after announcing a long-term campaign to distribute 25 million free copies of translated Korans among Germans.