HERE'S something I guess not a lot of people know: the Catholic Diocese of Wheeling-Charleston in West Virginia is extremely wealthy thanks to oil revenues, which reportedly bring in an average of $15 million a year and funds an endowment valued at $230 million.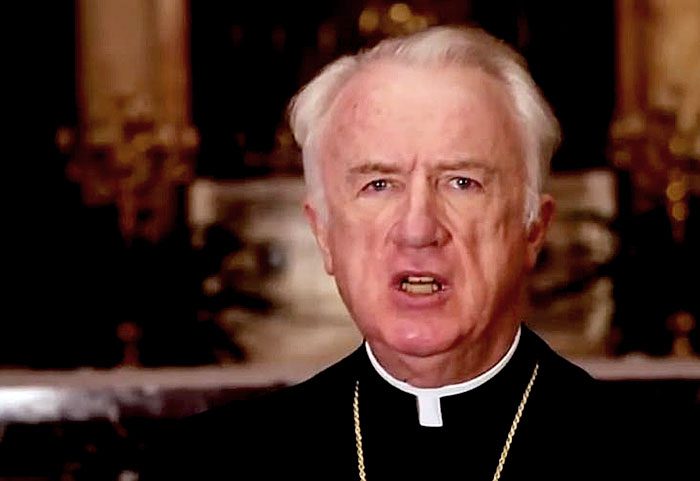 So when Bishop Michael J Bransfield, above, was appointed to the diocese in 2004, he decided the money was his to spend – in spades.
According to this report, an investigation has revealed that Bransfield, 75, gave cash gifts totaling $350,000 to fellow priests, including important prelates and young priests upon whom he allegedly foisted his attentions.
A succession of younger male clerical assistants complained to church officials in West Virginia that Bransfield was sexually harassing them. Similar concerns were raised about Bransfield's conduct in Philadelphia, where he taught at a Catholic high school, and in the District of Columbia, where he was head of the Basilica of the National Shrine of the Immaculate Conception from 1990 to 2005.
The cash gifts were mere chump change compared to the $2.4 million he spent on travel, much of it personal, which included flying in chartered jets and staying in luxury hotels
Together with his staff, Bransfield, who retired last year, necked almost $1,000 worth of booze a month and, after a fire damaged a bathroom in his residence, the bishop ordered renovations which cost $4.6 million.
Then there was the flower bills.
When Bransfield was in the chancery, an administrative building, fresh flowers were delivered daily, at a cost of about $100 a day – almost $182,000 in all.
Financial records reveal that Bransfield also gave money to family members in the clergy, with over $9,000 going to his nephew Fr Sean Bransfield, who is the Vice Chancellor of the Archdiocese of Philadelphia, and over $1,000 going to his cousin Monsignor Brian Bransfield. Monsignor Bransfield is the General-Secretary of the US Conference of Catholic Bishops.
For the record, the roots of the West Virginia diocese's unusual wealth date back to a legacy left to it by a New York heiress.
When she died in 1904, Sara Catherine Aloysia Tracy left the majority of her estate to the diocese, including a large tract of land in west Texas. Oil was discovered there decades later.
West Virginia has one of the highest poverty rates in the country.
At least six of Bransfield's clerical assistants in the Diocese were "broken" by Bransfield's sexual bullying, according to the Vicar for Clergy Anthony Cincinnati. Seminarians or young priests appealed to leaders in the diocese, to no avail.
Bransfield's spree came to a sudden end when he tendered his resignation upon his 75th birthday last September.
By then he had been the subject of a 2007 investigation into what the New York Post called "an alleged groping incident" and had been implicated in another priest's 2012 sex abuse trial.
All bishops must offer to resign at 75, and it is customary for the pontiff to accept or refuse, based on the circumstances. Under these circumstances, Francis accepted at once and appointed William Lori, the Archbishop of Baltimore as the pillaged diocese's apostolic administrator.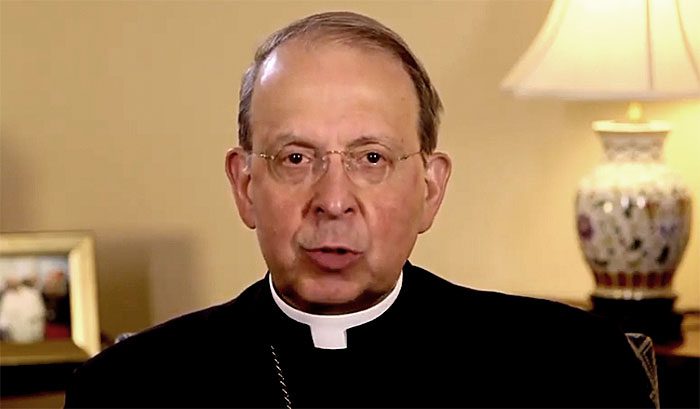 On June 5, Lori, above, issued a long statement concerning the Bransfield scandals. Reminding the laity that he had already told them some things about the investigation into the allegations of financial and sexual impropriety, Lori said he should tell them more.
Regarding allegations of sexual harassment of adults by Bishop Bransfield, the investigative team determined that the accounts of those who accused Bishop Bransfield of sexual harassment are credible. The team uncovered a consistent pattern of sexual innuendo, and overt suggestive comments and actions toward those over whom the former bishop exercised authority.

The investigation found no conclusive evidence of sexual misconduct with minors by the former bishop during its investigation

It should be noted that due to privacy concerns and at the request of those who alleged harassment by Bishop Bransfield, the alleged victims and their personal accounts, which for them are a source of deeply-felt pain and humiliation, will not be disclosed by the Diocese.

I am deeply pained by and sorry for the harm that the former bishop caused to those he was charged with shepherding in a spirit of Christ-like humility, service and pastoral care and charity. There is no excuse, nor adequate explanation, that will satisfy the troubling question of how his behavior was allowed to continue for as long as it did without the accountability that we must require of those who have been entrusted with so much – both spiritual and material – as bishops and pastors.
The archbishop promised that the victims, as well as all priests and lay personnel at the  Wheeling-Charleston chancery, will receive counseling. The known victims will be reimbursed for "mental health assistance." There will also be a third-party reporting system for allegations against the diocese's future bishops.
Lori also revealed that Bransfield's "pattern of excessive and inappropriate spending" was enabled by:
A culture of fear. As we seek to understand how such behavior was able to occur over the course of Bishop Bransfield's 13-year-long tenure, it is evident from those who spoke with investigators that the Bishop's management style and personality undermined the effectiveness of diocesan policies, controls and oversight procedures.

In some cases, it is apparent that the judgment of diocesan personnel was impacted by the culture of fear of retaliation and retribution that the former bishop fostered.
Bransfield feels that he's been:
Misrepresented in many, many ways.
He said that he was not allowed to participate in the investigation. He also said that the investigation was supposed to be kept confidential, and that he was supposed to be able to defend himself.
It was not kept confidential, and I have not been able to defend myself. I feel that I have no say, no input, and [the investigation] is adversarial in nature.
He concluded by saying that he wanted to be careful in what he said, as he was not supposed to be speaking to the press.