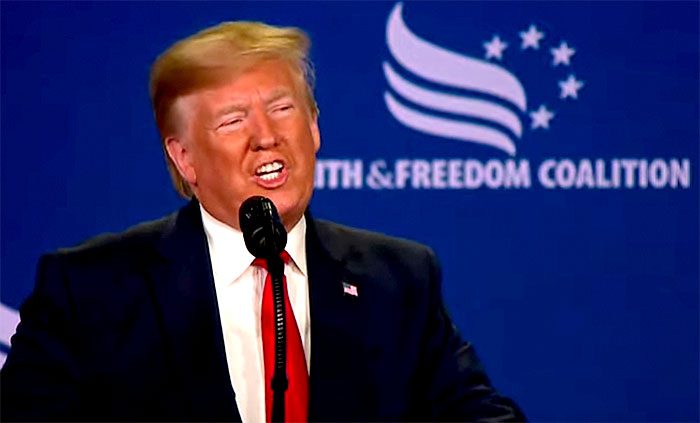 US PRESIDENT Donald Trump used a four-day faith conference in Washington yesterday to trumpet his achievements as the saviour of Christian believers whose rights had apparently been trampled under previous administrations.
In a speech dripping with self-congratulation, the egotistical Orange One told attendees at the Faith & Freedom Coalition conference that when he ran in 2016:
Americans of faith were under assault. But the shameful attempt to suppress religious believers ended the day I took the oath of office.
He cited his administration's steps to cut federal funding for foetal tissue research and boost other anti-abortion efforts, among other things.
But he warned evangelical voters that it all could change very quickly with the "wrong person" in the White House.
Conference Chairman Ralph Reed, a prominent GOP evangelical strategist, praised Trump for getting two Supreme Court justices confirmed and called Trump pro-Israel and "pro-life".
This was Trump's sixth address to the Faith & Freedom Coalition, and second  as President – and hopefully his last.