A REPORT on Christian website Faithwire suggests that Australia's God-crazed Israel Folau's sacking could have been avoided if he omitted two words from his homophobic post on Instagram: 'Warning' and 'Hell'.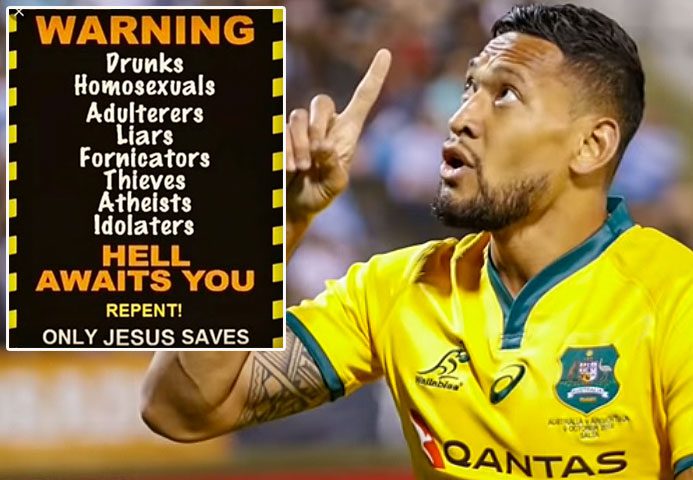 Folau's contract, worth over $5 million, was terminated by Rugby Australia after a disciplinary process concluded with an appeal panel finding him guilty of a "high level breach" of professional conduct.
Some of those following the case have insisted that Folau would have been spared punishment if he had deleted the two key words from the post, to ensure it exactly matched the original scriptures.
A source told Australia's Daily Telegraph:
Everyone has missed the key here, have a look at the post, it says 'Warning' and 'Hell', but the Bible verse does not mention either word. But if he had removed that image and re-posted word for word what the verse says, they couldn't have sacked him.
Will Maule, writing for Faithwire, said:
While the words 'Warning' and 'Hell' are not directly mentioned in the original scripture, it's fairly evident those are accurate implications of the verse, which reads as follows: 

'Or do you not know that wrongdoers will not inherit the kingdom of God? Do not be deceived: Neither the sexually immoral nor idolaters nor adulterers nor men who have sex with men nor thieves nor the greedy nor drunkards nor slanderers nor swindlers will inherit the kingdom of God.' (NIV)
As a result of the Instagram post and subsequent disciplinary action, 
six of Folau's sponsors; Qantas, Vodafone, Land Rover, ASICS, Accenture and HSBC have indicated they will part ways with the star.
The 30-year-old is reportedly considering taking his case up with the 
Fair Work Commission or even the country's Supreme Court. Folau did, however, refuse to go through the full appeals process with Rugby Australia, highlighting his lack of confidence in the sporting body. He said in a statement:
My decision not to commence Rugby Australia's appeal process is in no way an acceptance of the judicial panel's findings. I simply do not have confidence in Rugby Australia's ability to treat me fairly or lawfully throughout this process.
Following the final ruling to ditch Folau ahead of the 2019 Rugby World Cup, a former international coach vented his outrage about the case. Alan Jones launched an impassioned defence of Folau noting that the decision:
Prompts you to wonder what kind of society we're living in. The Australian people won't accept this. This is not the Australia our veterans fought for and we're going to have to take our country back by argument and by the democratic and peaceful process – not by hate and revenge or vilification and intimidation.
Jones noted that:
If we're not free to articulate our religious beliefs and quote from the Bible, and if we're not free to speak for fear that someone affects a hurt or is part of the offence industry, if that's where we've reached in this country, we've reached a dark place and we are all at risk.