THE Vatican women soccer team's international debut match in Vienna last week ended abruptly when members of the opposing team staged a pro-choice protest during the Vatican anthem.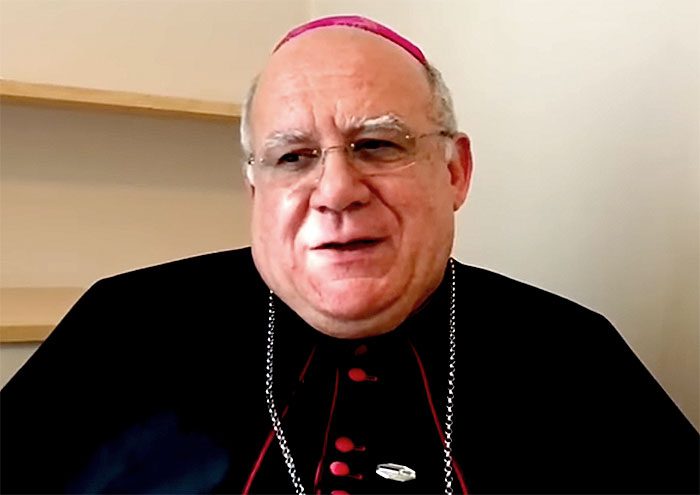 Austrian news outlets ORF and Kathpress reported on Saturday that the voluptuous Spanish Archbishop Pedro Lopez Quintana, apostolic nuncio (ambassador) to Austria, above, withdrew the Vatican women's team from the game, but the Vatican later said the decision to pull out was made by the team itself. However, the nuncio supported their decision.
During the anthem, members of the Vienna FC Austrian team in Mariahilf pulled up their jerseys, exposing images of female reproductive organs and pro-abortion slogans painted on their stomachs and backs. ORF reported:
Everything took off once the [Vatican] anthem began.
Banners reading "Against Homophobia" were simultaneously rolled out in the spectator stands.
The protest was reportedly difficult to see from the VIP tent. An official from the Vatican team informed the nuncio about the protest. According to ORF,:
A visibly emotional conversation followed, and the nuncio left the field with his colleagues.
Luise H, representing the players involved in the protest, told ORF that the group didn't know there would be consequences for their actions and would have liked to play the match.
Leaflets distributed to journalists explained that the activists could not identify with the Church's rejection of abortion and same-sex marriage.
Regretting the cancellation, Luise H said that:
They were not aware that the timing of the action, during the playing of the Vatican hymn and in the presence of the apostolic nuncio, could be detrimental to the idea of sport and ruin many working weeks of preparations.
The Vatican launched the first women's soccer team in its history in May 2019. Composed largely of Holy See employees and family members, it debuted in a match against AS Roma's team on May 26.