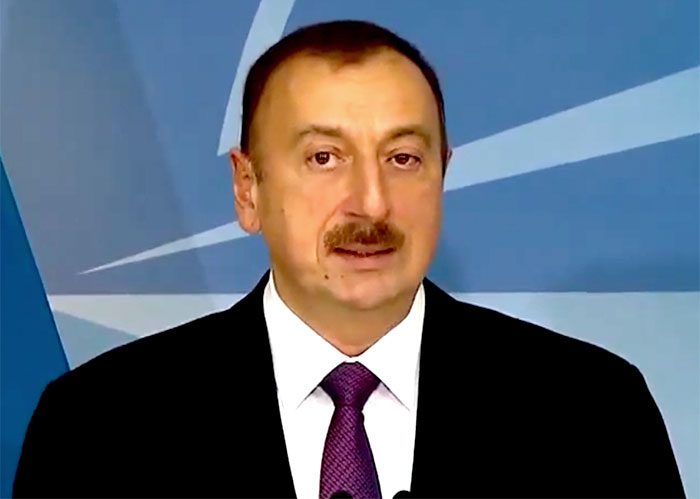 THE mainly Muslim country of Azerbaijan, headed by President Ilham Aliyev, above, has a rather surprising and eminently sensible law that prevents religion of all stripes being imposed on children.
This fact came to light in a report of a fine recently imposed on a couple – Safqan and Gulnar Mammadov –who gave their six-year-old son Christian literature to hand out as gifts to his classmates.
The boy's act led to the head teacher calling the police who then raided the parents' home, seizing Bibles, Christian pamphlets and CDs of worship songs.
The police also discovered that, on New Year's Eve 2018, the couple had held a Christian event for children at their home and that twelve youngsters had each received a party gift of sweets and a picture book about the birth of Jesus.
A pastor who was present at the party was also interrogated by police, who later searched his home and seized all the items of Christian literature they could find.
The couple were charged with possessing religious literature that did not bear a government "control mark" and holding a children's meeting in violation of a law that relates to punishing:
Clergy and members of religious associations holding special meetings for children and young people.
The Mammadovs were each fined 1,500 manats (£700; €785; $880) on 16 April, which is more than three months' average wages for salaried work in Azerbaijan.
Their appeals against the fines were rejected on last month by the Shirvan Appeal Court.
Said a Christian familiar with the case:
The court hearing lasted only ten minutes and issued an unfair decision.
The couple may now make a direct appeal to President Aliyev.
In a separate case, three Christians were each given similar fines for holding a Bible study in the northern Azerbaijan town of Sheki in December 2018. They do not plan to appeal.
Despite these incidents, the authorities have launched fewer such raids on Christian places of worship or homes in 2019 so far, according to various reports.
Azerbaijan's secular government gives preferential treatment to "traditional" religions such as Islam and Russian Orthodox Christianity and restricts other forms of Christianity.
Although the population of the country, once part of the Soviet Union, is almost 97 percent Muslim, 49 percent of Azerbaijanis say religion is not important in their lives. True Believers make up only seven percent of the population.
Also surprising for a Muslim country is that there are apparently no restrictions on consuming alcohol, although in some areas women who drink and smoke are frowned upon.
On Quora one Azerbaijani, Kamran Huseynzade, wrote:
Approximately, 90% of my friends and relatives consume alcohol.