SHANNON Griffin, 49, a teacher at Jordan Baptist School in Burbank, Illinois, appeared in court on Wednesday of this week to face charges of sexual assault, solicitation of child pornography, distribution of harmful materials and grooming.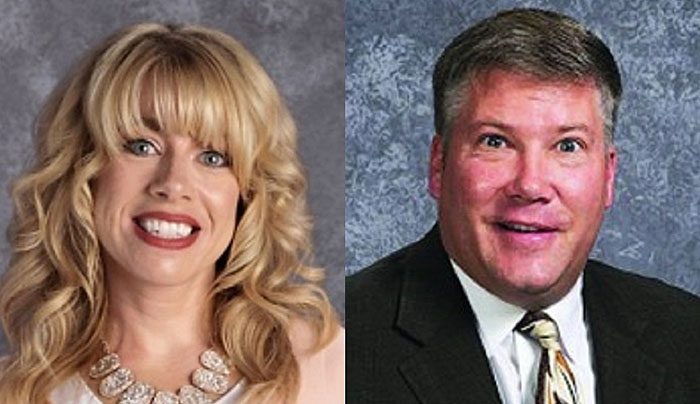 Griffin, a mother of three, allegedly supplied alcohol to a 15-year-old student and had sex with him at least five times while he was underage. She is also alleged to have sent nude images to the teen and a 16-year-old boy using Snapchat and asked for illicit images in return. Some of the photos showed her getting into the shower and included text saying, "Come on in" and "Missing you", Assistant State's Attorney Kyle Gruca said.
The alleged conduct began in late 2013 and continued through last year, Gruca said.
Cook County Judge John Mahoney ordered Griffin held on a total of $750,000 bond, calling the allegations "horrible". He also ordered that she have no contact with the alleged victims in the case or with any minors.
Griffin's husband was present at the court hearing with a church member. Neither answered questions from a reporter.
Earlier on Wednesday, the doors were locked at Jordan Baptist Church. The school's and church's websites appear to have been taken offline.
Sex in the back of a minivan behind a Burger King
Authorities began investigating the allegations when the Burbank Police Department received an anonymous tip in early March, according to police records obtained through a public records request. The Cook County sheriff's office took over the investigation in May because of jurisdictional questions that arose in the case.
Gruca said that most of the alleged sexual encounters between Griffin and the 15-year-old student occurred when the two had sex in the back of a minivan behind a Burger King in Chicago. That victim is now 21, Gruca said. Five of the alleged sexual encounters occurred when the victim was a student and a sixth occurred after he graduated in 2016.
The student, an athlete, and Griffin, a cheerleading coach, got to know each other while riding the bus to sporting events, according to Gruca. They continued talking over Snapchat and arranged times to meet up, Gruca said.
After the first alleged encounter in November 2013, Griffin gave the student one bottle of Maker's Mark bourbon, Gruca said.
Additional encounters occurred in December 2013, November 2014, November 2015, and December 2015. Griffin allegedly gave him another bottle of Maker's Mark as a minor and $120 worth of alcohol after a sixth encounter when the student was 18, Gruca said.
In the second case, Griffin is accused of sending nude images to a 16-year-old student at Jordan Baptist in January 2018. That student, who is now 17, took six screen shots of images and messages that he allegedly received from Griffin on Snapchat, Some of the images included lewd captions,
Griffin's attorney said that none of the images showed her client's face. But the student told police he was able to identify Griffin because of an arrow tattoo on her hip and her Snapchat username.
Police said they were also able to verify the pictures that Griffin allegedly sent from her bathroom by checking the room in her home with a search warrant after she was taken into custody.