MANY UK churches have a bats-in-the-belfry problem.
Some of the most common issues associated with church bats include droppings and urine, which cause a great deal of damage. Also the little buggers fly around inside churches and distract worshippers.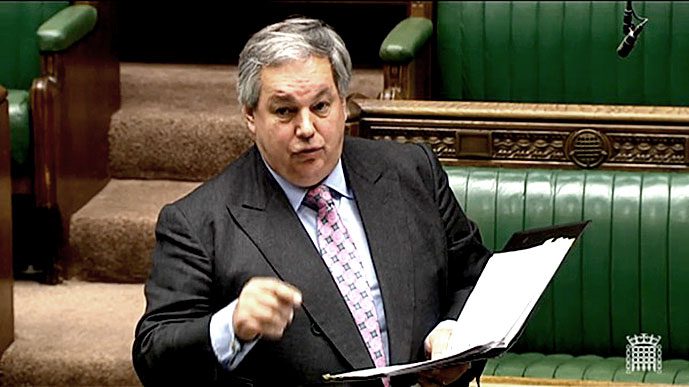 But Sir Tony Baldry, above, Chair of the Church Buildings Council, believes that bats – once taught to "behave" –  could help the spread of Christianity.
Bats might even prove to be a tool for mission, if we can get them to behave. We have to encourage them out of the belfry to roost in bat boxes in churchyards.
He explained children could then visit the churches to study the bats and perhaps become Christians in the process.
What do we know about this loon?
Well, before retiring as a MP representing the Church of England in the Commons, he sounded a warning in 2013 about the dangers posed by bats to churches. He said that some buildings used for centuries are now in danger of becoming unsustainable as places of worship unless action is taken.
Then in 2018, he insisted that "unconditional" financial support from the Government amounting to at least £30 million a year will have to be given if the country's 16,000 church buildings are to be maintained.
Using Lottery funds for churches was not a sustainable method, he said, pointing out that lottery-ticket sales were "steadily falling". The Government would soon have to decide:
How the state gives some consistent, and regular, financial support towards the repair and maintenance of listed church buildings.
He claimed that, in France and Germany, church buildings were maintained by the government, and said that the £30-million figure for government funding "should be attainable".
We also know that Baldry is exceedingly rich.
Back in 2014 Buzzfeed reported that, while still an MP for the Banbury constituency, he was earning £1,000 an hour as a director of a firm which specialises in advising wealthy overseas investors on how to buy luxury property in London.
In that year he was  appointed Associate Director of Werner Capital, which offers property advice to "ultra high net worth" individuals.
According to the firm's website, Werner Capital helps wealthy individuals from around the world buy expensive property in London and protect their money from "political upheaval" abroad.
We offer our private clients solutions for their tax, estate planning and structuring issues.
Former employees of Werner Capital say that the firm focuses on helping "ultra high net-worth individuals" from "Russia and the CIS". This means Baldry's new employer helps oligarchs from Russia and former Soviet states buy British luxury property.
The disclosure came as the government was  under pressure to find ways of discouraging wealthy overseas investors from buying up UK properties. London property prices have been driven to record highs, in part due an influx of foreign investment from Russia, China and other emerging markets.
Baldry listed a £5,000 payment for just five hours work for Werner Capital on the April, 2014, edition of the Register of MP's interests. He has since registered a further £20,000 advance payment to cover the next four months work, suggesting an annual salary of £60,000 for the part-time role.
On top of this he receives around £120,000 a year as chairman of a linked firm, paper company Kazakhstan Kagazy plc.