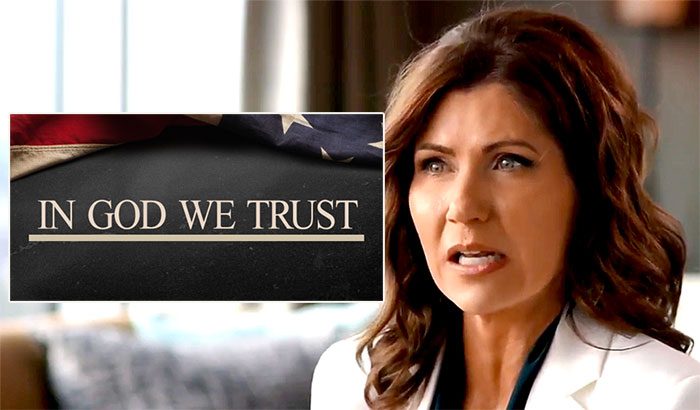 EARLIER this year, South Dakota's  Governor Kristi Noem, above, signed a daft law that compels all public schools in the state to display 'In God we trust'  signs, and even specified that they must be at least 12×12 inches.
The signs can be painted, stenciled or hung as a plaque, but the law does not provide funding for schools to install the displays.
Well, the law came into effect this month, meaning students in all 149 South Dakota school districts will see the motto on their first day of classes for the 2019-2020 school year – and it was roundly condemned by the Freedom From Religion Foundation's Annie Laurie Gaylor. She said:
Our position is that it's a terrible violation of freedom of conscience to inflict a godly message on a captive audience of school children.
Rapid City Area Schools has already worked to install the motto in all 23 of its schools and chose to stencil it to save money. Stenciling cost about $2,800, District Community Relations Manager Katy Urban told NPR.
Urban told the radio network that the community is fairly conservative and believes :
It's a really great thing for our schools and our districts and that kids are seeing it posted on a daily basis.
She conceded, however, that she's seen vocal criticism and comments online that threaten a lawsuit.
If someone should file a lawsuit against a school district, employee, school board or school board member over the message, South Dakota's Attorney General is required to represent them at no cost, according to the law. The Attorney General's office said it had not received any lawsuits as of  yesterday (Thursday).
In May, a group of students from Rapid City's Stevens High School told their school board that the motto appears to favour Christianity over other religions. The group, called Working to Initiate Societal Equality (WISE), suggested that the district display a different version of the message that includes Buddha, Yahweh, Allah, science and the spirits.