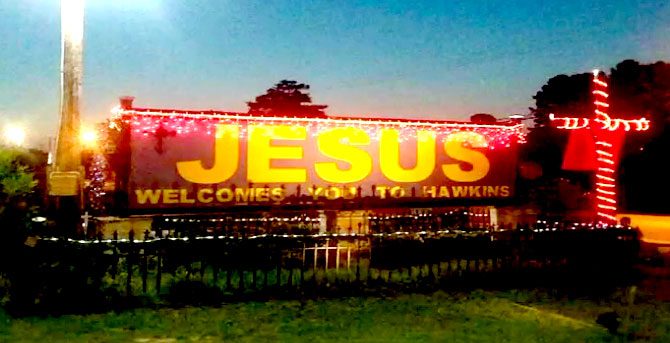 THE Jesus Christ Open Altar Church in Hawkins, Texas, has accused local authorities of a religious 'hate crime' after a garish Jesus sign was torn down last Friday.
The sign was erected by the church four years ago in the tiny town of 1,300 residents. However, the eyesore was judged to be a traffic safety hazard and removed.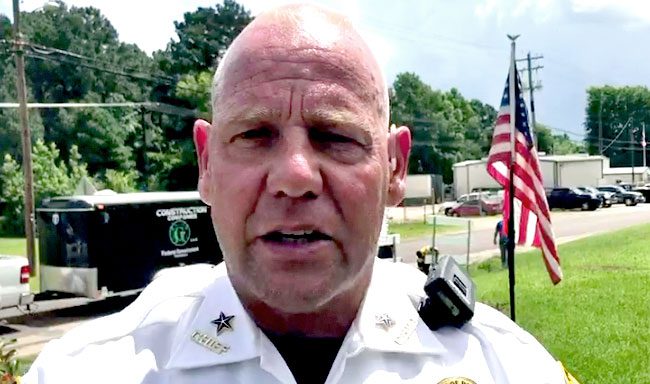 In a KLTV report on Monday, police chief Manfred Gilow, above, dismissed the church's allegation that it had been targeted by anti-Christian town leaders. Noting that the Texas Department of Transportation forbids any visual obstructions for drivers within 50 feet of US Highway 80 he said:
Any structural sign on the property has to be removed. It was a Jesus sign, but it would have been any sign. It [religion] has nothing to do with it. As chief of police here, we're just here to keep the peace, and we just respond. We did not know when (city workers) took it down.
This report claims that it was demolished in "the dead of night" and quoted church trustee Mark McDonald as saying:
The city employees destroyed our church property, pulled up our crosses and destroyed everything. We're treating it like a hate crime of religious discrimination that was conspired by the city. We have enough documents to prove that. The city was warned (Thursday) by our attorneys not to touch it and not to bother it …
The city claims it held an easement on the property dating back to 1909, and officials are now looking to put a street where the sign stood.
Mayor Tom Parkers told KLTV that anti-Christian sentiment did not play a part in the city's action to yank the sign.
All we're concerned with is constructing a safe entrance onto Highway 80 from Blackburn Street.
Fox News reported the Freedom from Religion Foundation, (FFRF,) sent a letter to Hawkins complaining about the sign.
Said Mike Berry, Chief of Staff at First Liberty Institute which sniffs out Christian "persecution":
FFRF has made its living roaming around the country trying to bully government officials into purging religious symbols from the public square — exactly what the US Supreme Court said should not be done. Just two weeks ago in The American Legion v. American Humanist Association the Court ruled that religious displays, even on public property, are presumptively constitutional.

The church certainly can make a case if the City's decision to take this sign down is out of religious hostility or a false belief that religious displays are not allowed.