A Texas detention centre for illegal immigrants – a concentration camp in all but name – had a spotlight shone on it on Friday when Jesus junkie Mike Pence made a guest appearance.
Footage of the squalid conditions at the centre in McAllen, which included the Vice President looking "stiff, uncomfortable and almost angry", led to him being labeled a "Fake Christian" on Twitter.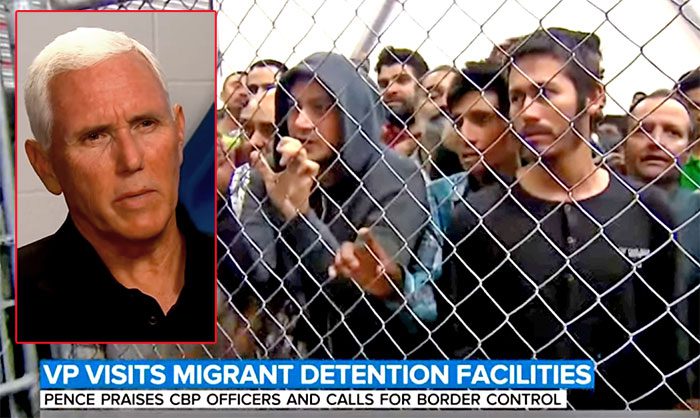 One person wrote:
Your beliefs don't make you a better person, your behavior does.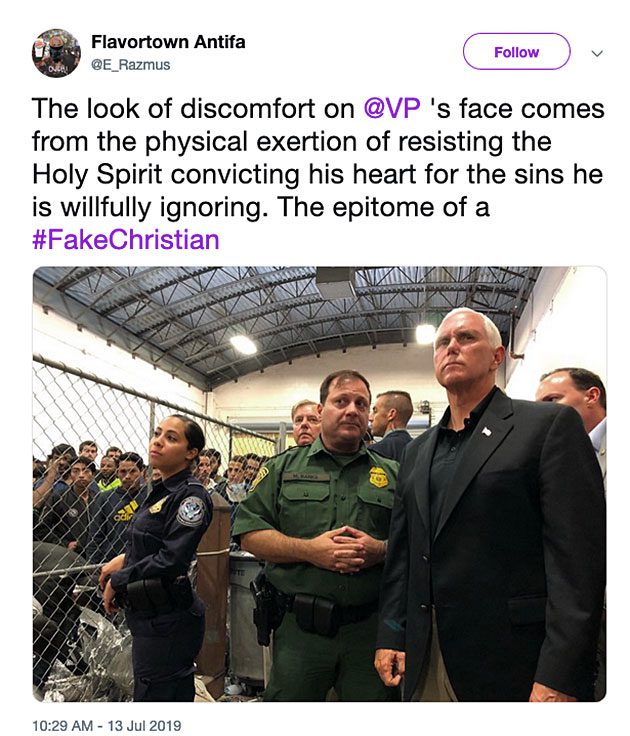 Pence – who has called his Christian faith a "dominant" influence in his life – reportedly "skipped expressing Christ-like compassion" at the jam-packed facility where men in cages shouted that they were hungry and hadn't been allowed to bathe for weeks.
Pence told reporters later that he wasn't surprised by what he saw, even though the men have to sleep on the concrete floor without mats or pillows — when they can find the space amid detainees pressed shoulder-to-shoulder.
He blamed Democrats on Twitter for not funding "additional bed space."
Lawmakers, including Democrats, have already approved a $4.6 billion package for supplemental emergency funding.
Pence also blasted CNN for it reports that have detailed the appalling conditions in the centre.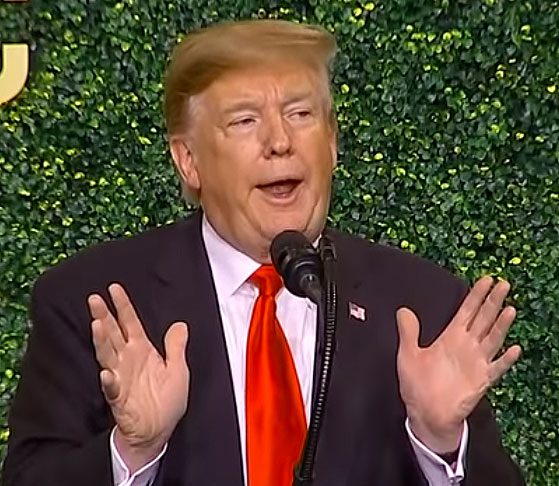 Meanwhile, Trump, the despicable retard whom Pence no doubt calls
mein

führer
, is being blasted for a vile racist tweet sent earlier today (Sunday). This from
The Daily Beast
:
Moments after President Trump took to Twitter to tell Democratic congresswomen of color to "go back" to where "they came" from, the hosts of his favorite cable news morning program laughed while reading the president's racist comments, calling them "very comedic" before claiming Trump was "making an important point."
Other journalists and politicians, however, slammed the president for essentially telling a black woman to go back to Africa.
In his Sunday morning tweetstorm, Trump said it was "interesting" that progressive Democratic congresswomen were "loudly and viciously telling the people of the United States" how the government should be run, considering they "originally came from countries whose governments are a complete and total catastrophe." 
"Why don't they go back and help fix the totally broken and crime infested places from which they came. Then come back and show us how it is done," Trump added, obviously referencing a group of four progressive freshmen congresswomen referred to as the "Squad." (Three of the four women were born and raised in the United States, while Rep. Ilhan Omar (D-MN) is a U.S. citizen who moved from Somalia when she was a young child.)