FIFTY years ago, a wise sceptic advised me that if I had any questions about religion I should always ask an atheist.
When I asked her why, Barbara Smoker, who celebrated her 96th birthday last month, replied:"Because people often arrive at non-belief after they have assiduously studied religious texts and usually come to know more about the subject than most believers."
When I asked how much research she had done, she chuckled and said:
I was born into a devout Catholic family and decided to become a nun. So obviously I did a great deal of study.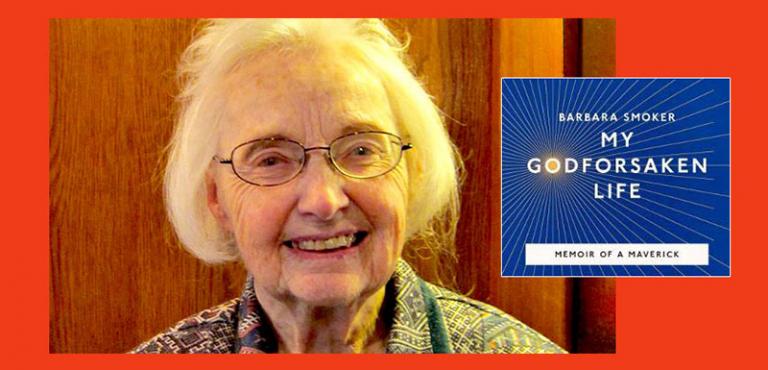 At the age of 26 she concluded that religion was a load of old baloney, and spent the rest of her incredibly long life promoting humanism. In fact, she's just published her autobiography, My Godforsaken Life: Memoir of A Maverick.
Another of my prized contacts, Californian artist Shell Fisher, also knows a lot about holy scripture. But he approaches faith from a different angle. He uses his amazing talent to take the mickey out of religion via his Holy Smoke series, and his illustrations are used in a Freethinker bulletin sent out weekly.
Knowing how well-versed Shell is in Christian mythology, I asked him whether he knew of the patron saint of lunatics. To my surprise, he'd not heard of Christina Mirabilis, known as St Christina the Astonishing.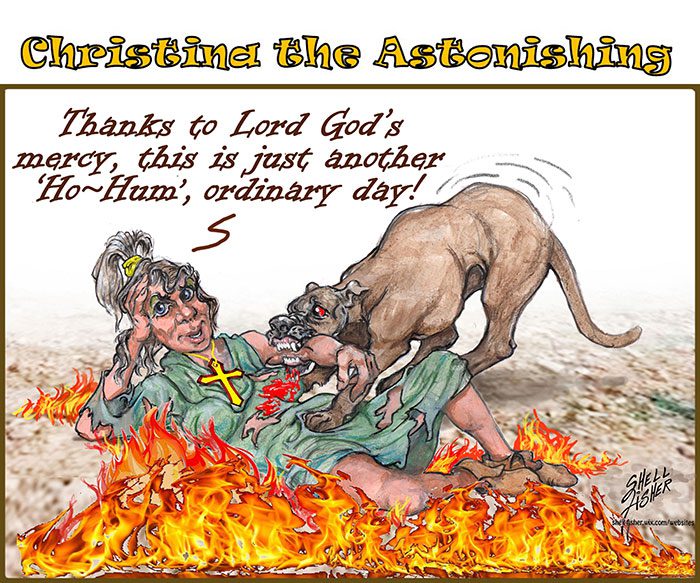 Born in the 12th century in Belgium, she suffered a massive seizure in her early 20s. Assumed dead, she was about to be buried but she arose from her coffin and "levitated to the rafters". She claimed to have seen Hell, Heaven and the Almighty, who sent her back to save sinners.
According to legend, she would throw herself into fires and frozen rivers, allow dogs to tear at her flesh, all the while imploring God's mercy. Though covered in blood, her skin would immediately heal. She lived in a forest, slept in rags, and sustained herself by suckling her boobs.
She captured the imagination of the band Nick Cave and the Bad Seeds, who released a song about her in 1992. The lyrics are hysterical. Here's verse one:
Christina the Astonishing lived a long, long time ago
She was stricken with a seizure
At the age of twenty-two
They took her body in a coffin
To a tiny church in Liege
Where she sprang up from the coffin
Just after the Agnus Dei
She soared up to the rafters
Perched on a beam up there
Cried "The stink of human sin, the stink of human sin, the stink is more that I can bear."
The fact that she was born in Loon may account for her crazy behaviour.
Now the reason I approached Shell about Christina is that I wanted him to create an illustration for this feature, which I decided to write after thinking that, of all the bizarre things associated with the Catholic Church, the creation of patron saints has to be one the dottiest. This was confirmed by Scott P Richert, writing for a site called "Learn Religions":
Few practices of the Catholic Church are so misunderstood today as devotion to patron saints. From the earliest days of the Church, groups of the faithful (families, parishes, regions, countries) have chosen a particularly holy person who has passed on to intercede for them with God.

Seeking the intercession of a patron saint does not mean that one cannot approach God directly in prayer; rather, it's like asking a friend to pray for you to God, while you also pray – except, in this case, the friend is already in Heaven, and can pray to God for us without ceasing. It's the communion of saints, in actual practice.
Are you any the wiser? Nope, I thought not.
I then hopped over to a site called Mental Floss, where Paul Anthony Jones got me chuckling with a list of 15 unusual patron saints.
Here are 11 of them:
• St Adjutor, who died April 30, 1131 is regarded as the patron saint of swimmers and those at danger from drowning. Adjutor was born in Vernon, France, where he was made a knight in the First Crusade. The stories given for his patronage of boaters vary. Some state that he was captured by Muslims in The Crusade, who tried to force him to abandon his faith, and when refusing, he escaped persecution by swimming back to France and entered the Abbey of Trion. There he became a recluse until his death.
Additional legends state that it was angels who freed Adjutor from his captors, and his association with the seas came when he calmed a whirlpool by throwing Holy water, and the chains of his captivity into it, and signing the cross.
• St Balthasar is the patron saint of playing card manufacturers. He, along with with Melchior and Caspar, is one of the magi who brought gifts of gold, frankincense, and myrrh to the baby Jesus.
• St Bernardino of Siena (also known as Bernardine) was an Italian priest and Franciscan missionary who died in 1144. He was a loud-mouthed homophobe and an anti-Semite. His popular preaching made him famous in his own lifetime because it was frequently directed against sodomy, Jews, sorcery, gambling, infanticide, witchcraft and usury. He is the patron saint of advertising, communications, compulsive gambling, respiratory problems, as well as any problems involving the chest area.
• St Columbanus spent much of the 6th and 7th century roaming around Europe – and that love of the open road led to the Irishman, who died in 615, being considered the patron saint of motorcyclists.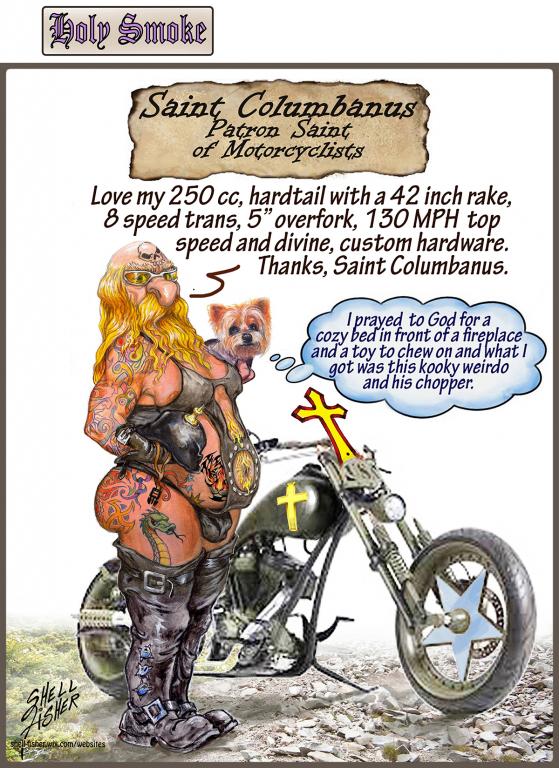 • St Drogo of Sebourg, France, who died in 1186, was stricken with an unsightly bodily affliction. He became so terribly deformed that he frightened the townspeople. In his twenties, a cell was built for him to protect the local citizens of the village from his appearance. Since he was so holy, his cell was built attached to his church. St Drogo stayed in his cell without any human contact, except for a small window in which he received the Eucharist and obtained his food. He stayed there for the rest of his life, about forty more years, surviving only on barley, water, and the holy Eucharist.
Although Wiki doesn't say so, Paul Anthony Jones claims that St Drogo is:
The patron saint of unattractive people. Entirely unrelatedly, he's also the patron saint of coffeehouses.
• St Erasmus of Formia, who popped his clogs in 303, is also known as St Elmo. According to  Jones he went through quite an ordeal during the Roman Empire's persecution of the Christians in the 3rd and 4th centuries. Initially captured and imprisoned sometime in the late 200s, Erasmus is said to have been freed by an angel and fled to Turkey to continue his preaching. Arrested a second time, however, Erasmus' undying faith so angered the Emperor Maximian that he had him beaten, whipped, placed in a barrel of spikes and rolled down a hill, covered in pitch and set alight, and finally – after he had somehow miraculously survived – his stomach was cut open and his intestines wound around a winch.
It's for that latter torture that Erasmus is now considered the patron saint of stomach ailments, colic, and appendicitis.
• St Giles, a Frenchman who met his maker in 710, is the patron saint of disabled people and is also invoked as a saint for childhood fears, convulsions and depression. Jones adds that he lived as a hermit in the south of France in the later 7th century, nourishing himself only with the milk of a female deer. Because of that –as well as being the patron saint of the city of Edinburgh – he is also the patron saint of breastfeeding.
• St Gummarus of Lier, Belgium was an 8th century figure whose wife, a local noblewoman named Guinmarie, was known for her shrewish and abusive behaviour. Despite Gummarus's attempts to salvage their relationship, they separated – and after he went on to found an abbey at Lier, he became the patron saint of difficult marriages. He died in 774.
• St Julian the Hospitaller was a Belgian born around 7 CE.  According to Jones, his name refers to the fact that he opened a hostel for travelers and dedicated his life to providing hospitality for the sick and needy – but only after he'd killed his parents. For that reason, he's the patron saint of murderers. Wiki also says he's the patron saint of boatmen, carnival workers, childless people, circus workers, clowns, ferrymen, fiddlers, fiddle players, hospitallers, hotel-keepers, hunters, innkeepers, jugglers, knights, pilgrims, shepherds and shepherd. No-one knows when he went to meet Jesus.
• Saint Bonaventure was a 13th century bishop, and a doctor of the Church. He was born in Tuscany, in 1221 and died in 1274,  He received his name when his mother was pleading in prayer to St Francis of Assisi for John's recovery from a dangerous illness. Foreseeing the future greatness of little John in a vision, she cried out, "O Buona Ventura", meaning, "O good Fortune". From that day on, John was called Bonaventure.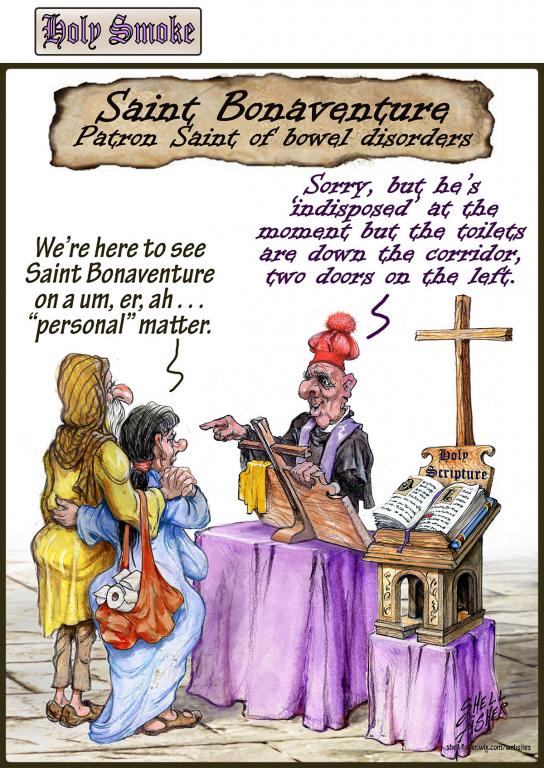 St Bonaventure did suffer from a life threatening illness effecting the bowels as a young child, and that prayer to St Francis of Assisi saved his life.
• St Lidwina is the patron saint of ice skaters. The "mystic" was born in Schiedam, Holland, in 1380, one of nine children. Her father was a labourer. At the age of  15, she was ice skating when she fell and broke a rib. She never recovered and became progressively disabled for the rest of her life. Her biographers state that she became paralyzed except for her left hand and that great pieces of her body fell off, and that blood poured from her mouth, ears, and nose. Today some posit that Saint Lidwina is one of the first known multiple sclerosis sufferers and attribute her disability to the effects of the disease and her fall.
After she and the ice made hard contact, Lidwina fasted continuously and acquired fame as a healer and holy woman. The town officials of Schiedam, her hometown, promulgated a document (which has survived) that attests to her complete lack of food and sleep. At first she ate a little piece of apple, then a bit of date and watered wine, then river water contaminated with salt from the tides. The authenticating document from Schiedam also attests that Lidwina shed skin, bones, parts of her intestines, which her parents kept in a vase and which gave off a sweet odour. These excited so much attention that Lidwina had her mother bury them.
She died in 1433, aged 53. It a bloody miracle that she lasted so long.
If you've got this far, I bet you'll be wondering whether paedophile priests have a patron saint. Yes, according to Michael Stone, of Progressive Secular Humanist, who, in 2014, named him as Pope John Paul II, who was fast-tracked to sainthood.
And what about gays?
I must emphasise that, in posing  the question, I am not inferring any connections between paedophilia and homosexuality, because there are absolutely none.
And the answer is yes … sort of.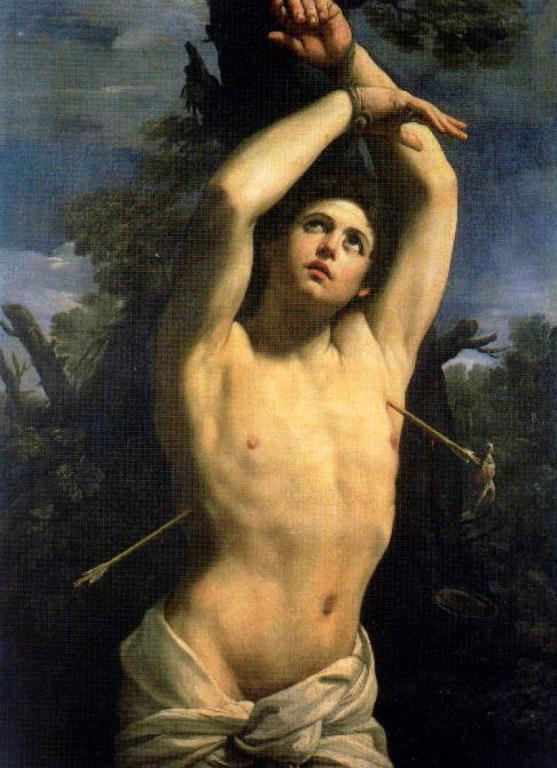 While the comely Saint Sebastian – described here as a "babe" – has long been a gay icon, perish the thought that the Catholic Church would ever have made him a patron for people it brands as "deviants" .
This from Wiki:
The combination of his strong, shirtless physique, the symbolism of the arrows penetrating his body, and the look on his face of rapturous pain have intrigued artists (gay or otherwise) for centuries, and began the first explicitly gay cult in the 19th century. Richard A Kaye wrote, 'contemporary gay men have seen in Sebastian at once a stunning advertisement for homosexual desire (indeed, a homoerotic ideal), and a prototypical portrait of tortured closet case.'
A piece in the Advocate, which claims there are as many as thirty LGBT saints – including Joan of Arc, Francis of Assisi, Jesus's boyfriend Lazarus and Mary Magdalene – says this of Sebastian:
Considered the main patron saint of gays by many, Sebastian was martyred in Rome in the year 288 on the orders of Emperor Diocletian. While no tales actually exist providing information about Sebastian's love life or sexual orientation, the fact so much Renaissance art depicts him in homoerotic poses demonstrates a strong connection to LGBT people.
British film-maker  Derek Jarman even made a movie about him in 1976 – entirely in Latin! When Sebastiane was later shown on Channel 4, anti-porn crusader Mary Whitehouse, went ape-shit.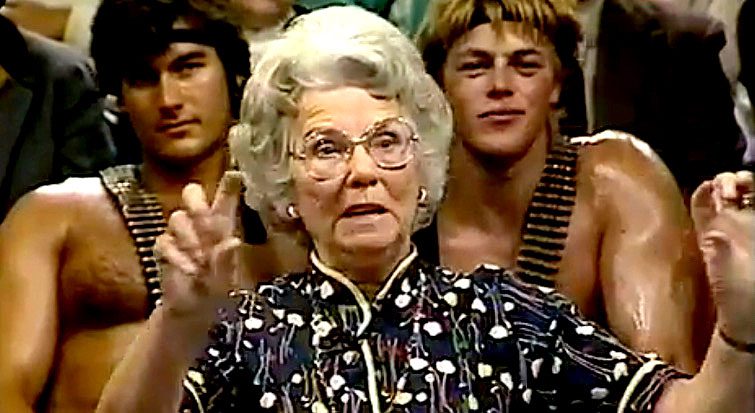 Author's note: This is an expanded version recently published in Spain by Euro Weekly News. My heartfelt thanks to Shell for creating two unsolicited illustrations for this feature: St Columbanus and St Bonaventure. He said I got totally him hooked on the subject,