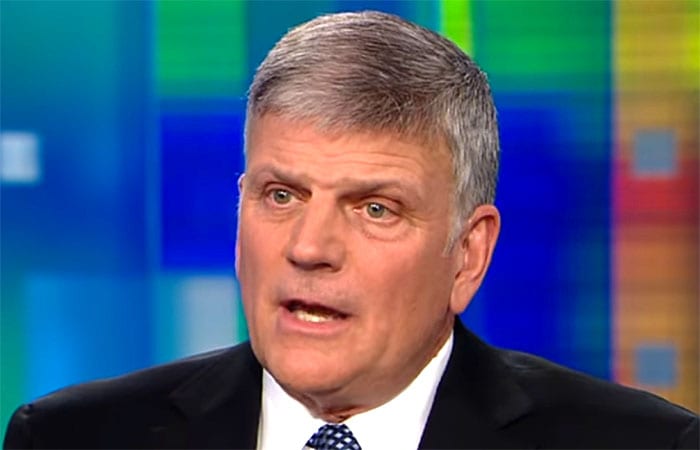 IN a dire warning to readers of the July/August issue of Decision – the Billy Graham Evangelistic Association magazine – evangelist Franklin Graham predicts a grim future for American Christians if an Equality Act, championed by the Democrats, should ever become a reality.
If that happens, he warned, Christian employers:
Would lose all protections to hire people who adhere to their biblical statements of faith. Christians will be persecuted for their sincerely held beliefs as never before. The clear teachings of the Bible on the sins of homosexuality and abortion will no doubt be considered 'hate speech.' It will be a nightmare from which this nation may never recover.
Reporting on Graham's paranoid warning, LifeSiteNews points out that:
The Equality Act would amend the 1964 Civil Rights Act to include 'sex', 'sexual orientation', and 'gender identity' among expressly recognized 'non-discrimination' categories in 'public accommodations' (the definition of which would be dramatically expanded); and force employers of 15 or more people to recognize their claimed 'gender identity', forbid them from 'discriminating' based on 'sexual orientation' or 'gender identity', and mandate transgender 'access' to sex-specific facilities.
All of this, said Graham, means that Equality Act would have "catastrophic consequences" for both religious freedom and women's rights if it became law.
In May, the Democrat-controlled House of Representatives voted to pass the bill, which Graham warns could become law depending on the outcome of next year's elections.
If the Senate majority changes or if enough Republican senators change their position, it would be up to the President to veto the bill. And if that office were to change hands in 2020, I have little doubt this would become the law of the land.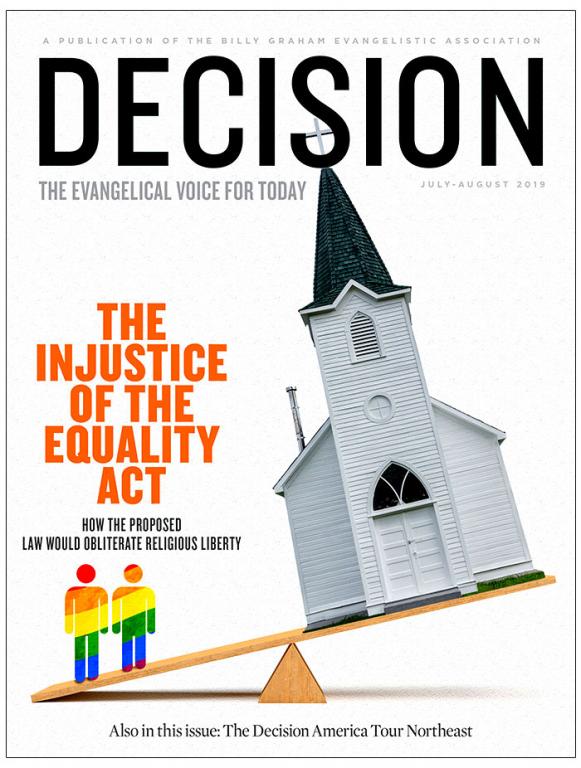 LSN's Calvin Freiburger wrote:
Conservatives have long warned that the legislation's true purpose is not to protect homosexual or gender-confused Americans from tangible harm, but to force other Americans such as photographers, florists, and bakers to participate in same-sex 'weddings'; to force employers and businesses to accommodate cross-dressing, same-sex cohabitation, and sex-change treatments regardless of their own values or policies; and to force women and girls to sleep, shower, and use the bathroom alongside gender-confused males.
In May, five chairmen of the US Conference of Catholic Bishops (USCCB) declared:
Rather than offering meaningful protections for individuals, the Equality Act would impose sweeping new norms that negatively impact the unborn, health care, charitable services, schools, personal privacy, athletics, free speech, religious liberties, and parental rights.

The Act's unsound definitions of 'sex' and 'gender identity' would erase women's distinct, hard-won recognition in federal laws. Its sex-based nondiscrimination terms would end women's shelters and many single-sex schools. It would close faith-based foster care and adoption agencies that honor children's rights to a mother and father. The bill would even act as an abortion mandate.
The Daily Caller reported last month that every 2020 Democrat presidential candidate averaging above 1% in the polls has endorsed the Equality Act, including former Vice President Joe Biden, South Bend Mayor Pete Buttigieg, and Sens. Bernie Sanders, Kamala Harris, and Elizabeth Warren.
But hey, at least one reader of the LSN report is looking forward to the Equality Act. Athanasius866 commented:
The persecutors of Christians? Bring 'em on! The Church Father Tertullian wrote that 'the blood of the martyrs is the seed of the Church.' And, indeed, where Christians have been persecuted the Church, paradoxically, has grown mightily. In fact, the most vigorous, fastest-growing, and liveliest churches in the world can be found in the most unlikely places – Pakistan, Iran, Iraq, North Korea, China, certain Muslim countries where Christians are actively persecuted, and in other places. But we all know how it turns out. In the end, Evil is utterly destroyed. God triumphs decisively over Satan, his demonic kingdom is destroyed, and the Kingdom of God and of His Christ comes, and He shall reign for ever and ever and unto the ages of ages.
But another, Greg Jordan, said:
Franklin Graham is a hypocrite. When Romney was running he removed Mormonism as a cult from the BGEA website just to help Romney out. He will do anything to advance himself. He is nothing like his father.