OPINION is sharply divided in Appomattox in Virginia (population around 1,800) over whether a Baptist church sign is an acceptable call to patriotism or flat-out racist.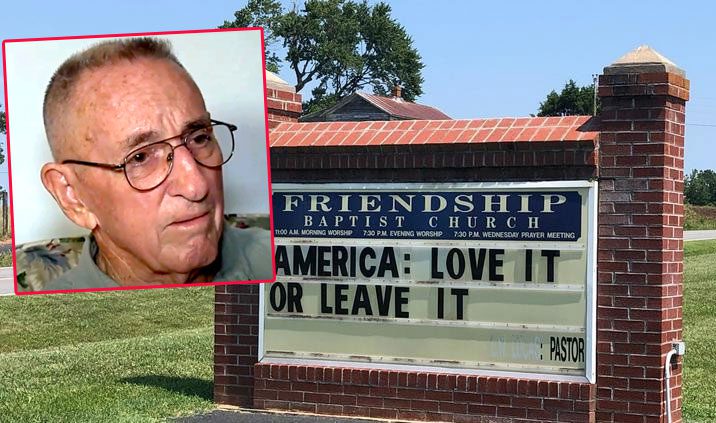 The Friendship Baptist Church sign was the brainchild of pastor E W Lucas, inset. The first inkling he had that some were angered by it occurred when some members of his congregation walked out of a service on Sunday in protest.
Lucas says members were upset with the national attention the church was receiving, but stands behind his decision to keep the sign.
I've tried to be honest. I've tried to do what's right. But I believe in my country. I love my country. And I don't mind standing up for the country.
In this report, Lucas is quoted as saying:
I thought I was going to make some remarks regarding the situation in Washington. It just came to me. I just said, 'America, I love it. If you don't love it, leave it.
Hundreds of people have expressed both their support and opposition to it on social media.
Lucas says that despite the challenges in this country, people should be grateful.
People that feel hard about our president and want to down the president and down the country and everything, they ought to go over there and live in these other countries for a little while.
He says his pastoral duties take priority over any potential backlash.
Preachers, by and large, today, are afraid they're gonna hurt somebody's feelings, and when I get in the pulpit, I'm afraid I won't hurt somebody's feelings.
Given that the sign went up so soon after Trump addressed a "fascist" rally in North Carolina, it was bound to ignite strong feelings.
Shannon Watts, founder of the anti-NRA group, Moms Demand Action, and Jon Cooper, chairman of the Democratic Coalition, as well as others, compared it to a KKK billboard.