A WHILE back John Lewis, Mayor of Mount Vernon, Illinois, issued a proclamation calling on citizens to 'recognise God in our city'.
What followed, according to unsubstantiated claims made on Facebook by evangelist Eric Burton, President of Groundbreaker International, were a bunch of "miraculous healings". Declaring that he was "at a loss for words" Burton revealed that:
People's bodies healed including, thyroid lumps, fibromyalgia pain, bronchitis, and many other ailments.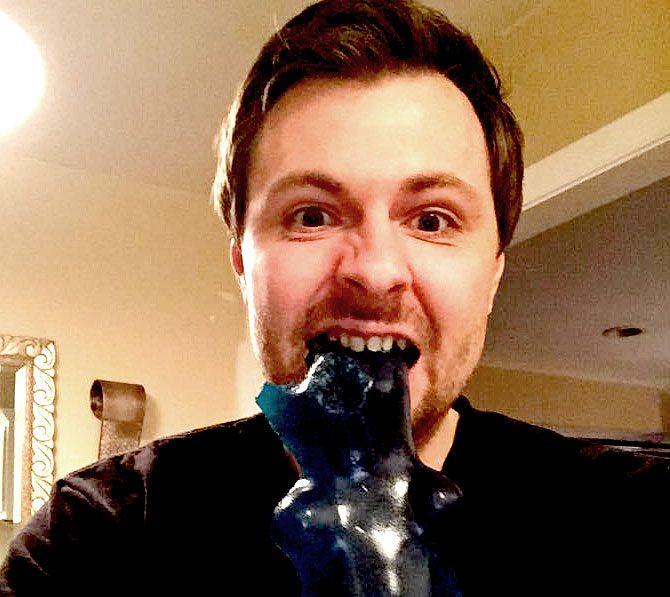 Not only that, but:
At least 13 answered a salvation altar call (includes baseball clinics), and 4 filled with the Holy Spirit with the evidence of speaking in tongues.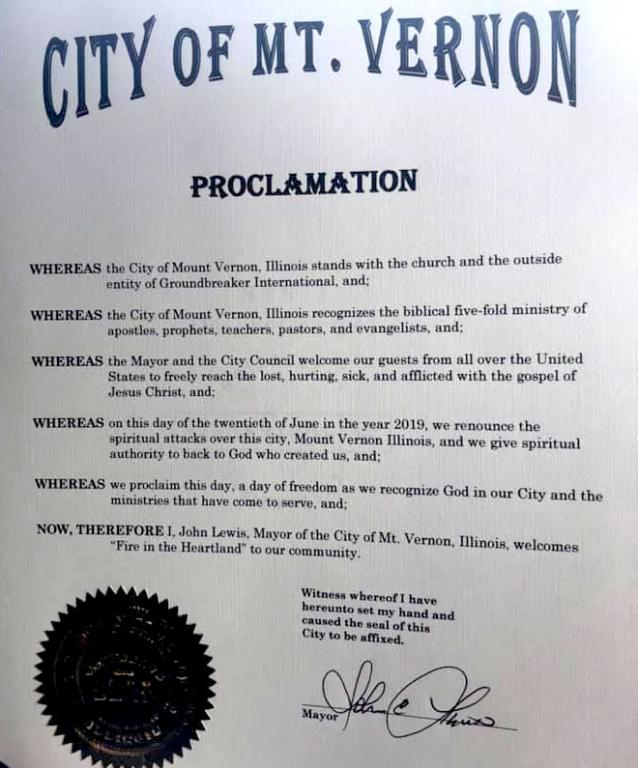 What also followed after Lewis took the step of officially recognising "the biblical five-fold ministry of apostles, prophets, teachers, pastors, and evangelists" was a complaint from the Freedom From Religion Foundation (FFRF) which called on city officials to stop promoting religion in this unconstitutional way. FFRF Legal Fellow Chris Line wrote:
This proclamation alienates non-religious and non-Christian citizens in Mount Vernon by turning them into political outsiders in their own community, including the 24 percent of Americans and 38 percent of Americans born after 1987, who do not identify with any religion. The city's official endorsement of Christianity and the views of a Christian organization and revival event is a serious constitutional separation of state and church violation.

FFRF is urging the city to refrain from issuing proclamations that endorse a specific religious viewpoint or religious organization in the future.
The organisation's Co-President Annie Laurie Gaylor, added:
It is extremely inappropriate for city officials to use their position of power to promote anti-scientific, fringe religious beliefs. It is dangerous, irresponsible and unconstitutional.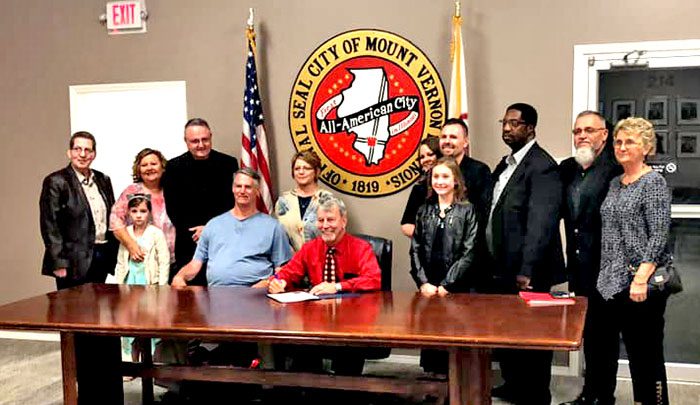 Then, last week, Americans United for Separation of Church and State weighed in, describing Mayor Lewis's pathetic little proclamation as:
Extraordinarily strange and highly problematic …  Beyond the plain violation of the First Amendment's protection against government-established religion, why, you may ask, would the local government even feel the need to proclaim a day of godly recognition in a state that is over 70 percent practicing Christian?

The recognition day is crucial to the community, said Mayor John Lewis (not to be confused with the current member of Congress and civil rights icon), in order to 'renounce the spiritual attacks over [the] city.' It is unclear from the statement what on earth he is talking about.

Although the proclamation's intent is, without doubt, to take a sledgehammer to the separation of church and state mandated by the Constitution, the mayor felt the need to spell it out so no person could misinterpret the city's goal. 'Mount Vernon, Illinois stands with the church', is the opening sentence to the document under which Lewis penned his signature. In other words, the city unilaterally decided to discard the separation of church and state in favor of the mayor's preferred vision of a Christian theocracy.

At Americans United, our highest mission is to ensure the complete separation between government and religious associations. Proclamations like this are difficult to challenge in court because they don't carry the force of law, but they're still inappropriate.

Violations such as the proclamation issued by Lewis in Mount Vernon strike to the core of AU's mission. The blatant attempt to marginalize some religious traditions in favor of others is hurtful, discriminatory and unconstitutional.
If the proclamation wasn't worrying enough, Burton, who is associated with an outfit called with Redemption Project Ministries, announced in its first somewhat illiterate newsletter:
Our First International Mission Trip. That's right! Our hearts are to serve Christ in whatever capacity we can. We are planning our first international mission trip to the Northern Africa in 2020. We will be helping church planting teams in Northern Africa, reach Muslims with the Gospel message of Jesus Christ. The nation we'll be reaching is 90 percent Muslim and is considered a sensitive country. Since, it's a sensitive country we won't be doing open-air crusades, but rather we will be doing one-on-one evangelism through building relationships with Muslims and witnessing to them while teaching English as a second language at a language center the Assemblies of God operates. 
Why would this bunch risk returning to America in body bags? As Burton offers no explanation, I'll let evangelist Dr Jerry Rankin explain:
Missionaries are willing to risk danger and opposition to engage unreached peoples with the gospel because they understand the consequences of lostness. I often highlighted the tragedy lostness in telling of the tsunami in Asia in 2004, when almost a quarter of a million people were swept into hell. Their lostness was not because they had rejected Jesus Christ but because as sinners they had never heard that he 'is the way, the truth, and the life' (John 14:6). That was just one event. Every day, people around the world die apart from Christ. The lostness compels us to give our lives and go (Rom. 10:13).