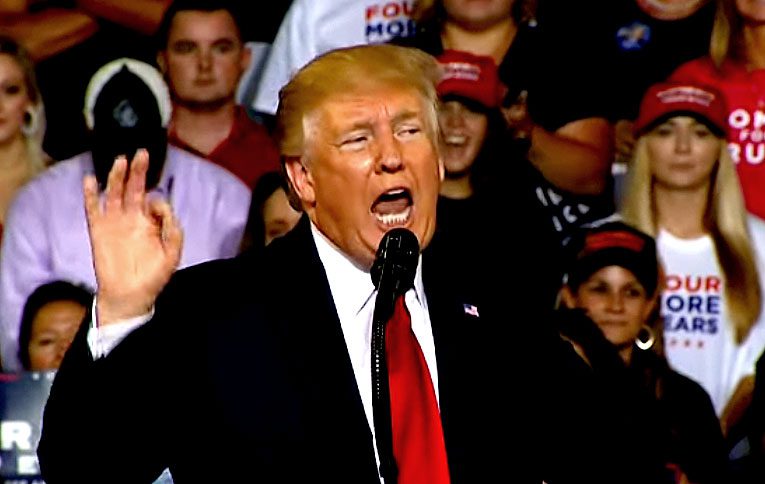 A PREDOMINANTLY white crowd of thousands, many in red 'Make America Great Again' hats, yesterday (Wednesday) encouraged 'a receptive' Donald Trump to illegally deport one of his political opponents, who is a black Muslim American woman.
When the President turned his guns on Representative Ilhan Omar (D-Minn.) –who came to this country as a Somali refugee before becoming a citizen – thousands of people in Greenville's Williams Arena in North Carolina broke into a chant of "send her back!"
Reporting for the HuffPost, Christopher Mathias, who was accused of "threatening and harassing" Trump supporters outside the rally, wrote:
To scholars of fascism — who have been ringing the alarm bells since Trump began his climb to power in 2015 — the rally in Greenville felt like an escalation. Like the U.S. just made another leap toward outright fascism.
Jason Stanley, a Yale University philosophy professor and author of the book How Fascism Works, tweeted:
I am not easily shocked. But we are facing an emergency. Journalists must not get away with sugar coating this. This is the face of evil.
Ruth Ben-Ghiat, a history professor at New York University who is an expert on fascism and propaganda, saw historical parallels in the Greenville rally.
Trump has created a corps of supporters fanatically loyal to him who turn his latest racist messages into group rituals (chants, slogans) and who hate the people he tells them to. All of this is consistent with the leader-follower relationship of fascist regimes.
And Shane Burley, author of the book Fascism Today: What It Is and How to End It, said:
Oh yeah, it's a fascist rally. I think that this rally is a rhetorical and political escalation for Trump, establishing him firmly to the right of his 2016 election. Which is what he wants to do because he wants to double down on his base for support, and he is doing that by playing on racist populism to create that motivation
Among those who came to egg Trump on were a couple called Mark and Nancy Dawson, who drove an hour and a half from Seaboard, North Carolina, for the rally. Mark, a retiree in a camouflage "Trump 2020" baseball cap and a T-shirt emblazoned with the words "United States of America: Love It or Leave It" said:
I think Muslims should be kicked out of the country because Sharia law is not conducive to the Constitution, period.
Nancy, a retired IBM programmer, said of Muslims:
I don't hate them. I just think they should go back where they can be together and have their own country and their own religion.
Danny Sills, a 50-year-old truck driver from Williamston, North Carolina, said the President's remarks about the congresswomen were "absolutely not" racist.
If they wanna come here and assimilate and be Americans, they're fine to be here. If they're gonna try and destroy this country from within, they need to be somewhere else.
Mathias wrote:
The Dawsons' vision of mass deportation didn't feel like much of a fringe position at Wednesday's 'Keep America Great' rally in Greenville. When the President took the stage, he re-upped his call for four Democratic congresswomen of color, all four of whom are American, to 'go back' to the countries they came from.

As at every Trump rally before it, there was a widespread hatred of the press in Greenville, a well-documented characteristic of fascist movements.

Trump, after all, has spent his entire presidency calling the media 'fake news' and 'the enemy of the people'. It's a view his supporters have embraced wholeheartedly. As people stood in line outside the arena, MAGA merchants hawked 'CNN sucks!' T-shirts while a band of teenagers in MAGA hats played a song called 'CNN sucks'.

As this HuffPost reporter conducted interviews outside the rally, with supporters who wanted to answer questions, he was approached by a police officer, who warned him that there had been complaints he was 'threatening and harassing' event attendees. The cop warned that if he received more complaints, this reporter would be removed from the rally …

When some reporters in the press pit stayed seated during the pledge of allegiance and the national anthem, Trump supporters angrily yelled 'Stand up, media!'from the stands.
And of course, when Trump attacked the media in his speech, the crowd went wild.