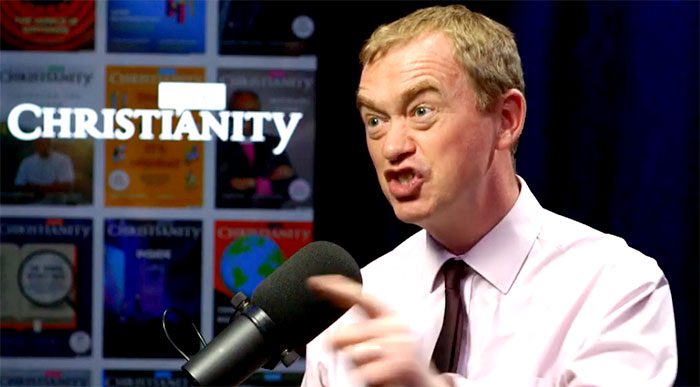 TIM Farron, a devout Christian who resigned as leader of the UK's Liberal Democrat Party in 2017 because he was being pressurised by the media to make clear his views on homosexuality, says in YouTube video posted today that he's not the sort of person who would 'fall for 'religious nonsense.'
Farron, who repeatedly dodged questions about his views on homosexuality during the 2017 General Election campaign, says he once viewed Christianity as:
A bit weird, unattractive and restrictive. I did not see myself as the kind of dupe who'd fall for religious nonsense. And I still don't consider myself the kind of dupe who falls for religious nonsense, but I think by the grace of God I'm someone who knows the truth when he sees it.
Farron got bitten by the Jesus bug as a teenager while living in Singapore.
My new bedroom still had stuff in it from the previous tenants who were Christians. It rained quite a lot, and so I read a whole bunch of books they'd left there. You'd probably categorise them as apologetics and prophecy. I remember reading stuff about Daniel. The penny dropped with me: 'Oh crumbs, it's all true.'
In an interview with Premier, Farron also spoke of the "trials and tribulations" he experienced while leading his party.
After he resigned he said he had spent weeks dodging the question but eventually declared that gay sex was not sinful. He wanted to draw a line under the issue, which led to him "foolishly and wrongly" giving an answer that was "frankly not right".
Farron said part of the problem was that there were too few Christians in the Liberal Democrats to help advise him.
I had a wonderful team around me at HQ but, with one exception, there were no Christians. It was not their fault they didn't understand the issue. I felt my choice was to be a bad leader or a bad Christian, and that's a rubbish choice, so let's not be leader and seek to be faithful.
He also said:
A better, wiser person than me may have been able to deal with this more successfully, to have remained faithful to Christ while leading a political party in the current environment. To be a political leader – especially of a progressive, liberal party in 2017 – and to live as a committed Christian, to hold faithfully to the Bible's teaching, has felt impossible for me.

Farron told Premier:
If I'd not been through the trials and tribulations of my leadership, I'd not be in the position that I am in now where I can openly talk about my faith. If you've given up the thing that you most wanted to achieve in life – for me it was being leader of my party – because there's something more important, it's so important you then focus on that thing, which is following Jesus.
A May 2019 poll showed that the anti-Brexit Lib Dems, the only party I can bring myself to support, were ahead of Labour and the Conservatives.