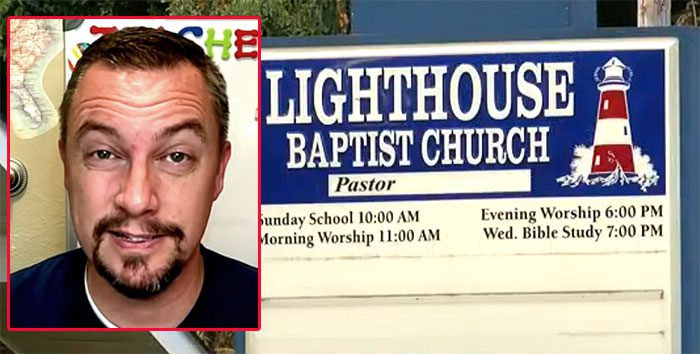 AUTHORITIES in Florence, Alabama, believe that more children may have been abused by John Martin, above, lead pastor of Lighthouse Baptist Church, and have asked possible victims to come forward with any information they may have about him.
According to this report, Martin is currently being held in the Lauderdale County jail with bail set at $60,000. He was arrested last month after confessing to four counts of sexual abuse involving one youngster.
Angie Hamilton, an assistant District Attorney in Lauderdale County, said more victims could be involved.
We have identified several potential victims. We believe other charges are forthcoming.
The 41-year-old pastor confessed to his congregation from the pulpit, after telling his wife. He called the abuse an "affair", court records say. Before being arrested, he'd checked himself into a psychiatric unit and turned over two guns.
Martin's victim was abused several times, at the pastor's his home and on a road trip, and he also sent the boy explicit text messages, court records reveal.
Martin worked in other states before joining the Florence church in January 2010.

Lighthouse "is an extremely socially conservative church", according to its website, which, along with its Facebook page, has now been taken down.
It encouraged men:
To dress in shirts and ties, while our ladies wear modest skirts and dresses.
Among its core belief is  that "God disapproves of and forbids divorce", and it maintains a radical pro-life position.
We reject any teaching that abortions of pregnancies due to rape, incest…or the physical or mental well being of the mother are acceptable.
The church also has an extremely negative view of same-sex relationships.
We believe that God has commanded that no intimate sexual activity be engaged in outside of a marriage between a man and a woman. We believe that any form of homosexuality, lesbianism, bisexuality, bestiality, incest, fornication, adultery, and pornography are sinful perversions of God's gift of sex.
The website also said:
We are proud to have Pastor Martin and his family with us. Since Pastor Martin came to Lighthouse, we have seen a growth that can only come from God. Pastor and his family would love for you to visit Lighthouse Baptist Church very soon!
In a YouTube account under his name, Martin posted several videos with his wife and kids. Since his arrest all videos on his "Random Things" channel have been removed.
Martin also appears to be a teacher for VIP Kids, an online portal where he teaches English to Chinese-speaking kids.