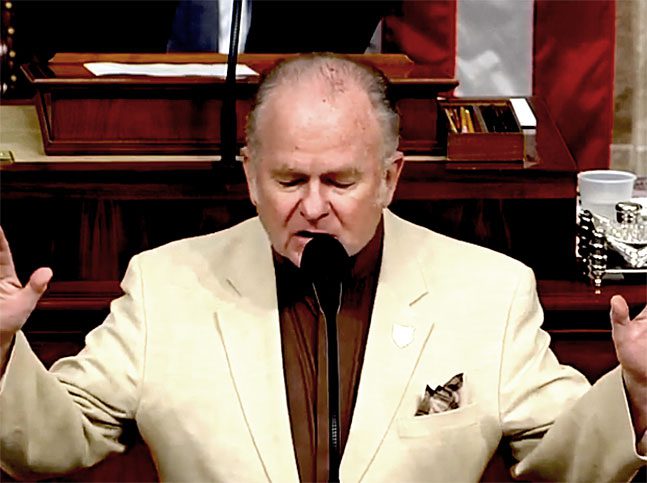 AFTER detecting 'an evil presence' in the US House of Representatives this week, Rev Patrick Conroy, 68, performed an 'exorcism' in which he asked God to cast out 'dark spirits' from the House.
This mumbo-jumbo was just too much for someone called Todd Deluca, who has just launched a petition calling for the casting out of House chaplain Conroy, a Roman Catholic Jesuit.
The House chaplaincy, for the record, costs the country $415,000 per year which includes Conroy's salary of $155,000.
Deluca's petition says:
We should be free from this nonsense as a matter of personal rights to be free from religion. Secondly, we are guaranteed a separation of state and church. While we may have tolerated a moment of silence, reflection, or even simple prayer as a matter of tradition this type of over the top superstition can not be allowed and demonstrates why the promise of separation and the right of individual freedom from religion must trump tradition.

This petitions seeks to assert our rights, have the chaplain removed, end prayer in all branches of government and provide a clear and complete separation of church and state.

The Democratic congressman [Emanuel Cleaver] who presided over a recent contentious debate on the House floor revealed in a Thursday interview with Martha MacCallum that he agreed with the House chaplain's prayer to exorcise the congressional chamber.
Conroy decided that the House needed "cleansing" after shouting had erupted on the floor on Tueday as representatives bickered over a resolution to condemn President Trump's racist tweets.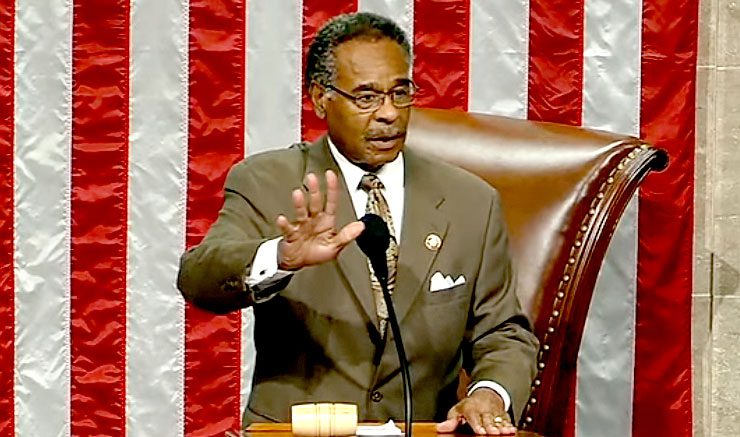 Missouri Democrat Representative Emanuel Cleaver, above, who abandoned the chair during the row, said:
Father Patrick and I sat together earlier the day of all of the chaos and confusion during the resolution concerning President Trump. And he said to me – leaned over and said, 'You know, I feel a presence in here, an evil presence.' He said it's not a Democrat or a Republican. He said there's something else going on here. He said, 'I'm going to have to pray tomorrow to ask God to cleanse this place'.
During Thursday morning's opening prayer, Conroy invoked God's help to dispel what he described as:
Darker spirits [that] seem to have been at play in the people's House.
He specifically cast out spirits of discouragement, petty divisiveness, and sadness.
Cleaver, who is an ordained minister in the United Methodist Church and holds a Master of Divinity degree from St. Paul School of Theology, then referenced the sixth chapter of Ephesians in the New Testament, which teaches that mankind contends with invisible evil.
It's hard to argue with Father Patrick because there is a mess going on here, and the tragedy is that I think there are many Americans who think it's OK.
Apart from "spiritual enemies", Cleaver expressed fear that foreign adversaries of the US will take advantage of the inner turmoil roiling the nation.