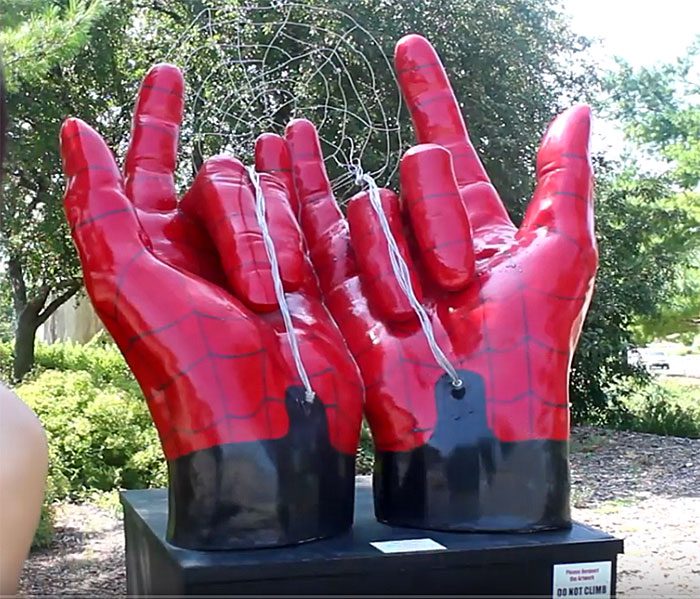 A WOMAN is demanding that a 6ft sculpture, located near the Lincoln Children's Zoo in Lincoln, Nebraska, be removed because it is 'demonic' and 'anti-Christian'.
Ian Anthony Laing's artwork, according to the unnamed woman, is representative of the Devil.
In an emailed complaint to Loncoln's Mayor Leirion Gaylor Baird, the deranged woman said the pair of Spiderman hands are :
Anti-Christian, demonic, and completely inappropriate for showcase near a family attraction. It is a sculpture of two hands open, painted Red & Black, and formed into Devil Horns.
She also said the sculpture was "ugly" and demanded it be moved because it's:
A hate crime against the church.
City ombudsman Lin Quenzer explained that the artwork is one of 50 sculptures citywide, as part of the "Serving Hands Lincoln" public art project benefiting Campus Life.
The non-profit's Executive Director Matt Schulte said the statue:
Is most definitely not a devil-related sculpture. It clearly has a very playful child-like intent.
What makes the woman's complaint look even more stupid it is is that Schulte's Campus Life is a Christian ministry.
He said:
It absolutely surprised me. We are a Christian organization that has been impacting kids for a long time … clearly we would have never have put something out there that celebrated the devil.
Quenzer added the city will not be seeking to remove the sculpture, which will be available to purchase at auction, alongside similar sculptures in the public art series, October 25 at 7 pm at Pinnacle Bank Arena.