THERE'S much wailing and gnashing of teeth in Christian circles over a decision by Rochester Cathedral to give its medieval nave over to a nine-hole golf course.
The cathedral's website says:
Kent's most unusual adventure golf course will be at Rochester Cathedral this summer. Created in partnership with the Rochester Bridge Trust, the Medieval Nave will be filled with a bridge-themed adventure golf course. The course has been designed to encourage young people to learn more about the engineering behind bridges.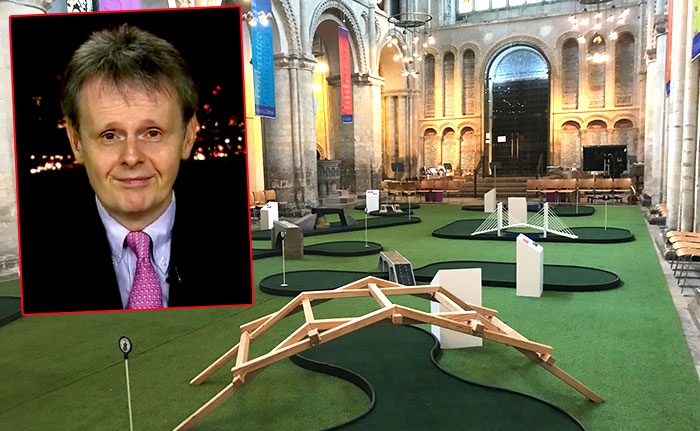 Church Militant points out that among those who have expressed outrage over the cathedral's initiative is the former editor-in-chief of the Catholic Herald, Damian Thompson, inset above, who tweeted:
St John Fisher, Bishop of Rochester, went to his death rather than watch his cathedral fall into the hands of greedy iconoclasts. I suspect he would rather see it lie in ruins than experience this fate.
And Padre Sebastian Hyatt, chaplain to the armed forces also rebuked "Rochester Cathedral's idea of mission" as "So devoid of theology, and intent on making money" they have forgotten that:
This is none other than the house of God; this is the gate of heaven. Shame on you.
Others slammed the innovation as an abomination. A commenter wrote on the Kent Online news website:
It is written, 'My house shall be called a house of prayer but ye have made it a den of golfers'.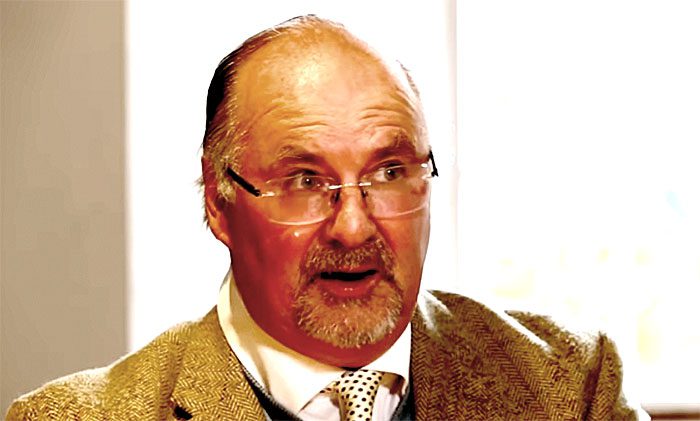 Dr Gavin Ashenden, former chaplain to the Queen, above, who deserted the Church of England after the Koran was read in Glasgow Cathedral, told Church Militant:
The Church of England, suffering a reductio ad absurdum, has turned its Catholic cathedrals into entertainment centres. Having lost contact with transcendence, majesty and holiness, the C of E has become a branch of the leisure and entertainment industry. Since they no longer know what a cathedral is, or what it is for, it is indeed time for them to return them to the Church that conceived, built and knows how to honor and use them.
Ashenden, Bishop of the Anglican Episcopal Church, also expressed his fury to the BBC, saying:
I'm afraid I think it's a really serious mistake, perhaps born of desperation. The idea that people are so trivial that they can be almost tricked into a search for God by entertaining them with a golf course is a serious-category error.
But Canon Matthew Rushton, from Rochester Cathedral, said:
Cathedrals are very confident at the moment to innovate and have events like this and to tell people about our faith in Jesus which is what we're all about. The Archbishop of Canterbury said to us that if you don't know how to have fun in cathedrals then you're not doing your job properly.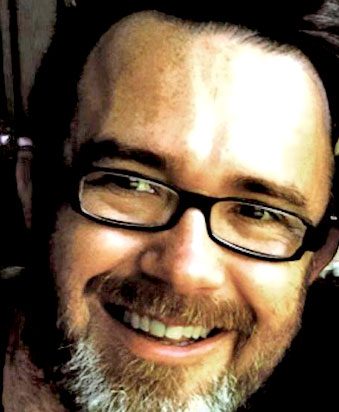 When the news reached the US, Rod Dreher, a religious writer and commentator, said on the American Conservative website:
Honestly. Honestly. Just sell the old barn to a condo developer, or give it back to the Catholics. Either would be more dignified than this. According to this story, the nine-hole golf course has been installed in hopes of attracting more young people to the church.
Why on earth would they think that would work? Young people won't come to a church that doesn't take itself seriously. Why not turn the nave into a disco and have a rave? Oh wait, they did that at the Liverpool cathedral in 2011.
The Rochester Cathedral is England's second-oldest. There has been Christian worship on this site since the year 604, though the present cathedral building dates to 1080. Miniature golf in the nave dates to AD 2019.
Who ever thought that Christianity in England would expire not with a bang, or even a whimper, but with a bogey on the ninth hole?
The course is open from August 1 until September 1, 2019. Happy putting.
Hat tip: BarrieJohn