FOR more than 15 harrowing years Esther Kahan, a London teacher, has battled to obtain a get – a divorce document in Jewish religious law – but Shmiel Kahan, the man she married and subsequently divorced in civil proceedings, said he would only 'unchain' her if she coughed up a large sum of money.

Well, according to Jewish News, Kahan finally caved in and paid her former husband £50,000 – a sum lower than he originally demanded.
Kahan alleges the emotional upheaval during her marriage – and while she waited for her get – was so bad she ended up in hospital on a number of occasions.
Kahan, once an agunah, or chained wife, says she strongly believes:
That the dayanim [religious judges] are simply not doing enough to deal with a major problem.
She feels that various British rabbinical courts "seem unable – or unwilling – to adopt more draconian measures against get refusers", and says that that the tough penalties now imposed on recalcitrant husbands in Israel "are proof that more can be done".
Esther and Shmiel Kahan were married in London in 1993, but after the couple had a family, the marriage broke down and Mrs Kahan obtained a civil divorce. But efforts to obtain a get were, she says, stonewalled by her ex-husband. She says:
I went through the usual channels to try to compel my former husband to give me a get, but was thwarted each time by Mr Kahan, who asked for vast sums of money in return, or attached near-impossible conditions.
In 2015, in an effort to crack down on men who would not give their "chained wives" a get, the London Beth Din sent posters to a number of synagogues in Golders Green and Hendon, denouncing the "abhorrent conduct" of Shmiel Kahan. The posters said he had refused his wife a get for nine years and called on him to "do the right thing".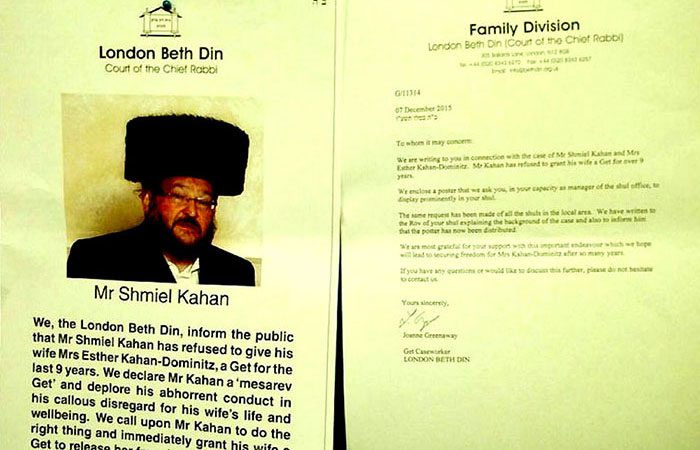 But Mrs Kahan said she was "unimpressed" by the campaign, and observed that a planned demonstration outside a synagogue which continued to support Mr Kahan, despite knowing he was withholding a get, never took place. She said one rabbi advised her:
Not to expect that she would ever obtain a get.
Dayan Gelley, of the London Beth Din, said:
We were made aware in April that a get had been given to Mrs Kahan and we are very glad the situation has finally been resolved. The principle view of the London Beth Din, as in all other get cases, is that where a get ought to be given it should be given without any demands. Every effort was expended over many years by the Dayanim, Registrar and our dedicated get caseworker to resolve Mrs Kahan's circumstances within the realm of halacha [Jewish laws].

While even one aguna is one too many, the London Beth Din is pleased that over recent years, through perseverance and diligence, we have been able to successfully resolve a number of difficult cases.
Mrs Kahan finally obtained her freedom when she spotted her ex-husband – thought to be living in New York – in London. She made one last-ditch effort to see if he would release her. Through a friend, she asked what were his conditions for issuing a get. He asked for £50,000 – and Mrs Kahan raised the sum within three days.
Mrs Kahan told Jewish News this week that:
In the past he [Mr Kahan] had asked for a lot more money, which I was unable to give him. When he said he was willing to accept £50,000, I knew I had to try to raise that amount and thankfully I was able to.
While financial settlements are common in civil divorces, they are extremely rare in cases such as this.
Mrs Kahan added:
There are other agunot who are suffering. I hope that telling my story will give them hope that one day they will be released from their situations.
Jewish News called Mr Kahan this week but his UK phone line was disconnected.