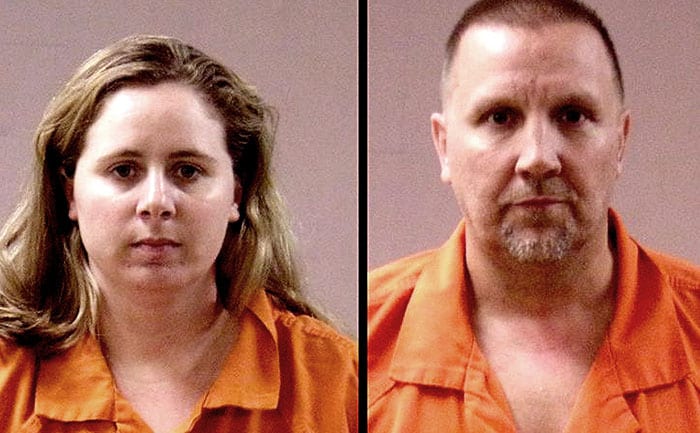 GARY Wiggins and his wife, Meaghan, who operated the Joshua Home – 'a haven of Christian study, prayer and love for troubled boys' – in Burnet County, Texas, have been indicted by a grand jury for human trafficking.
The couple had run a conversion therapy camp in Alabama – the Blessed Hope Boys Academy – where "brother" Gary Wiggins allegedly used a belt to beat the "the [gay] demon" out of boys who were sent there.
The now defunct Alabama school was the subject of a ABC' "20/20" investigation in 2017. Boys interviewed at the time spoke out against the abuse that included forced exercise, solitary confinement, withholding food, and various conversion therapy tactics.
Lucas Greenfield whose mother sent him to Blessed Hope because hewas gay, said:
He took off his belt and started swinging.
Wiggins, according to Greenfielf, said to boys he terrorised:
I'm going to get the demon out of you and make you straight.
A former teacher at the camp, Rodney Pinkston, backed up Greenfield's allegations of Wiggins's attempts to "de-gay" the boys. He said:
During his preaching sometimes Brother Gary would say to the boys, 'That's just queer. What are you, queer? You a faggot, son?'
More than a year ago
eight juvenile males were removed from the Wiggins' Texas home
while state and local agencies conducted an investigation into allegations of abuse, neglect, labour violations, fraud, licensing violations, and human trafficking relating to a string of businesses the couple ran, including Joshua Home Lawn Care and Joshua Home Movers.
The couple are each being held on $100,000 bond.
In 2016, police raided the Blessed Hope Boys Academy after several boys ran away and told authorities that staff had punished them with forced exercise, solitary confinement and withholding of food.
At the time Wiggins denied ever assaulting any boys in his care, but said he'd received written permission from parents to "swat" children. Allegations against him never led to charges.
Wiggins was filmed by 20/20 telling a mother of a gay teen from Washington state that he had an 80 percent success rate in turning homosexual boys straight. He called the process "redirecting".
Wiggins has described himself in the past as a born-again Christian and recovering alcoholic and drug addict.
Escambia County, Florida, court records list more than a dozen charges against Wiggins before 2009, including driving with open containers, writing worthless cheques, driving under the influence, possession of cocaine and intent to sell cocaine, as well as minor traffic violations.