OUR report on August 20 that Israel's Chief Rabbi David Lau had warned a man that he would not be allowed to bury his mother unless he granted a religious divorce – a get – to his 'chained wife' has taken a bizarre new turn.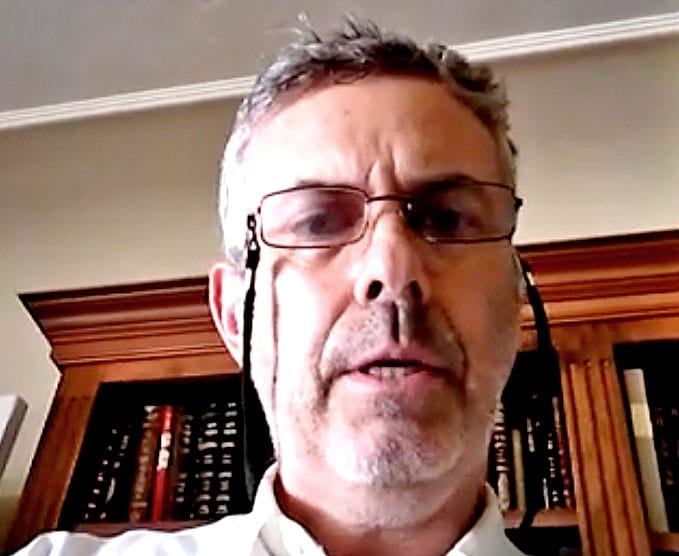 The man who was accused of withholding the get – Yisrael Meir Kin, above – has issued a video statement in which he claims that he had, in fact, already granted the woman a get, and that reports of his recalcitrant behaviour was "fake news".
Kin said he provided a get for his wife at the Beit Din of Shaarey Mishpat, which is headed by Rabbi Tzvi Dov Abraham of Monsey.
This outfit is not recognised by any rabbinical organisation in North America nor by the chief rabbinate in Israel.
The body of Kin's mother's body arrived in Israel on Monday night. A Tuesday morning burial was scheduled, but did not take place until hours later, after the religious divorce was reportedly granted. Kin did not travel to Israel for the burial because he could have been arrested for get refusal.
The rabbinical court of the Union of Orthodox Rabbis of the United States and Canada had asked Lau to withhold the burial and and noted in a letter to the Chief Rabbinate that the man's mother had supported him in his decision to keep his wife an agunah, or chained woman. Lau in a statement on Tuesday announced that he would comply with the request to delay the burial.
Lau later said that Kin's family had placed a $20,000 bond to ensure that he would produce the get for his wife in front of a rabbinical court when one was arranged.
But Kin says in the video that neither Lau nor anyone from the chief rabbinate contacted him nor did he or his family place a deposit to insure the get. He also pointed out that he is related to Lau by marriage through his wife. Thus Lau had:
An interest in doing this heinous crime against my mother.
And he accuses the chief rabbinate of "corrupt activities" and "going against tradition to fulfill its evil deed".
The New York Times in 2014 reported that Kim, who had remarried, was demanding $500,000 and full custody of their then-12-year-old son in exchange for the divorce.
Earlier, in 2009, 200 people rallied outside Kin's home in the US and chanted "Stop abuse" and "Free your wife".
Kin and his wife, Lonna, the parents of one child, had been separated for four years, and though a civil divorce had already been granted, he refused to appear before a recognised rabbinic court to grant her a get. Without it, she was unable remarry and was considered an agunah.
The Rabbinical Council of California (RCC) issued a seiruv, or letter of contempt, against Kin in March 2007 for refusing to appear before the beit din, a rabbinic judicial panel.
Kin comes from a prominent Los Angeles Orthodox family – both his parents are longtime educators in the Beverly-La Brea area, and his brother, Rabbi Elyahu Kin, is a leader at the outreach organisation Torah Ohr. Another brother is president of an Orthodox congregation.
The chief rabbinate denied Kin's claims:
We regret that the refuser continues his crooked conduct and is now attacking the Beit Din (rabbinical court).