CHICK-FIL-A, the faith-based US food chain which generously funds anti-gay outfits, got itself into Fox News recently when one of its employees at its Madison, Alabama, branch was photographed praying over a customer.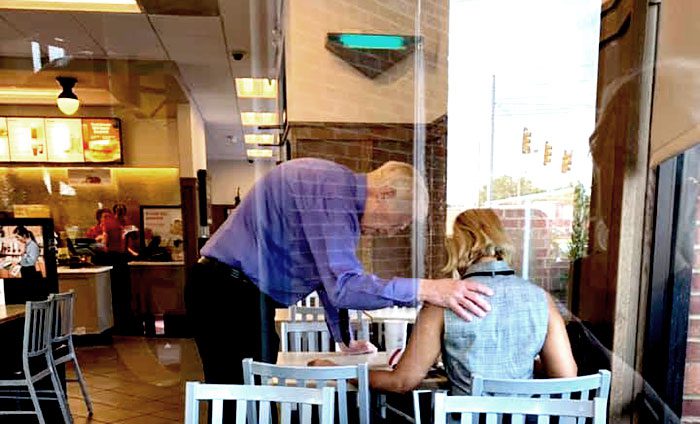 The picture of Stephen Spray giving a dollop of Jesus to the woman was caught on camera by Brittany Calden, a professional artist and photographer who runs Brittany Calden Photography in Madison. Later she posted in on her Facebook page.
Fox News reported that Calden was moved "to tears" by the moment.
She told the news outlet that she was playing with her daughter in the play area when she captured the "heartwarming" moment.
It really caught me off guard. I have never seen someone ask to pray for someone else in a public setting before. It was authentic and moving to witness and I was drawn to tears by the action.
Spray, known to customers as "Mr Steve," is a long-time employee who was cleaning tables before he stopped to pray for a customer he didn't know because:
The spirit led him to pray for her.
Spray told Calden:
That's not unusual. I work at a place where if I'm led to pray for someone, I'm able to do that and I'll do it right on the spot. People need prayer, encouragement, and love. That's what we try to do here.
Calden said of the Chick-Fil-A staff:
As soon as we enter we are greeted by our names, it's seriously unreal. They hold my baby when my hands are full and go out of their way to make us feel good. The other day we were leaving and an employee ran for the door to hug my daughter before she could leave. They don't do what they do for recognition. These employees have hearts that are led by Jesus and its evident every time we enter their restaurant.
Makes you wanna puke, doesn't it?
According to this report, the Chick-fil-A Foundation donated more than $1.8 million to three groups with a history of anti-LGBTQ discrimination in 2017. Tax filings analysed by ThinkProgress showed that in that year, the company's charitable arm gave $1,653,416 to the Fellowship of Christian Athletes, a religious organisation that requires its employees to refrain from "homosexual acts"; $150,000 to the Salvation Army, which has been accused of anti-LGBTQ discrimination and advocacy for years and whose media relations director once claimed gay people "deserve death"; and $6,000 to the Paul Anderson Youth Home, a Christian residential home that teaches young boys that same-sex marriage is:
A rage against Jesus Christ and His values.