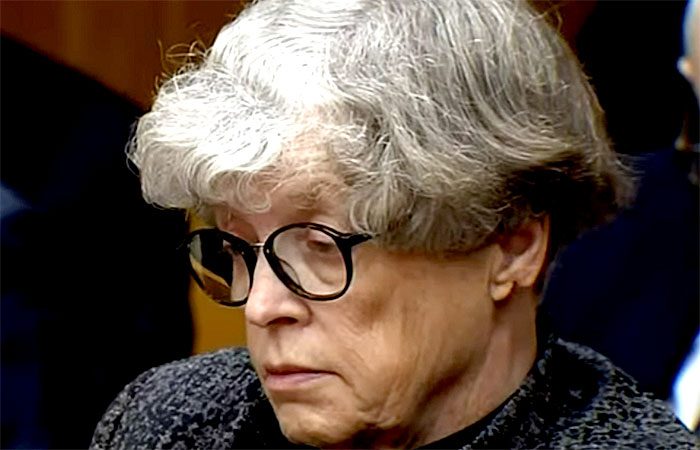 FORMER Michigan State University President Lou Anna Simon, who was charged in November 2018 with four counts of lying to a peace officer during  an investigation into the Larry Nassar sex abuse scandal, is to get a $2.45-m retirement package – and Bill Donohue, of the Catholic League is furious that the deal hasn't garnered national coverage.

He labeled Simon a "sexual abuse enabler" and raged:
I have been saying for years that the public, especially Catholics, are being played. The clergy abuse scandal is a disgrace, but it is also a disgrace the way the media, and others, have treated sexual misconduct stories when they do not involve the Catholic Church. The lack of outrage over the way Michigan State handled its former president settles the issue.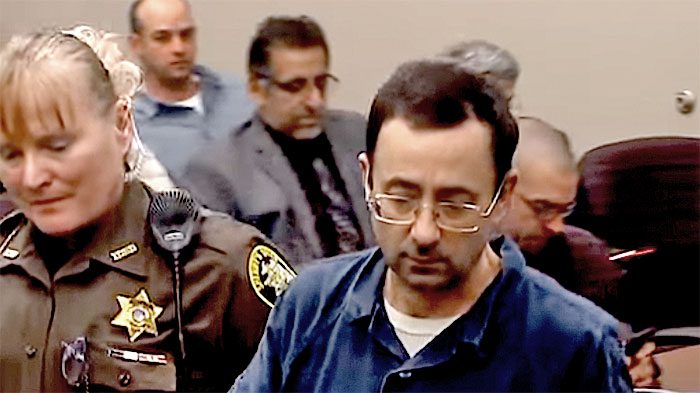 Also furious over over the settlement is Grace French, a University of Michigan graduate who was assaulted by Nassar, above, while a dancer in middle school.
Institutions like Michigan State University should be setting an example by holding those who allowed perpetrators to continue abusing accountable. The fact that Lou Anna Simon is allowed to retire with dignity is unacceptable.
The benefits, French, added
Could be going toward creating an environment at the university where survivors can feel supported and believed when speaking about their stories, or to create resources to help to heal survivors of sexual violence at the university. By allowing her to retire, MSU is invalidating the gravity of the situation, and letting the community and survivors know that the culture of abuse and lack of accountability will continue to be ignored at MSU.

And John Manly, a California-based lawyer who has represented more than 200 victims who sued the university, called the deal:
Nauseating. How many children need to suffer before you think that somebody who was at the helm shouldn't be rewarded?
Simon joined MSU's faculty in 1974, served as President from 2005-18. She stepped down in January 2018 when more than 200 women and girls testified about Nassar's abuse in two courtrooms over nine days in Eaton and Ingham counties.
Nassar was convicted of two courts of sexually abusing patients under the guise of medical treatment and in a third court for possessing child pornography. He is serving a de facto life sentence.
Simon returned to a tenured faculty position and last autumn took a voluntary unpaid leave of absence while facing criminal charges in Eaton County.
Said Dianne Byrum, Chair of the MSU Board of Trustees:
Our campus community is continuing its healing, and the Board of Trustees feel the retirement of Dr. Simon is best for the university
The retirement agreement states Simon still would be recognised with a presidential portrait, but:
Such public recognition of Dr. Simon's emeritus status may be withheld if the pending criminal charges result in a felony conviction that is upheld after all post-trial motions and appellate issues are finally adjudicated.
Prosecutors allege Simon was informed in a 2014 meeting with Title IX coordinator Paulette Granberry-Russell that Nassar was the subject of a sexual assault complaint, but lied about that knowledge in a 2018 interview with police.
Simon has maintained she was informed that a sports doctor was under review in 2014, but didn't know it was Nassar until 2016, when the media reported his name.
Last week, her preliminary examination ended with Eaton County District Court Judge Julie Reincke asking both sides to submit legal briefs outlining their arguments. The prosecution had 28 days to file after receiving transcripts of the seven days of testimony, which began in February. The defense had 21 days to file its arguments, followed by 14 days for prosecutors to respond to the defence's brief.
In June, Nassar's former boss, William Strampel, who was dean of MSU's College of Osteopathic Medicine from 1999 to 2018 and retired after being charged by then-Attorney General Bill Schuette, was the first MSU official to be convicted of charges arising from the scandal.
Former longtime head MSU gymnastics coach Kathie Klages is expected to return to court on charges that she lied to a peace officer about her knowledge of Nassar's crimes.