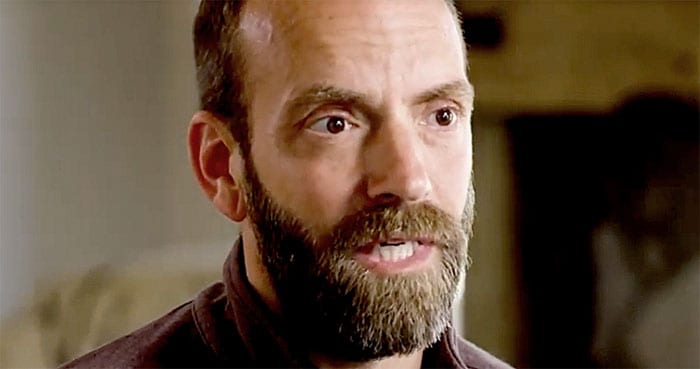 COINCIDING with two court rulings on Friday concerning Kentucky's Kim Davis was the case of Blaine Adamson, above, a devout Christian who claims he's being persecuted for refusing to print gay pride T-shirts.
On Friday, the Kentucky Supreme Court began hearing arguments in the case of Adamson, owner of Hands On Originals Christian Outfitters in Lexington. Adamson told the public outside the court chamber:
For the last seven years, the government has tried to punish me for declining to print a message that violated my conscience. So far, the lower courts have upheld my freedom as a creative professional, and I'm hoping the Kentucky Supreme Court will uphold that freedom as well.
The Kentucky Court of Appeals sided with Adamson in 2017, but the ruling was challenged by the Lexington-Fayette Urban County Human Rights Commission. Opposing Adamson, and representing the Commission, attorney Edward Dove said that Hands On Originals "practices censorship" according to Campbell's own admission.
That's why we have a public accommodation ordinance to protect against people enduring discrimination as they seek to enjoy goods. They can do anything they want in the name of religion and censor any message they don't like, which would affect the free speech argument in the country.
Said attorney Jim Campbell of the anti-gay hate group Alliance Defending Freedom, which is representing Adamson:
Blaine serves everyone; he just doesn't print all messages. In fact, Blaine has printed materials for a lesbian musician who performed at Lexington's 2012 Pride Festival. It's all about the message that Blaine is asked to print; he's not concerned with the person who requests it. Upholding Blaine's rights protects freedom of speech for everyone. 

That's why he has received public support from lesbians who own a print shop in New Jersey and don't want the government to force them to print messages they disagree with.
Adamson has previously stressed that he happily serves and employs homosexuals; it's the content of certain designs that's at issue.
We've had to turn down several jobs because of whatever the message may have been, even from customers whom we've worked with for years. When they present a message that conflicts with my convictions, it's not something that I can print – that's the line for me.
Calvin Freiburger, reporting for the far-right LifeSiteNews, wrote:
Over the past several years, LGBT activists have taken numerous Christian business owners across the country, from photographers to florists, to court in hopes of forcing them to create works celebrating homosexuality or participate in same-sex 'wedding' ceremonies. The U.S. Supreme Court handed Colorado baker Jack Phillips a victory last year when it sided with him against the Colorado Civil Rights Commission, but similar lawsuits continue because the high court's narrow ruling was about the anti-religious animus of state officials, and didn't render a verdict on the core religious-liberty issues.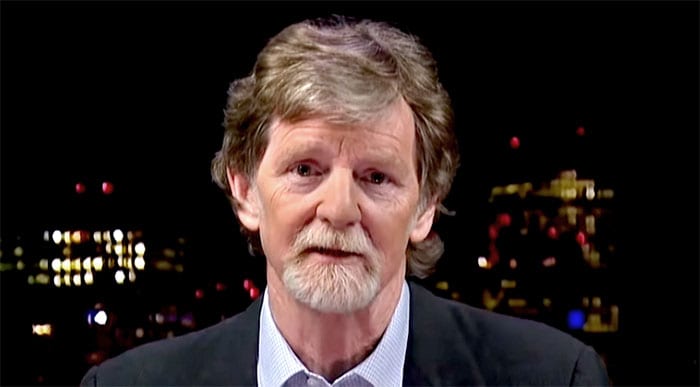 Phillips, above, is not yet out of the woods. Alliance Defending Freedom reports that he faces a third legal challenge. And he needs thoughts, prayers … and money.
No American should be bullied or banished from the marketplace simply for living and working consistently with their faith. But this new lawsuit threatens to do just that.

Opponents of religious freedom want to strip away our freedom to live and work consistently with our deeply held beliefs. And they're going to extreme lengths to punish those – like Jack – who are willing to stand for their faith.

Praise God that Jack refused to give up his freedom without a fight. He knows it's not just his own religious freedom on the line – it's yours too.

Thankfully, God continues to provide us with the resources we need to fight back. Through God's blessing and your prayers and support, we are winning case after case across the nation, even at the highest court in the land.

God has rewarded Jack's courage and your generosity with two important victories. And now, as he faces yet another challenge, it is our prayer that God will use your gift today to protect religious freedom for Jack and other people of faith who are fighting important battles across the country. God is the source of our hope. And when we stand together to defend religious freedom today, we can be victorious.