A LAW that came into effect in New York this week temporarily lifts the statute of limitations for civil suits alleging abuse, regardless of the age of the plaintiff or how long ago the abuse allegedly occurred.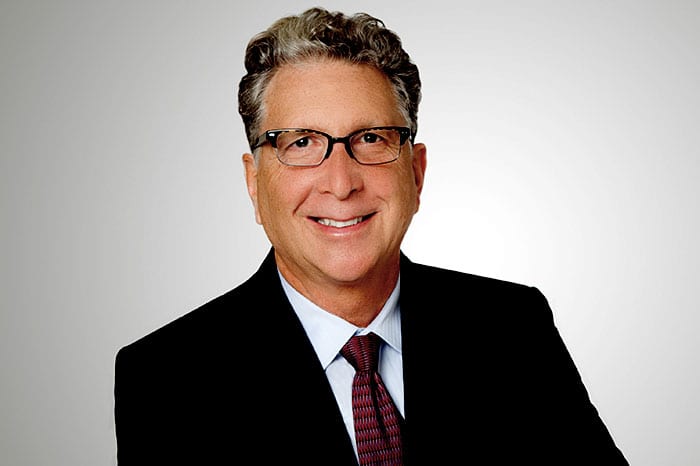 The Child Victims Act, according to Newsweek, opened the way for attorney Irwin Zalkin, above, to announce at a press conference that he was launching two lawsuits against eight members of the Jehovah's Witnesses Governing Body on behalf of Heather Steele and Michael Ewing, who allege that they had been abused as children by JW members.
While the "window" the CVA opens expires after one year, legal experts expect thousands of lawsuits to be filed in the coming months.
Zalkin first took on the the JWs in 2010, when he was approached by an ex-member who had heard of his work representing victims of abuse in the Catholic Church.
That was the beginning of what he calls "an odyssey" of investigating the cult.
These guys have been flying under he radar for far too long. They've very insular – they don't interact much with the outside world and they try to keep their dirty laundry in-house, too.
In a video posted to YouTube on Tuesday, Zalkin thanked New York's Governor and the legislature for passing the law, which made it possible for him to launch the two lawsuits.
He says Steele and Ewing could be the first of many cases filed against the Witnesses in New York, where the group's national headquarters are located.
His legal career has largely involved representing victims of child mistreatment and abuse. He's also helped clients sue other religious groups – including the Baptist Church, the Episcopal Church, Hasidic Jewish organisations and the Living Word Fellowship. But of the Witnesses, he says:
It's a matter of scale. Any organization where you have adults in a custodial role, there's a potential for abuse. But with the Jehovah's Witnesses, the scale is massive.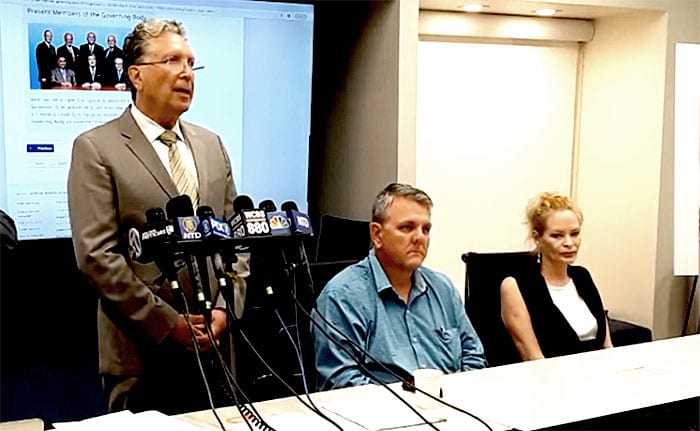 Steele, 48, says her first memories are of being molested by an elder, Donald Nicholson, in the mid-1970s when her family lived in New York. At the age of ten she finally told her mother, who went to the elders instead of police. The elders' response was to tell the family to pray for Nicholson.
Eventually Steele's parents notified secular authorities and Nicholson served three-and-a-half-years in prison. When he got out, though, he was quietly moved to another congregation, where few knew of his past.
Ewing was 14 when he was paired with a Ministerial Servant (equivalent to deacon) to work as "pioneers", going door-to-door to proselytise. Over the next four years, he says, the older man raped him repeatedly.
At 21, Ewing reported the abuse to his father – who, like Steele's mother – approached church elders. At a religious tribunal both he and his abuser were accused of engaging in homosexual activity and disfellowshipped, a severe form of excommunication where family and community cut all ties.
In a statement to Newsweek, the US Branch Christian Congregation of Jehovah's Witnesses said it would not address the cases.
Out of respect for the judicial process and the privacy of those involved. [Our] stand on the subject of child abuse is very clear: we abhor child abuse in any form. Over the years, Watchtower's publications have addressed this topic with a view to equipping parents to protect their children. In addition, Watchtower's practice is to always follow the law, and we support the efforts of elders in congregations of Jehovah's Witnesses to do the same.
In the past decade Zalkin represented 24 former or current Witnesses, plus about 10 more that settled out of court
The Governing Body purportedly maintains a database of suspected molesters that, Zalkin alleges, "dates back decades."
Exactly how many are named is unclear – a former elder told the BBC there were records on 23,720 alleged paedophiles – but the church has repeatedly refused court orders to turn it over to authorities.
William Bowen knows about the database. He's the founder of Silent Lambs, an organisation that works to connect victims of abuse within the Jehovah's Witnesses. He said that any member alleging any wrongdoing must present two witnesses to be believed. If they can't "the perpetrators are considered innocent."
If your claims of abuse are disbelieved, you could face being disfellowshipped, an extreme form of excommunication.
Your own parents won't speak to you – they'll put you on the street or act like you're dead. It puts children in real danger. It makes them unable to have a voice.
Zalkin has worked with clients who were disfellowshipped as young as age 13. "They're shunned in their own homes," he says. For adults, being disfellowshipped can have its own consequences.
Many Jehovah's Witnesses work in businesses owned by church members, says Bowen.
So if you're disfellowshipped, you're gonna be fired, you're gonna be cut off from everyone you know.
Bowen, who has worked with more than 10,000 victims since founding Silent Lambs in 2001, says the danger of abuse is more pernicious among Witnesses than in the Catholic Church. He was an elder himself for 15 years before being disfellowshipped in 2000 for reporting abuse he had uncovered. But he insists Silent Lambs isn't a "vigilante group" out to get Jehovah's Witnesses.
I'm not against them –I want them to be a better church. If we can just do away with this two-eyewitnesses rule and automatically report abuse to the police. But for 20 years they've refused to do it. It's beyond comprehension – just report it to the police!
Bowen says the "opening of the window" the Child Victims Act provides could have massive ramifications for victims who grew up Jehovah's Witnesses. But he doesn't believe it'll change how the Governing Body operates.
I believe they'll just keep fighting these cases. They'll just wait out [the year]. We've helped file more than 50 suits against them for the last 20 years, and the church has paid out more than $100 million. But to a religion that takes in $2 billion a year, that's just a parking ticket. They'll fight these suits to the last man and use donations to do it.