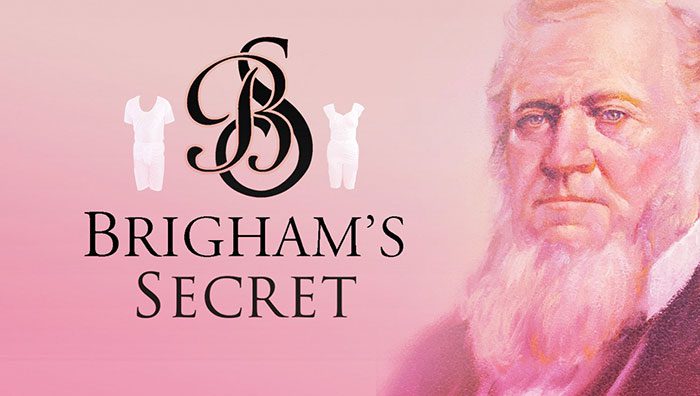 A SPECIALITY underwear shop targeting Mormons has opened in Salt Lake City's Temple Square. If the venture is successful, 'Brigham's Secret' stores will become a reality in malls and shopping centers all over the country.
The store allows men and women to shop for various temple undergarments, which are designed to offer both maximum comfort and be a constant reminder of the covenants made with God in the temple.
This, folks, is satire. Satire deliciously served up by the satirical news site, the Babylon Bee. The Bee "pokes fun at the quirks of the modern, American Christian community,"according to its blurb for How to Be a Perfect Christian, one of the products it sells.
The Bee has published stories under such clearly satirical headlines as:
California Governor Jerry Brown signed a bill into law requiring all Christians 'to register Bibles of all sizes, shapes, and translation version as 'assault weapons'.
But Snopes,  a "fact-check" website, is apparently unable to distinguish satire from "fake news", and has put the Bee in sticky position by questioning its satirical endeavours. Its editor, Adam Ford said in this report:
Instead of merely rating the article 'false,' they questioned whether our work qualifies as satire, and even went so far as to suggest that we were deliberately deceiving our readers.
Is this a big deal? Ford says yes:
Basically, they treated us as a source of intentionally misleading fake news, rather than as the legitimate, well-known satire publication that we are. As you know, fake news – which is distinguished from satire by its intent to mislead – was widely considered a serious issue in the last election cycle. As a result, social-media networks like Facebook began partnering with fact-checkers to try and limit the distribution of fake news on their platforms.

Snopes was one of them. At one point, a piece of ours was rated 'false' by Snopes, prompting Facebook to threaten us with limitations and demonetization. We made a stink about this, and after some media attention shed light on the problem, Facebook apologized for their handling of the matter and admitted that satire is not the same as fake news.
Ford explained that while his group won that fight, Snopes has initiated a new smear that is:
Both dishonest and disconcerting.
He cited a satirical piece in the Bee based loosely on a claim by a Georgia lawmaker that a man at a store told her to "go back" to where she came from. Later it appeared that the claim was false.
Snopes wrote:
We're not sure if fanning the flames of controversy and muddying the details of a news story classify an article as 'satire'.
Ford said:
We have no choice but to take it very seriously. For better or worse, the media, the public, and social networks all look to Snopes for authoritative answers. By lumping us in with fake news and questioning whether we really qualify as satire, Snopes appears to be actively engaged in an effort to discredit and deplatform us.
He said a law firm has been retained to represent the site.
In a commentary in the Washington Examiner, Madeline Fry remarked that if Jonathan Swift :
Wrote 'A Modest Proposal' today, Snopes would fact-check it. Never mind that the satirist's famous 1729 essay is ludicrous enough to make its tongue-in-cheek intentions known. Snopes, 'the Internet's definitive fact-checking resource', would find a way to turn it into a fake news controversy … I hate to break it to the overzealous, partisan fact-checkers of the world, but satire is satire, even if you don't think it's funny.
Meanwhile, the Bee has exacted is own revenge on the fact-checker by publishing a satirical article beneath the headline "Snopes Announces Fact-Checked Study Bible".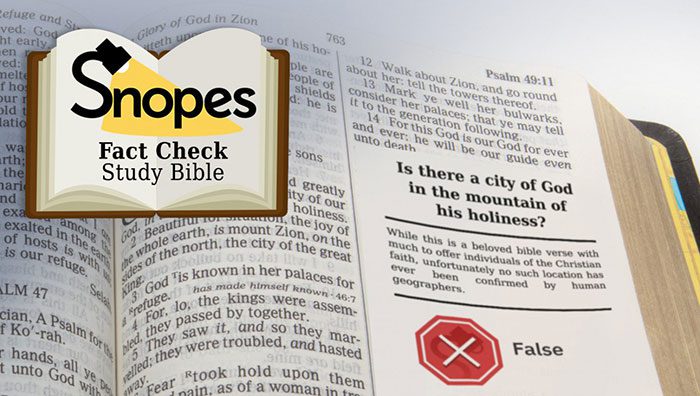 The piece says:
The study Bible is designed to undermine your faith at every turn by performing shoddily researched fact checks of every claim the Scriptures make.
"Did Jesus rise from the dead? Fact check: LEGEND," the notes read in the gospels.
"Is Jesus Christ the Truth? Fact check: FALSE. Snopes is the only verifiable truth," another callout bubble reads in the Gospel of John.
Jesus's parables are the target of frequent fact checks in the study Bible, as Snopes authors seem to be unable to tell the difference between Jesus's obviously allegorical stories and historical narratives. The Bible contains a three-page-long fact check of the story of the prodigal son, for instance, pointing out that no historical evidence was ever found that the character in the parable ever existed.
One well-researched fact check asks whether or not Jesus even existed, concluding that results are "MIXED." The Snopes Bible points to evidence such as the fact that no one living today has seen Jesus and also that it'd be really inconvenient if His claims about Himself were true.
"If you've ever read the Bible and been unsure about what you're reading, the Snopes Fact Check Study Bible is for you," said a Snopes spokesperson. "Now you can actually be sure of God's Word because the infallible Snopes writers are telling you what to believe right there on the page."
"Is the Snopes Study Bible on sale for $49.99 now? Fact check: TRUE," the spokesperson concluded.