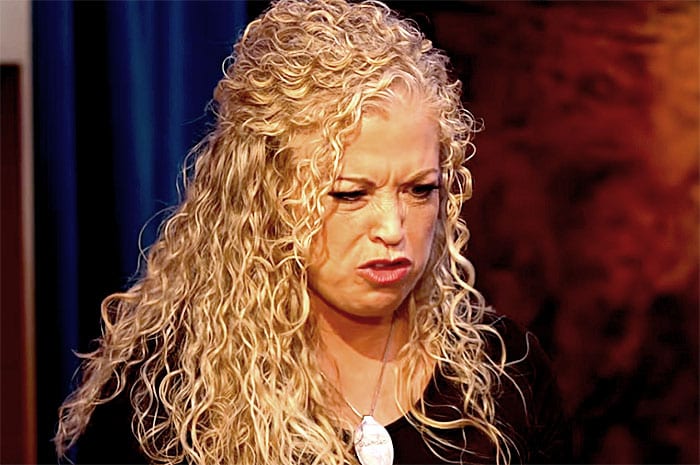 WHEN 'Activist Mommy' Elizabeth Johnston, above, got wind of the fact that a Drag Queen Story Hour was to be staged last weekend at the Community Cafe in St Peterburg, out came her foghorn.
From her base 1,000 miles away in Ohio, the Christian mother of ten used social media to call on her Christian "warriors" to protest the event and shut it down. But it all went horribly pear-shaped for her when a large crowd did turn out … to lend enthusiastic support to those who were staging the literacy programme aimed at young kids aged three to eight.
The dozen or so protesters who came to purse their lips, threaten hellfire and bellow the name of Jesus found themselves greatly outnumbered by people who sang and danced to drown out the preaching of the Christian clowns.
Local organiser Kyiala Williams, whose drag persona is "Samaya Sinsation", explained that the programme, which has spread across the US, is about kids who not only love a fabulous costume, but can learn at a young age that it's possible for people to be who they want.
Johnston doesn't see it that way. She said she crusades against the story hours because they're "very adult and sexual in nature" and include "confusing, gender-bending books" that can traumatise children. Online she draws a line between the events and "the homosexual agenda."
Saturday was the first event since Johnston called on her more than 700,000 followers to flood the cafe and Mayor Rick Kriseman's office with phone calls and emails. Those who did email Kriseman's office all got the same response, according to city hall spokesman Ben Kirby:
The City of St. Petersburg is a City that prides itself on its diversity and inclusive practices. Hate has no home here. While we appreciate your correspondence and concern, we are proud of events like the Drag Queen Story Hour and those who participate because they showcase those qualities that make us stronger as a community, and we do not begrudge how people choose to spend their time.
Among those protesting the event was Dick Maxwell, 65, who turned up with a bullhorn with Jesus's name on it. He insisted the event was a sin and a corruption of young children who couldn't defend themselves.
When a guy dresses up and parades around and twerks and whatever else they do inside there, it is sexual expression in front of children. That simply can't be denied.
While some drag performances for adults can be risque, there's nothing inherently sexual about drag, Williams said, unless you find a gown, makeup and earrings sexual.