IF YOU had been visiting Uranus, or were trapped in a cellar without radio or TV, you may well have missed the furore that erupted in the US media and on social platforms after Donald Trump declared on Thursday that he was "The Chosen One". This is how Occupy Democrats reacted on Facebook.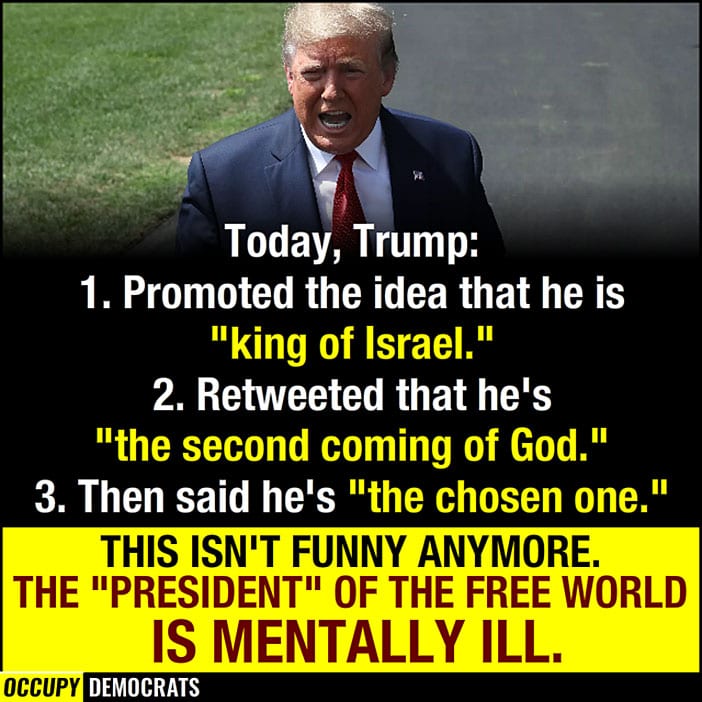 Fact-checker Snopes, which can't distinguish fake news from satire, appears to have been inundated with queries as to whether Trump actually intimated that he was "The King of Israel" and the "Second Coming of God" – and that he's some kind of messiah.
Snopes concluded:
We know that certain Christians in the United States and beyond have professed a fringe belief in Trump as a Christ-like or messianic figure. It's even possible, theoretically, that Trump himself might harbor similar suspicions of his own destiny. But the series of statements he made on Aug. 21, 2019, did not constitute evidence of any such belief on his part.

The president did say "I am the chosen one," but he made the remark as an aside, combining it with a theatrical glance towards the heavens, while making a broader point about his engaging in a supposedly overdue trade war with China. The context, along with Trump's penchant for flippant and tongue-in-cheek asides, makes it highly unlikely he was choosing that moment to earnestly articulate some sincere belief in his own messianic destiny.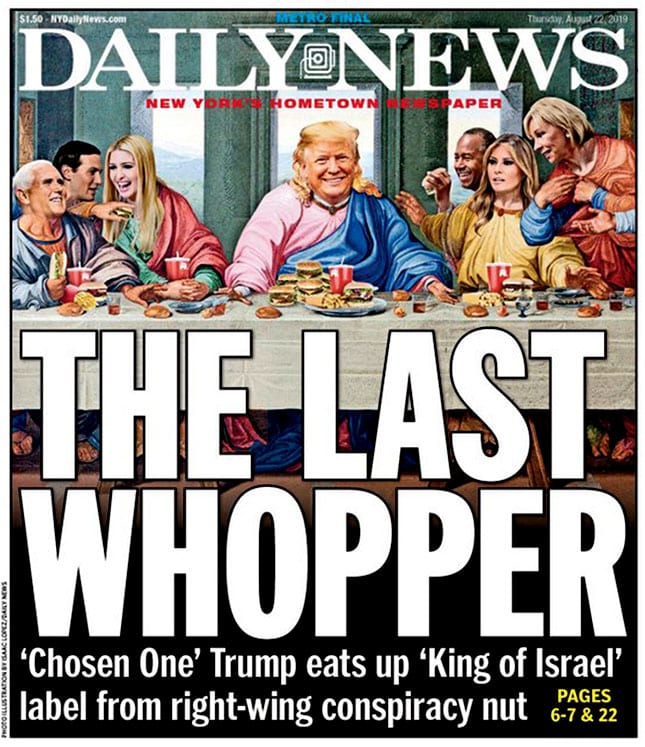 In a series of tweets, Trump quoted a controversial conspiracy theorist, Root, who had lavished praise upon the president, professing that Jewish people in Israel so admired Trump that it was as though he was the "King of Israel" or "the second coming of God."

But Root (as he later confirmed) was using exaggerated language as part of a simile. He was not making the factual claim that Israeli Jews literally believe that Trump is the King of Israel, or the second coming of Christ (the latter of which claims would make no sense for theological reasons, anyway.)

So the widely promulgated claim that Trump, simply by quoting Root's remarks, was in effect declaring himself to be the King of Israel or the second coming of Christ, was inaccurate by a considerable distance. Trump did not even quote someone who professed that belief, and the person he did quote was not even claiming that others held that belief.
Thank you Snopes. So we can now rest easy, knowing that there's nothing wrong with the Orange One's mental state.