SNAP, the Survivors Network for Those Abused by Priests, has reacted angrily to news that the Roman Catholic Diocese of Rochester in upstate New York filed for bankruptcy protection on Thursday amid a wave of lawsuits over alleged sexual abuse of children.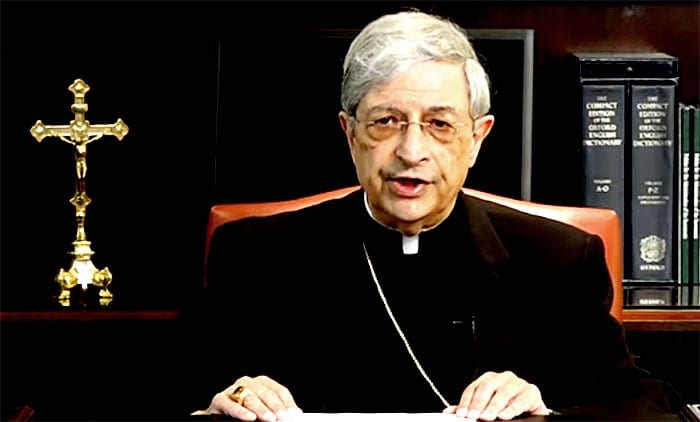 The bankruptcy was announced by Bishop Salvatore Matano, above. See video here.
SNAP said on its website:
We believe this move by church officials is not about protecting church assets, but rather about protecting their secrets.
It pointed out that Rochester the is the latest diocese to file for bankruptcy as civil cases mount.
So far, 59 cases have been filed against the diocese. In the past, bankruptcy filings have been used to deny survivors their day in civil court, ensure church documents are kept internal, and prevent parishioners and the public from learning details about cases of abuse and cover-up. 

Given the way that bankruptcies have been handled by other dioceses, we expect the Diocese of Rochester will mirror the steps taken in places like Milwaukee, where then-Bishop Dolan transferred more than $50 million to a cemetery fund in order to keep the assets hidden, or in St. Paul-Minneapolis, where church officials fought to use especially low valuations on their property.
According to this report, in announcing the bankruptcy, Matano said during a news conference:
We've come to the conclusion that we cannot minister to every victim that comes forward and help them out if we did not go this route.
Mike Finnegan, an attorney for a New York City law firm which has filed more than 30 claims on behalf of survivors against the diocese, said the bankruptcy filing was not surprising. He and others accused the diocese of moving to hide sensitive church documents.
This legal tactic by the bishop is both disgusting at this point and disappointing because it's an attempt to take away the survivors' rights to a jury trial and also delay getting to the secrets that only the bishop and his top officials know about.
But Matano insisted that:
We don't see this in any way as a tactic.
He said it was done with the intent of helping victims get compensation they deserve, not harming them.
The petition for Chapter 11 reorganistion would help the diocese sort out its finances, marshal funds to pay compensation to accusers and create a plan for the diocese to continue
Sponsor of New York Child Victims Act, Brad Hoylman, described the move as "despicable" and said:
We passed the Child Victims Act so survivors would finally have their day in court and hold accountable their abusers and the institutions that may have harbored them.
The petition for Chapter 11 reorganisation would help the diocese sort out its finances, marshal funds to pay compensation to accusers and create a plan for the diocese to continue operating. It estimates the diocese's assets at between $50 and $100 million and its financial liabilities at between $100 and $500 million.