EVER since its launch in London in 1973, The Rocky Horror Picture Show has been delighting audiences across the globe – and pissing off foam-flecked Christians.
Why? Because it pushes boundaries "and has become a cultural icon which promotes empowerment of self-creation and all sexual orientations."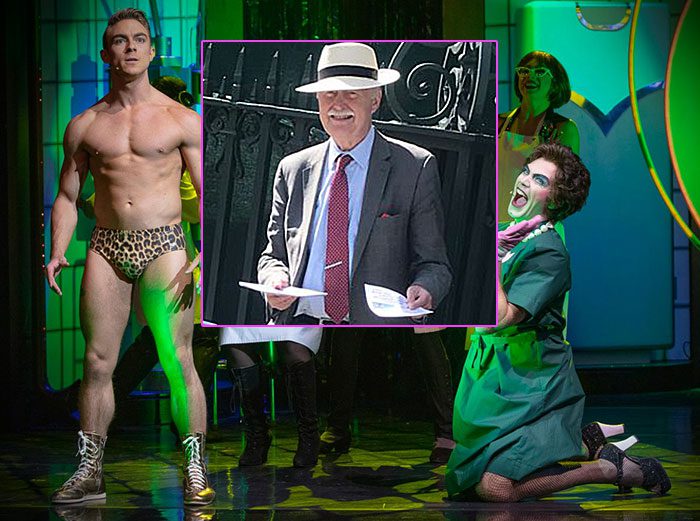 Which is precisely why Pastor Peter Simpson, inset, minister at the Penn Free Methodist Church, is furious that the show opened today in the city of Chester.
Simpson, who believes Brexit is God-ordained, handed in a letter of protest to the Storyhouse theatre's management in which he described the show as:
Vulgar and immoral. What kind of wholesome fare is going to be served up by a show containing lyrics such as, 'I'll get you a satanic mechanic, I'm just a sweet transvestite'?

A show featuring transvestism will inevitably be contemptuous of Christian morality. Cross-dressing is condemned in the Bible.
But after Cheshire Live originally reported that Simpson and his deranged supporters were out in force to protest against the show, readers have been pointing and laughing at the ridiculous little tit.
And leading cast member Joanne Clifton tweeted this: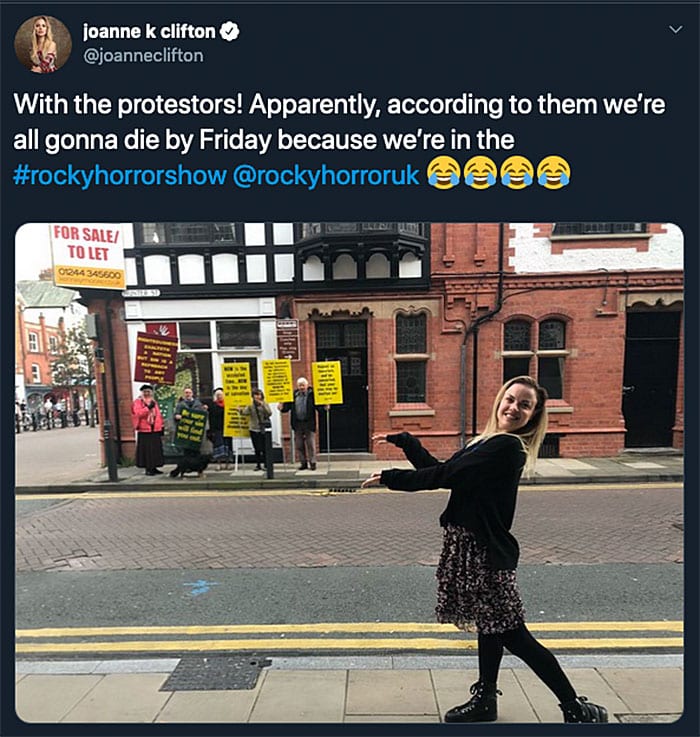 One social media user said
Of course its vulgar and immoral. That's the point. If he doesn't like vulgarity and immorality this isn't the show for him.
Another added:
His views do NOT represent the views of most Christians. Doesn't the world have much bigger issues that he ought to be focusing on? I think he'd be happier joining the Westboro Baptist church. They're his kind of people.
Another added:
I bet he secretly loves putting a pair of heels on when he gets home.
Someone else added:
I've literally just bought tickets to this because I saw it was on through this article … I'm so excited … but I think his intentions may have backfired.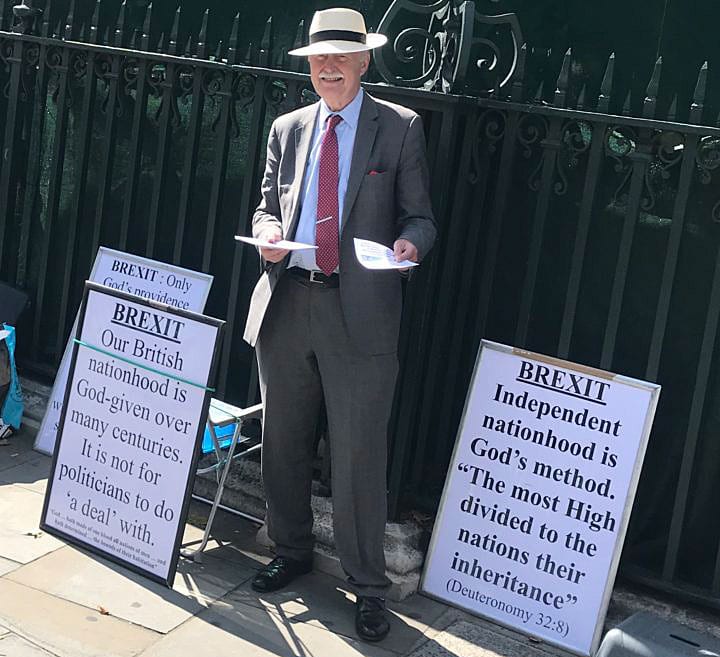 Simpson, pictured above with Brexit signs in London, is regularly seen ogling gays at various LGBT Pride events.

In an August post, he expressed his horror over the fact that, last month, Manchester's Pride had "blasphemed" Jesus. He squealed:
Both local press outlets around the country and some national newspapers reported on a Coronation Street actor, Anthony Cotton, jumping off the soap's parade float to wave a rainbow flag on a tall pole right in front of the witnessing Christians.

Another actor from the popular soap, Dolly-Rose Campbell, held up a blasphemous sign which read, 'Jesus had two dads and he turned our fine'.

How dare people joke about the sacred wonder of the virgin birth on the public highway? Would there be such willingness to engage in such public mockery of the person of Mohammed?

Mr Cotton's action, according to the news reports, made him a hero in the eyes of the crowd, such is the God-rejecting popular culture so prevalent in modern Britain.
For you delectation I offer you this video which shows what happened to evangelist and wife-beater Stephen Green when he came to Brighton in the UK to protest the staging of Jerry Springer: the Opera.
Hat tip: BarrieJohn